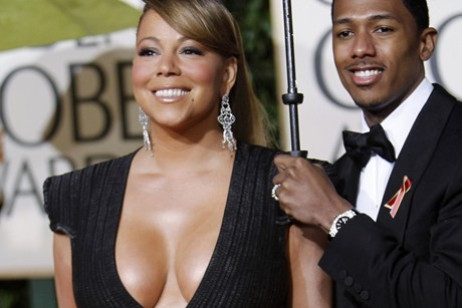 Nick Cannon has revealed that the first time he had sex with his wife Mariah Carey was on their wedding night.
The 32-year-old America's Got Talent host admitted during a candid sit down with Howard Stern that he didn't mind waiting to sleep with the Butterfly singer because he was in love.
"It was Mariah Carey. If Mariah Carey gave a bad b***job, I didn't care. In my mind, I'm with it. Either way its one of the most beautiful women that ever walked the planet," he told the TV host.
"I was excited. It was so different because we were jet setting and traveling and stuff [while we were dating]. So I would be back home, there would be other chicks, but this was the one woman that was like none of that is going down. I knew her values."
The couple tied the knot in April 2008, just two months after they started dating. They have one-year-old twins Monroe and Moroccan.
Carey, 42, previously insisted that because of their mutual respect, Cannon was able to resist his natural urges.
"It's not that we had no intimacy, we just didn't have complete intimacy. It's just me, and my feelings. I definitely don't want to push it on anybody else. But we both have similar beliefs, and I just thought that it would be so much more special if we waited until after we were married. And it was, and it still is."
In a clear case of TMI, Cannon also confessed that now that the couple are making love, he often pleasures himself to his wife's music when he is away from home.
"When she's not there... I don't light candles, but sometimes you have to be reminded of what's at home."