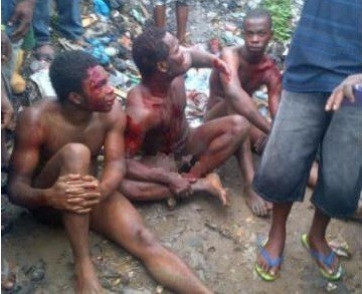 Nigerian police investigating the murders of four University of Port Harcourt (Uniport) students have charged 21 people in connection to the deaths.
The suspects were allegedly part of a vigilante mob that stripped, beat and burned alive students Ugonna, Ilyod, Tekana and Chidiaka, in the state of Omuokere Aluu.
The four male victims were hunted down by vigilantes after being accused of being members of a gang of armed robbers. They allegedly stole BlackBerry phones and laptops.
Among those arrested is Alhaji Hassan Welewa, the traditional ruler of River state, who is accused of encouraging the mob to kill the victims.
Police spokesman Frank Mba said: "Alhaji Hassan Welewa, the traditional ruler of Omukiri community, Aluu, where the incident took place, and others, some of whom are members of the vigilante group of the community, were arrested.
"Intelligence reports implicated Alhaji Hassan Welewa,as being the person who incited the mob.
"The victims had gone to the area where they met their death earlier that morning to demand money allegedly owed to them by Coxson Lelebori Lucky, alias 'Bright', who raised a false alarm that the victims were armed robbers.
"Although, Coxson has gone underground, detectives are on his trail and efforts have intensified to track down others involved in the incident".
A number of suspects were identified through a four-minute video posted online of a lynch mob attacking the victims before putting tyres around their their necks and setting them on fire.
"May I assure Nigerians that the police force will do everything legitimate within its capacity to ensure that perpetrators of these acts are identified and made to face the law," Mba said
Rampaging members of the National Association of Nigerian Students burned homes, shops and cars of those they believed responsible for the deaths.