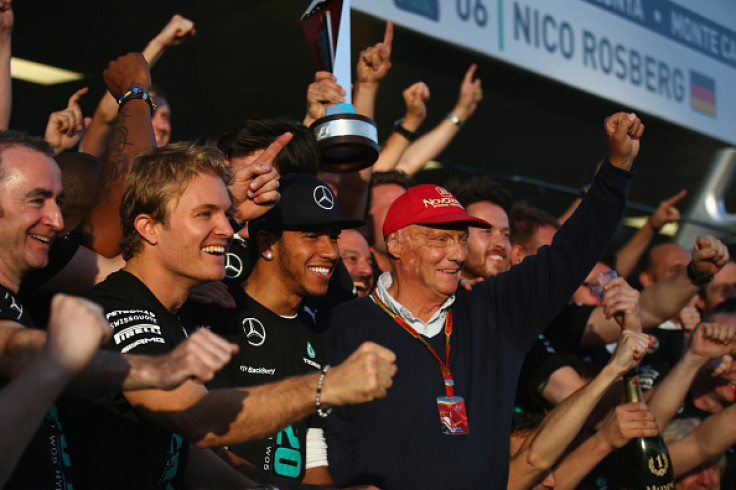 Mercedes F1 team's non-executive chairman Niki Lauda has made it clear that there will be no team orders for either Nico Rosberg or Lewis Hamilton when the duo arrive at the season-ending Abu Dhabi Grand Prix with the Drivers' World Championship at stake.
The German leads his teammate by 12 points and a podium finish will guarantee his first Formula One title, even if the Briton wins the race. The two are likely to be the quickest cars on the grid at the Yas Marina Circuit and will probably battle for supremacy throughout the weekend in qualifying and the race.
Former three-time world champion Lauda has indicated both drivers are free to race and there will not be any instruction on their approach into turn 1, which has seen its fair share of controversies in the past championship battle deciders.
"Regardless of the standings, we won't tell them how to race. There will be no deals about how they go into the first corner. It is the same at every weekend – they are free to race," Lauda said, as quoted by the Daily Mail.
"They will both want to get on pole and to win. They will work on set-up and work hard to be the quickest. Then when it comes to the last few laps and, say Nico is second or third, he will just be praying, please, car, don't stop on me".
"There is no favouritism. Honestly. Toto [Wolff, the team principal] and I have been clear from the start that we leave it open for both drivers. That is the view from Dieter Zetsche [president of Mercedes' parent company Daimler] down," the former Ferrari and McLaren driver explained.
Lauda also stressed that Mercedes has paid utmost attention to ensuring both cars do not suffer any reliability issues during the final weekend of the 2016 season. Hamilton has suffered three engine failures this season, while Rosberg has had no such troubles. Mercedes will be hoping that both cars make it to the end and the championship battle is decided on track rather than via a reliability issue for one of the cars.
"We have done everything we can in the factory to make sure that both cars will finish the race. We have looked at every detail. Because it comes down the last race everybody is taking extra care with this," Lauda added.