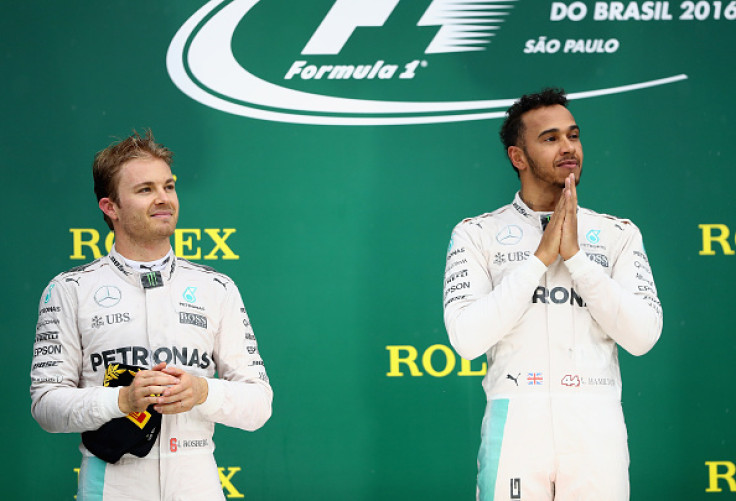 Lewis Hamilton has just one ambition when the Formula One juggernaut rolls into Abu Dhabi for the final race of the season with his Drivers' Championship crown at stake. It is in favour of Nico Rosberg at the moment with the German 12 points clear and needing just a third-place finish to take the title.
The Briton has made it clear that he is not concerning himself with the battle and his only aim is to record a dominant win, something he has done in the last three races in the United States, Mexico and Brazil. Hamilton has been hampered by reliability problems during the course of the season – three engine failures and some poor starts have cost him valuable points, something that has not affected Rosberg's car.
The former Williams driver, who is aiming for his first title, has finished every race in the points apart from Barcelona when both the Mercedes cars crashed out in the opening lap following a collision. He just needs to finish on the podium if Hamilton wins and he will have his first title joining his father Keke Rosberg, who won the title in 1982 as the second father and son duo to win the Drivers' Championship. The first was Graham Hill and Damon Hill in 1968 and 1996 respectively.
"Obviously I have to continue what I'm doing. Nico's finished every single race this year apart, obviously, from Barcelona which we both didn't finish so he's had fantastic reliability, so I think right now, as the way it's going it's going to be very hard to beat him," Hamilton said, as quoted by ESPN.
"That doesn't mean I can't win the race, so I'm going to take the energy I have now and the speed that I have — which has been great these past few races — and really try to push as hard as I can in that race to get as far ahead. It's all I can do," the Briton added.