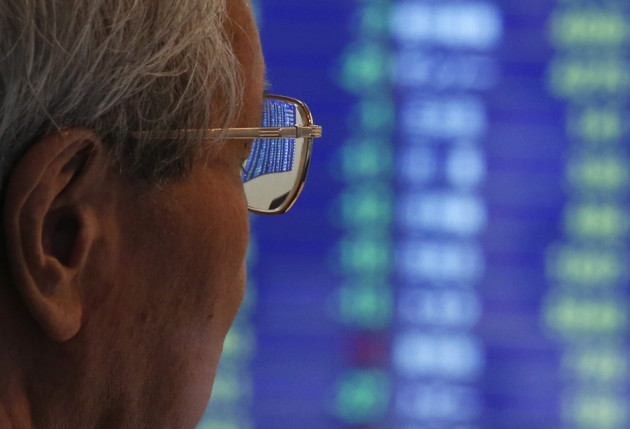 Most Asian markets opened higher on Friday while Japanese stocks shot up after Japan reported higher-than-expected industrial output growth in May and following a rally on Wall Street where Fed quantitative easing (QE) fears eased further.
The Japanese Nikkei hit a three-week high and was up 3.48% or 459.36 points to 13,672.91, after closing 2.96% higher on Thursday, partly supported by a weaker yen.
Hong Kong's Hang Seng added 1.29% or 263.74 points to 20,703.82
South Korea's Kospi was up 1.32% or 24.20 points to 1,858.90 points, after ending 2.87% higher on Thursday.
The Shanghai Composite index inched up 0.87% or 16.99 points to 1967.00. Growth concerns weighed on the market.
Australia's S&P/ASX inched up 0.37% or 18 points to 4829.30, after finishing 1.68% higher on Thursday, on a day when mining and energy stocks suffered.
Government data released Friday showed that Japanese industrial output beat expectations and rose 2% in May, suggesting the world's third largest economy was improving. The markets had expected a mere 0.2% increase in May's output.
Markets in mainland China witnessed choppy trade on concerns surrounding the country's growth trajectory.
The Barclays head of the China banks sector May Yan said in a report released Friday that during a recent visit to Beijing, government-agency officials and think tanks indicated low visibility on economic growth and that the world's second largest economy may be heading towards a growth rate of 6.5% to 7.5% in 2013, as against the government's target of 7.5%.
On Wall Street, indices ended higher after comments by Federal Reserve officials suggested that the central bank was in no rush to begin trimming its monetary stimulus anytime soon.
"Economic circumstances could diverge significantly from the FOMC's expectations," William Dudley, the influential head of the New York Fed told reporters on Thursday.
"If labor market conditions and the economy's growth momentum were to be less favorable than in the FOMC's outlook - and this is what has happened in recent years - I would expect that the asset purchases would continue at a higher pace for longer," he said.
Elsewhere in the US, Atlanta Fed President Dennis Lockhart said the American economy's health would determine the pace of Fed bond buying. "There is no 'predetermined' pace of reductions in the asset purchases, nor is the stopping point fixed. The pace of purchases, the composition of purchases and the ultimate size of the Fed's balance sheet still depend on how economic conditions evolve."
The S&P 500 index closed 0.6% higher at 1,613.20. Materials was the sole laggard among its 10 major sectors. The Dow finished 0.8% higher at 15,024.49 logging its 15th triple digit move this month. The Nasdaq Composite ended 0.8% higher at 3,401.86.
In Shanghai, shares of Founder Securities added 3.7% while China Minsheng Banking's stock moved up 2.8%. Agriculture Bank of China's stock rose 1.7% and China Everbright Bank gained 1.5%. Realty firms Vanke and Poly Real Estate gained7% each. China Merchants Property's stock gained 5% percent
In Hong Kong, personal-products maker Hengan International Group's stock jumped 4.6%. China Overseas Land and Investment added 3%, while China Life Insurance's stock moved up 2.5%.
In Tokyo, Sumitomo Mitsui Trust's stock surged 8.9%. Shares of both consumer electronics major Sharp and steel maker Nisshin Steelshot up over 7% each.
Chip-maker Renesas Electronics's stock shot up 4.2%, on news that it would pull out of most of its loss-making mobile operations.
Shares of both steel maker JFE and realty player Mitsui Fudosan jumped 4.2%, while Japan Tobacco's stock gained 3.5%
In Seoul, Shinhan Financial Group's stock rose 2.6%, while LG Display rose over 1%. Automobile manufacturer Hyundai Motor's stock gained 2.3%, while Kia Motors' stock gained over 2%
In Sydney, shares of petroleum major Caltex tanked 11% after it issued a profit warning for its first-half earnings.
Copper miner Cudeco's shares dropped 8%. Copper prices have fallen 16% so far in 2013 and are 34% below February 2011's record closing high.
Oil and gas producer Linc Energy's stock fell over 7% despite an increase in brent crude oil prices, while gold miner Kingsgate Consolidated's stock dropped 7% after the precious metal's price fell 2% overnight.