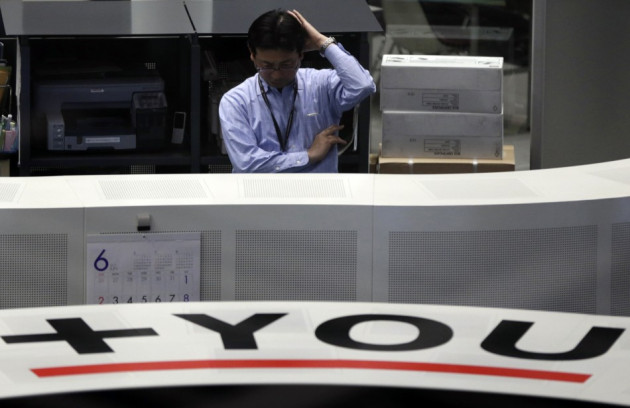 A majority of Asian markets slid on Tuesday as investors retreated over the uncertainty of how the US Federal Reserve will proceed on stimulating the US economy.
Investors remained unsure about the future pace of the US Federal Reserve's massive monthly global asset buys, which have stimulated the markets the world over for a while now.
The Japanese Nikkei was trading 0.40% lower or 52.68 points to 12980.44, despite news that the Group of Eight (G8) leaders, who are in Northern Ireland this week, would continue to back Japan's stimulus initiatives. The news pulled the yen down, against the US dollar.
Hong Kong's Hang Seng was down 0.72% or 152.42 points to 21073.48.
The Shanghai Composite was trading flat, down 0.08% or 1.09 points lower, to 2155.13. Government data showed that home prices in a large number of Chinese cities rose in May. The average home price rose 0.86% from the level in April, and was 5.32% higher than in May 2012, according to Dow Jones Newswires.
Australia's S&P/ASX inched up 0.22% or 10.70 points to 4802.50.
But South Korea's Kospi inched up 0.63% or 11.93 points despite news that domestic producer prices had fallen for 10 months in a row in the country. Bank of Korea data points to lower demand in Asia's fourth-largest economy.
The US Federal Reserve's Federal Open Market Committee (FOMC) will meet later in the day and Fed chief Ben Bernanke is due to speak after the two-day meet, on Wednesday.
"We expect this nervousness to continue to dominate until the FOMC rate decision and Chairman [Ben] Bernanke's press conference on Wednesday, with asset prices remaining vulnerable to news headlines, keeping the volatility elevated," according to Barclays analysts.
On 17 June, Wall Street ended higher owing to the lack of new information about the future pace of the Fed's bond-buying program. The Dow shot up 109.67 points to finish at 15,179.85. The S&P 500 inched up 12.31 points to end at 1,639.04, while the Nasdaq moved up 28.58 points to close at 3,452.13.
In Tokyo, shares of Playstation maker Sony jumped over 4% on news that US-based hedge fund Third Point has raised its stake in the firm, asking the Japanese firm yet again to hive off its entertainment business.
Brokerage Nomura Holdings jumped 2.3%, while MS&AD Insurance Group moved up 1%. Realty firm Mitsubishi Estate added 1.2%.
Automobile manufacturer Toyota Motor's stock inched up 0.7% on new it had raised its Japan sales target. Steel maker JFE Holdings' stock shot up 2.2% on news it proposes to setup an automotive steel-sheet manufacturing unit in Indonesia, at an investment of $300m.
Consumer electronics major Sharp gained 0.5% on news that it could manufacture photocopiers for Samsung Electronics, with Samsung likely to invest in the project.
Telecoms firm KDDI Corp was down 1.8%, while Mitsubishi UFJ Financial Group shed 1%.
In Sydney, shares of agribusiness firm Elders tanked 12% on reports that it would enter into a binding sale contract for the sale of its Futuris Automotive business.
Banking stocks suffered despite RBA's willingness to cut interest rates further. National Australia Bank's stock lost 1.5%, Woolworths was down 1.3%, while Commonwealth Bank of Australia shed 1%
In Shanghai, Chinese banks' stocks rose on news that state-owned financial-sector investment firm Central Huijin Investment had increased its stakes in the four largest state-owned lenders -- Industrial and Commercial Bank of China,Bank of China, China Construction Bank and Agricultural Bank of China.
Agricultural Bank of China inched up 0.8% while China Construction Bank inched up 0.7%. Realty firm Gemdale moved up 1.5%. Brokerages Founder Securities, Haitong Securities and Minsheng Bank gained 1% each.
In Seoul, Samsung Electronics' stock rose 0.3%. LG Electronics bounced back 3% after Monday's 3% loss. Department store franchise Shinsegae jumped 3% but rival Daegu Department Store dropped 4%
In Hong Kong, Realty firm China Resources Land's stock fell 3% while rival China Overseas Land & Investment' stock dropped 1.9%.
China Construction Bank lost 1.3%, while Agriculture Bank of China shed 0.3%.