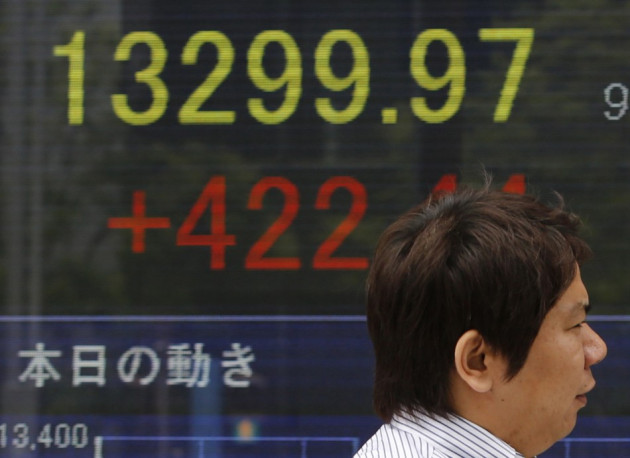 Asian markets inched up in opening trade on Monday as the Japanese Nikkei surged, driven by better-than-expected figures from the US and Japan.
The rise followed a rally on Wall Street on 7 June, after the release of US government data showing that May nonfarm payrolls rose more than forecast, as well as revised Japanese first-quarter figures which showed the country's economy grew 4.1% between January and March, beating the earlier estimate of 3.5%.
Japanese GDP rose 1% in the first three months of 2013, better than the preliminary estimate of 0.9%.
Following the release of the figures, the Nikkei, which had dropped three days in a row to 7 June, surged 3.52%, or 453.58 points to 13357.60.
However the Hang Seng was down 0.77% or 167.18 points to 21671.25, pulled down by weak Chinese economic data. Consumer inflation in the world's second largest economy slowed down to 2.1%, a three-month low, while producer prices dropped to 2.9%, the lowest since September 2012.
South Korea's Kospi was down 1.28% or 25.17 points to 1934.02, after inching up in opening trade, in cautious trade ahead of government talks between North Korea and South Korea, where the two nations are to discuss deteriorating ties alongside the re-opening of the Kaesong industrial complex closed down earlier this year.
The mainland Chinese and Australian markets are closed for a public holiday on Monday.
On Wall Street, equities posted their first weekly gains in three straight trading sessions on 7 June after government data showed US firms added 175,000 jobs in May on top of 149,000 jobs in April. The Dow shot up 1.38% to end at 15,248.12. The SP 500 gained 1.28% to 1,643.38 while the Nasdaq Composite added 1.32% to close at 3,469.22.
In Tokyo, exporters' stocks gained on a weaker yen. Shares of consumer electronics maker Sharp soared 14% while Fuji Heavy shot up 11%. Toyota Motor surged 7.1%, Nissan Motor added 5%, while tyre manufacturer Bridgestone jumped 5.9%.
Shares of telecommunications major Softbank shot up 6.9%.
In South Korea, shares of technology giant Samsung Electronics bounced back 1% after posting a 6% loss on 7 June.
In Hong Kong, shares of internet major Tencent Holdings shot up 3.5% on news it could acquire a 15% stake in Malaysia's Patimas Computers. Sportswear brand Li & Fung gained 2%.