Key Features:
41-megapixel camera
4in 360 x 640 AMOLED screen with 184ppi
1.3GHz ARM processor with 1GB of RAM
Nokia Symbian Belle operating system
16GB internal storage + microSD card slot
Price as reviewed: £500 SIM-free
Introduction
At first we thought the Nokia 808 PureView and its enormous 41-megapixel was a typing error. We wondered how on earth a sensor so big could be slotted into a smartphone and, where eight megapixels is usually as good as its gets, Nokia felt that 41 was what we all needed.
More on that insane camera a little further down, but for now we'll say that the 808 PureView is a 4in touchscreen smartphone with a 1.3GHz processor, 1GB of RAM and 16GB of internal storage.
While Nokia has gone for Windows Phone with its Lumia series, the 808 gets Symbian which, it's fair to say, isn't the newest of mobile operating systems.
We spent a week with the 808 PureView to find out if that camera can make up for an aging operating system in a device that is priced to compete with the Samsung Galaxy S3, HTC One X and iPhone 4S.
Nokia 808 PureView: Design and Feel
What strikes you immediately about the 808 PureView is its size and weight. Cramming that 41-megapixel camera into a smartphone was also going to lead to a chunky form factor, and measuring in at 13.5mm thick with a weight of 169 grams, the 808 is on the larger end of the smartphone scale.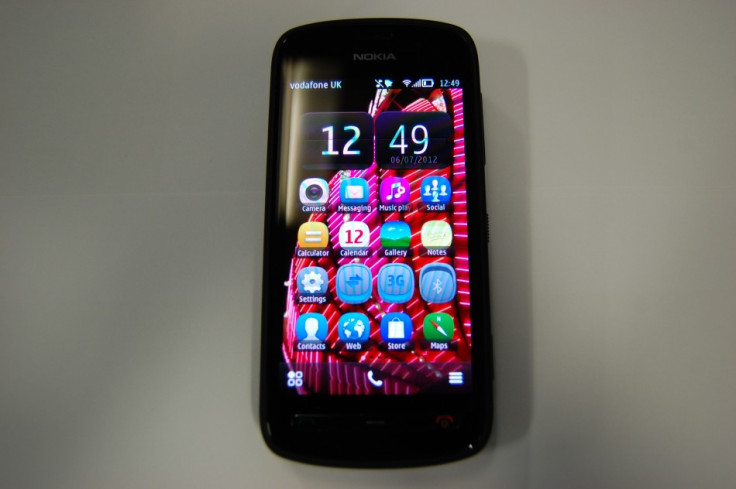 For reference, the Samsung Galaxy S3 is 8.6mm thick and tips the scales at 133g.
The extra bulk makes it less pocket-friendly than most of its rivals, but the extra size makes holding it securely to take photos easier, so it's not all bad.
Gorilla glass covers the Nokia's 4in AMOLED display, below which there are three buttons positioned along a single piece of black glossy plastic. There's the answer call button on the left, home button in the middle - press and hold to view all open apps - and a call end button on the right, which double as power on/off.
Above the screen is a 1.3-megapixel front-facing camera, as well as the ambient light and proximity sensors and the speaker.
The right edge is home to a dedicated camera shutter button which clicks in two stages like a proper camera, so you press halfway to focus, then fully to take a photo.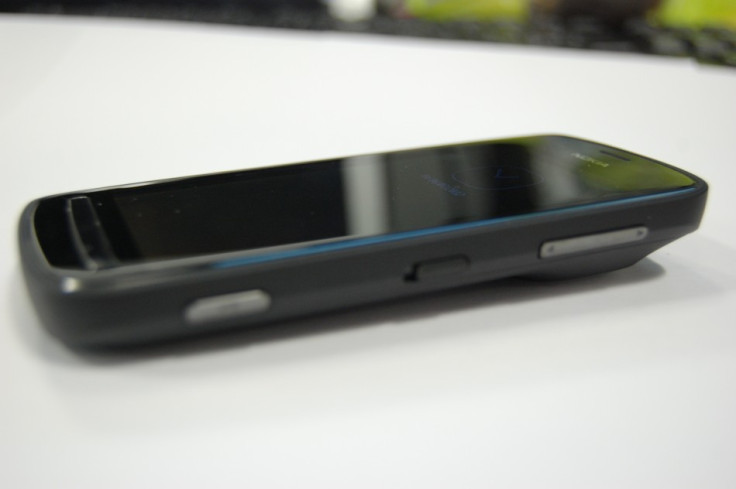 Above that is a plastic sliding switch to lock and unlock the phone - also if this is held for a couple of seconds the LED used to help the camera autofocus lights up as a torch.
Finally for the right-hand side, there's a volume rocker finished in the same dark chrome as the shutter button and rear camera.
Speaking of which, that headline-grabbing rear camera dominates the rear of the phone, along with its LED flash and focus-assisting light.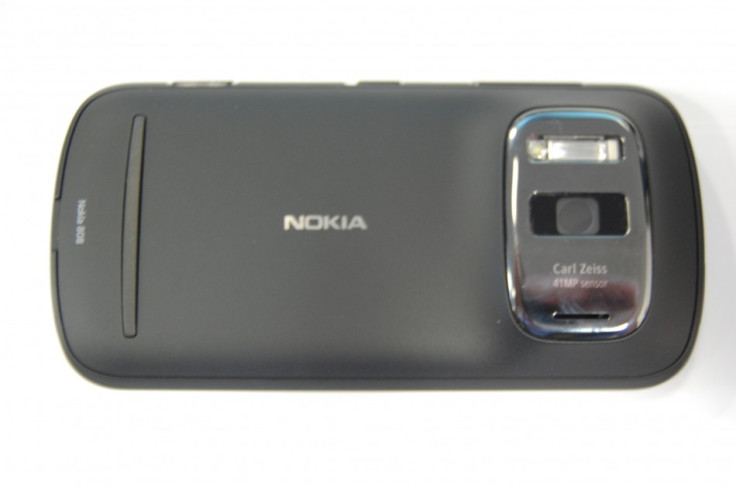 The top edge is where you'll find the 3.5mm headphone jack, micro USB for charging and syncing, and micro HDMI for sharing photos or video from the phone onto a television.
With its glass screen and hard plastic back, the Nokia 808 PureView feels incredibly well made. Heavy, perhaps, but if anything this adds to the sense that this is an expensive, quality smartphone; there's no give and everything about the 808 feels sturdy.
Nokia 808 PureView: Hardware and Connectivity
Inside, the 808 PureView is as you would expect, with Wi-Fi b/g/n, Bluetooth 3.0 with A2DP for streaming music to wireless speakers, Dolby Digital Plus sound and HSDPA connectivity for browsing speeds of up to 14.4Mbps.
There is also an accelerometer for altering the display when you turn the phone, a digital compass to work with the Maps app and an FM radio.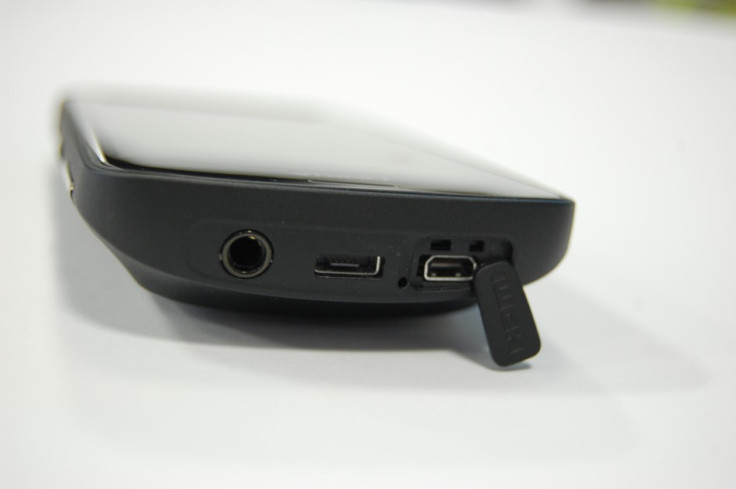 Next to the micro USB port there is a covered micro HDMI socket to hook the 808 up to a television or monitor. As we said the phone is powered by a 1.3GHz processor backed up by 1GB od RAM and 16GB of internal storage.
The rear cover can be taken off, revealing the battery and, below that, micro SIM and microSD card slots. Annoyingly, this means you have to turn the phone off and remove the battery to get at either card.
Nokia 808 PureView: Camera
Without doubt, the selling point of this smartphone is its 41 megapixel camera with Carl Zeiss lens and Xenon flash. But the big deal here is the sensor Nokia has used. In smartphone terms it is huge. At 1/1.2" the 808 PureView sensor is double the size of the nearest rival, which is Nokia's own N8.
This means that the pixel size is now 1.4 microns compared to the much larger 1.75 microns on the N8.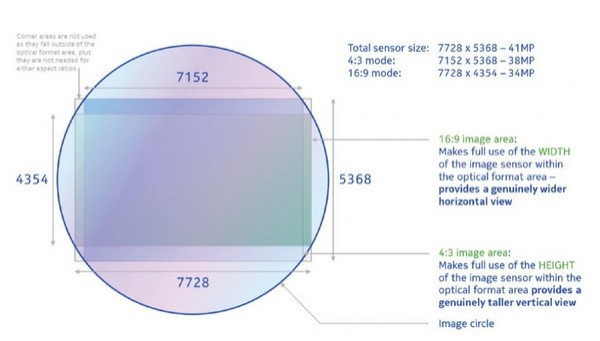 While the sensor has a 41 megapixel resolution, the maximum resolution for still images is 38 megapixels in 4:3 mode and 34 megapixels in 16:9 mode. GSMArena reports that in blind testing it carried out, the 808 PureView beat the Olympus E-PL2 camera while matching the detail level of the Canon 5D Mark III DSLR camera - which is high praise indeed for a mobile phone camera.
But the sensor size is just one part to the PureView jigsaw, with a technology called oversampling giving ti another big boost. Oversampling essentially makes a single perfect pixel from multiple captured pixels. This reduces the size of the image while maintaining the image quality, providing lossless zoom and excellent low light performance.
Capturing still images at full 38 megapixel resolution will result in file sizes of around 11MB which is not suitable for sharing via Twitter or Facebook. However the advantage of using full resolution is it will let you easily reframe a shot after taking it. This means you could crop an 8 megapixel image from a full resolution still which would be of far greater resolution than a typical 8 megapixel sensor.
Smartphones don't do optical zoom, and have to rely on digital zoom if you want to get a close up of your subject. Until now this meant a dramatic loss in image quality with noise becoming a major problem. With PureView technology however, you are able to digitally zoom without losing any image quality.
How far you are able to zoom is dependant on the resolution you are set at. In PureView mode, when oversampling kicks in, the default resolution is 5 megapixels, but you can chose 3 megapixels or 8 megapixels too. The lower the resolution, the more you can zoom without losing image quality.
Zooming is done via the volume rocker, or using Nokia's "Slide zoom" which lets you zoom inm or out by sliding your finger up or down the screen.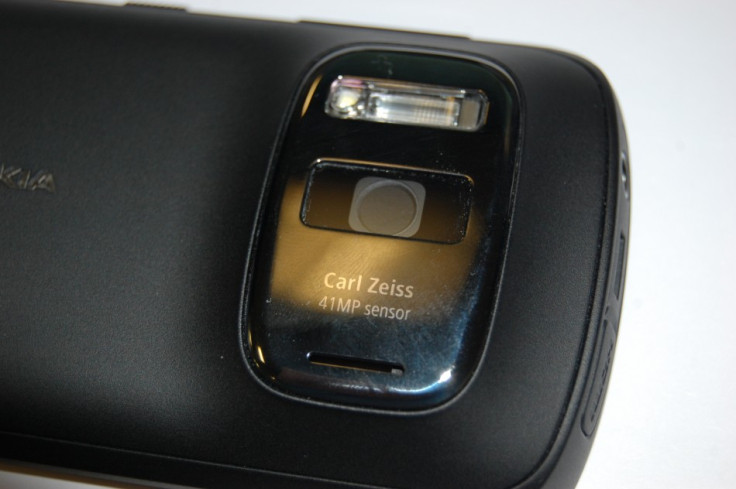 Of course there's more to photography than the number of megapixels on your sensor and how far you can zoom into photos you've taken, so we've provided a range of images below demonstrating how the Nokia 808 performs in various lighting conditions.
As for software, the Nokia 808 PureView's camera has a range of modes and settings to cater for everyone from a complete amateur, to those users who want to adjust saturation, contrast, sharpness, aperture, white balance, ISO and add a neutral density filter to limit the amount of light entering a shot - good for photographing computing screens, for example.
There are nine different scenes to choose from, ranging from snow and moonlight, to sport and macro to help you get the best shot for the environment you are in.
The 808 PureView can shoot video in full 1080p HD at 30 frames per second and you can zoom and also adjust the focus by tapping on the screen while recording. White balance and aperture can both be adjusted before you start capturing video.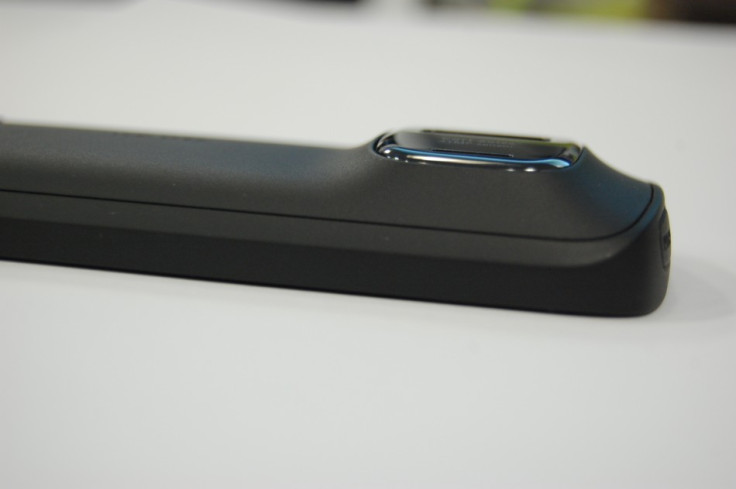 We've long since wondered if the smartphone has made the budget point-and-shoot camera obsolete, and the Nokia 808 PureView is the closest we've yet come to realising this. Sure, it doesn't have the optical zoom of a dedicated compact camera - although its lossless zoom is excellent - and taking photos all day will harm battery life
With such limited space, the optics of a cameraphone are never going to match a digital SLR, but we can safely say that this smartphone comfortably replaces most budget digital cameras, and this achievement would set the Nokia up to be a truly great phone, if it wasn't for what comes next.
Nokia 808 PureView: Operating System and Performance
The Symbian operating system is simply not up to scratch as a modern mobile smartphone operating system, never mind powering a £500 one with a competition-crushing camera and ambitions of being a serious contender in the smartphone market.
We love the camera and we'll even excuse the 808 PureView for being a bit chunky, but the operating system is where we draw the line; put simply, it just isn't good enough for a phone at this price point.
As mentioned above, the camera app is good (although getting it to focus on dark objects close up can be frustrating due to the long focal length) and the home screen is responsive and easy to use.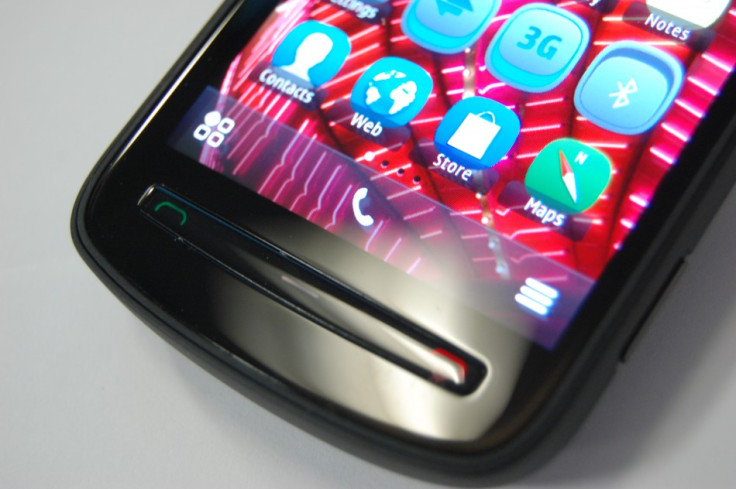 But dig a little deeper, and Symbian Belle becomes complicated, slow and inconsistent. Lack of a back button in most applications and menus is annoying. For example, if you open the Contacts app and go to create a new contact, then decide to go back there is no button to do so. Hit the home button and relaunch the Contacts app, and you're still greeted with the add contact page.
So you now have to hit home, then press and hold the home button to see all open apps, close the contacts app, press home and then finally go back into Contacts.
The keyboard often hides buttons, so when you've written a text message to send the message, add an attachment or go back, you have to first hide the keyboard. This may sound like a small issue, but it's annoying and not something we would expect from a smartphone of this price.
Another inconsistency we found was hitting the back button after reading a text message. Sometimes we would be taken back to our inbox, showing everyone we have had recent conversations with, but occasionally we'd be kicked out to the home screen.
From the home screen there is a pull-down menu similar to the notifications drawer in iOS and Android, but instead is full of toggle switches to quickly turn mobile data, Wi-Fi, Bluetooth and silent mode on and off. In this drawer there's also information such as which Wi-Fi and cellular networks the phone is connected to, any alarms set and music playing.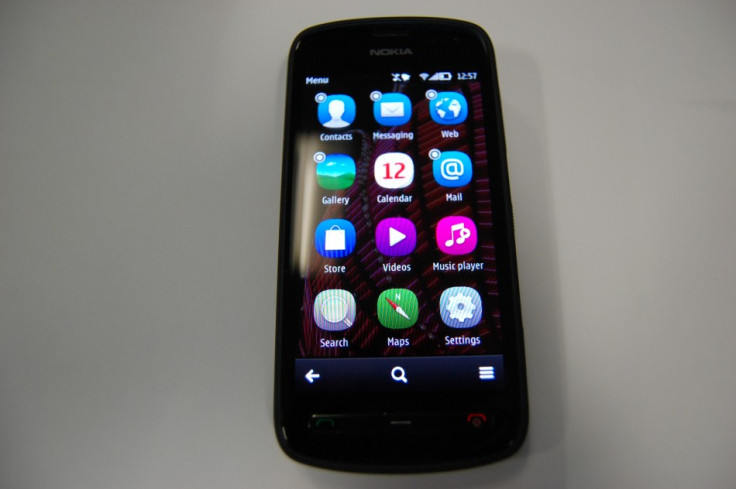 As for social networking, there is no dedicated Symbian app from either Facebook or Twitter. Instead, Nokia has pre installed its Social app which can control both networks, but it doesn't offer anywhere near the functionality of dedicated Facebook and Twitter apps available on Android and iOS.
The Facebook part of Social only shows events in the current week - although they can be easily added to the calendar app - and the app as a whole takes an age to load, with walls and photo albums taking a long time to open, even over Wi-Fi.
As for the Twitter side of Social, it's Twitter as you would expect, with easy access to your @ mentions, direct messages and search, but scrolling through the timeline is slow and jerky, with the app taking a second or two to respond to our inputs.
We wanted to like the 808 PureView for more than its hugely impressive camera, but launching the phone with Symbian is a real hindrance, makes the user experience frustrating and a is clear step below its iOS and Android rivals, which is a shame.
There may be good news on the horizon though, as Nokia announced during our 808 review that a Lumia PureView would be coming soon and this would almost certainly run the upcoming Windows Phone 8 operating system.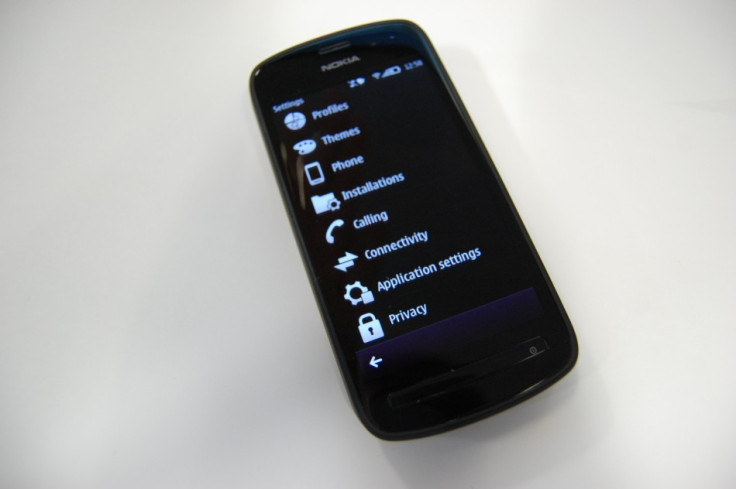 So while this might not be the last we see of the PureView camera technology (and let's hope it's not), it is hopefully the last time we'll see a £500 smartphone running Symbian.
Finally, battery life is surprisingly good, even when you take a lot of photos and video, and we'd go as far as to say that the 1,400mAh unit will power the 808 PureView for two full days of moderate use.
Nokia 808 PureView: Screen
The Nokia 808 PureView has a Gorilla glass-covered 4in AMOLED screen with a resolution of 360 x 640 and producing a pixel density of 184 pixels per inch.
For a phone with such an incredible camera, it is a shame that Nokia fitted it with a fairly low-resolution screen.
Aside from the poor resolution, the screen is good, with deep blacks and vibrant, well-saturated colours and it doesn't take too long to forget that it's not high definition.
Along with the impressive colours, the screen is evenly lit and responsive - at least as far as the operating system allows.
One negative we found was a pink tinge that affects whites when in natural light - it's not a deal-breaker, but certainly something we noticed more times than not when using the phone outside.
Otherwise, the backlight does a good job at keeping the screen readable, even in bright sunlight.
Nokia 808 PureView: Verdict
The Nokia 808 PureView is a phone of compromise. On one hand, it's a well-built and sturdy device with a phenomenal camera capable of taking photos as good or even better than many point-and-shoot camera, and with decent battery life too.
On the other, the screen is of a poor resolution compared to the competition and using the dated Symbian OS is a big mistake for Nokia, as we found it to be slow, frustrating and no match for iOS, Android and Windows Phone.
With talk of a new PureView running Windows Phone 8 on the horizon, we remain hopeful that the camera technology at least will find itself in a WP8 smartphone in the near future.
As for the Symbian-running 808 PureView, we'd say that, yes, the camera is very good, but any reader thinking of buying one will have to be prepared to accept that the software is no match for its rivals.
If it's photography you want, then the 808 can't be beaten, but as an overall package we would suggest you wait for a Lumia model.
Scores:
Overall 6/10
Design and Build 7/10
Screen 6/10
Software 5/10
Camera 10/10
Value 6/10
The Good:
Excellent camera
Solid build quality
Decent Battery life
The Bad:
Dated operating system
Poor screen resolution
Heavier than the competition
Expensive
Sample Photos
Below we've included some photos taken with the Nokia 808 PureView. To view them at a higher resolution, visit our Flickr page here.