Nokia will soon be offering its new mapping service, Here, as an application for iPhone and iPad, complete with 3D mapping and turn-by-turn directions.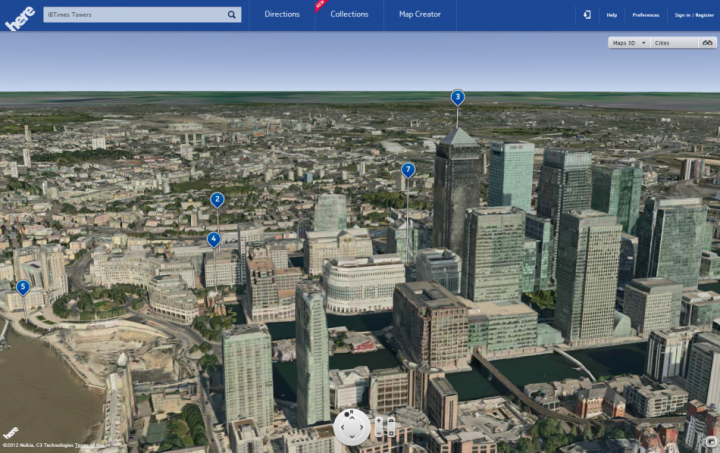 Pending approval from Apple, the Here app will offer an alternative to the Maps application bundled with iOS 6, which came under heavy criticism after numerous mistakes were found in its data, including misspelt place names, poor quality satellite imagery, and whole towns in the wrong location.
Nokia also said that Here maps will be available for Android and the Firefox OS soon, and the company will also be offering Android developers access to a dedicated software development kit (SDK) to incorporate the mapping into their own applications.
Available now at Here.net, the updated maps now include 3D images and street level imagery to rival Google's Street View feature, thanks to Nokia's recent acquisition of imagery firm Earthmine, which has worked in the 3D mapping industry since 2006.
Nokia hasn't said much more about how it plans to include Earthmine's data, but we expect to see Windows Phone 8 and Bing Maps benefit from the company's imagery in the near future.
Here was announced by Nokia at an event in San Francisco on 13 November and can sync with a user's Nokia account, allowing you to access your personalised map data from a range of devices - and through the upcoming mobile apps.
For those who think Here could do with some updates already, Nokia has included a tool call Map Creator, which lets users take stock mapping images and identify street names and traffic direction.
Nokia takes this submitted information and integrates it with its mapping - if it is deemed to be factually accurate, of course - hopefully avoiding any of the mishaps iOS 6 Maps suffered earlier in the year.
To help boost performance, Nokia is using a system that incorporates local data and information from the cloud to help deliver Here maps more quickly.
We've had a quick play around with Here maps and they look good, with the 3D imagery offering a decent amount of detail, although complex cities took some time to load and we're still not convinced that 3D mapping is more than an attractive gimmick.
Either way, if Apple gives Nokia's Here app the nod, then we can look forward to another alternative while Apple fixes its iOS 6 maps.