Images and further details of Nokia's rumoured Sirius Windows RT tablet have surfaced online, showing off a slim and colourful device with a 10.1in display.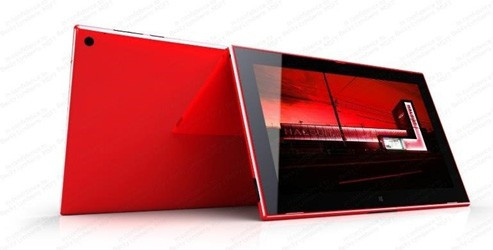 Leaked by Paul Thurrott of WinSuperSite, the image shows a bright red tablet with a black screen bezel adorned with the familiar Windows Start button on the bottom edge; around the back there is a camera claimed to be 6.7-megapixels, while power is expected to come from a quad-core Qualcomm processor.
Nokia has long been rumoured to be producing a Windows RT tablet, but the company is yet to say anything official, and with the recent news of an acquisition of the company by Microsoft, it remains to be seen if the device pictured will be branded as a Nokia or Microsoft product - possibly under the software giant's familiar Surface name.
Dubbed Sirius, the tablet is thought to have 2GB of RAM, a full HD screen resolution of 1920 x 1080, and it is claimed Nokia is aiming for ten hours of battery life with 4G connectivity. Other features include a microSD card slot to increase the 32GB of internal storage, a micro HDMI connector for displaying content on a large TV or computer monitor, and a microUSB port for charging.
In addition to the tablet itself, Nokia is expected to see a keyboard dock accessory which will include an additional battery for increased use between charges.
The tablet, which is expected to be priced at an iPad-matching $499 (£315), could be announced at a media event Nokia is reported to be holding later this month, where it is also tipped to announce the 6in Lumia 1520 smartphone, also known as the Bandit.
Notorious smartphone leaker EvLeaks announced on Twitter that the supersize Lumia 1520 would be revealed by Nokia on 26 September, and will run an updated version of Microsoft's Windows Phone 8 operating system, which will receive tweaks to work with 1080p HD devices like the 1520.
Known as General Distribution 3, the update to Windows Phone 8 will also bring a new multitasking view, rotation lock and driving mode.