Here's another hint that the Pyeongchang Winter Olympics are what we need in this cold day and age after South and North Korean athletes showed a rare sign of unity in a selfie.
The Instagram selfie, posted on Tuesday (6 February), came amid signs of thawing relations between the two enemy nations. After decades of diplomatic tension, South and North Korea have agreed to parade together during the Winter Games' opening ceremony on Friday and their athletes are already getting to know each other on the skating rink.
Skaters Kam Alex Kang Chan (for the South) and Kim Ju-sik (from the North) trained at the same ice arena on Tuesday and decided to document the historic moment on social media. The pair smile and make peace signs in a picture that was liked 600 times since it was uploaded.
"I said something like 'Hey, Ju-sik hyeong, let's take a photo together!'" said Kam. "Hyeong" is a Korean term of endearment meaning "brother" or "elder".
"I posted that photo for fun and to mark the Olympics," he explained.
In an historic first, the South and North have agreed to form a joint female hockey team, composed of 12 North Korean players and 23 South Koreans. Members of the group were seen laughing and taking pictures together outside the ice rink as well as using dictionaries to overcome language barriers.
"On our team, they are just players. You know: there is no North Korean or South Korean," said the team's Canadian coach, Sarah Murray. "They are all wearing the same jersey. We are all on the same team."
Wounds run deep between the two Koreas. Since the Democratic People's Republic of Korea was proclaimed in the North in 1948, sports events have either been a catalyst for tensions or appeasement.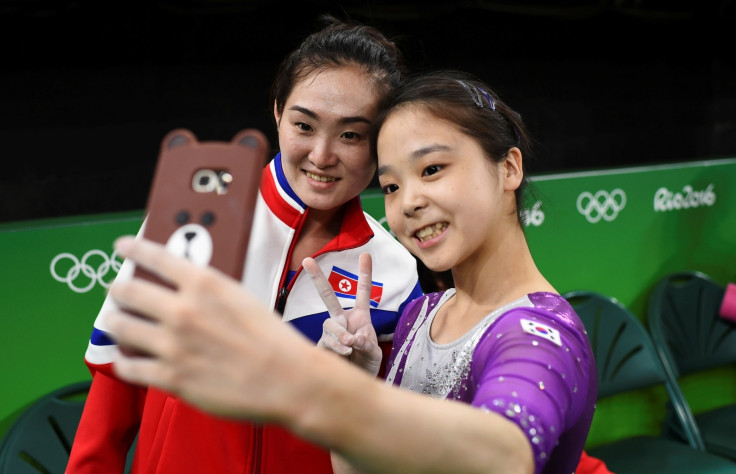 North Korea boycotted the 1986 Asian Games and the 1988 Summer Olympics, which were both held in Seoul. When the North did participate, athletes were reportedly told to ignore the South Korean athletes reaching for a handshake at the podium, reports the Washington Post.
It seems that the 2018 Winter Games are kicking off on a different note. The picture of Kam and Kim is reminiscent of another selfie taken by South and North Koreans athletes during the 2016 Rio Games.
Gymnasts Lee Eun-Ju of South Korea took a selfie with North Korea's Hong Un-jong in a move that led to the head of the International Olympic committee, Thomas Bach, calling it a "great gesture".
North Korea at the 2018 Pyeongchang Olympics
North Korean athletes will march with their counterparts from the South at the opening ceremony under a "United Korea" banner.
22 North Korean athletes will compete, although only two were selected for their sporting merits: Ice skaters Ryom Tae-ok and Kim Ju-sik. Their coach hopes they will make it into the top 12.
It is not the first time North Korea has taken part in Olympic events. They regularly participate, although they are not very good when it comes to Winter games, winning only four medals so far.
Although the North boycotted some events held in the South in past decades, Pyeongchang will not be the first time athletes have gone to the South for sporting competitions.
Kim Jong-un's sister, Kim Yo-jong, will attend the opening ceremony and meet South Korea's President Moon Jae-in on Saturday.