Norway's Krone rallies as inflation rises to 2-year high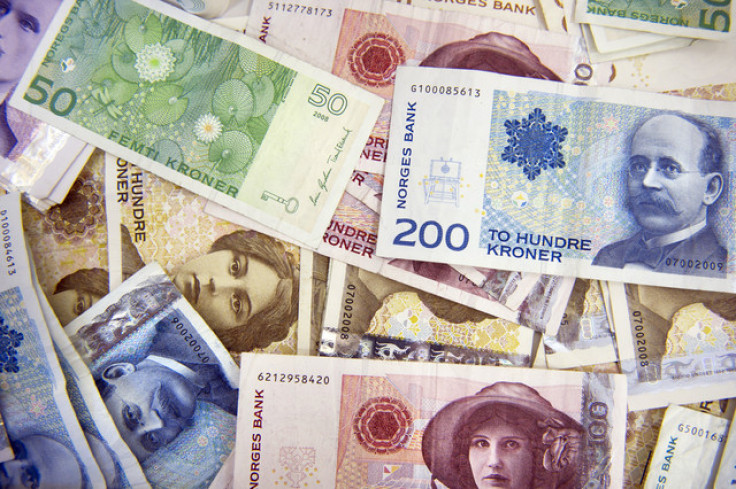 The Norwegian currency rallied across the board on Friday helped by the big positive surprise in inflation data, adding to the industrial output surprise of the previous session.
Friday's rise in the krone was a move off the four-month low against the dollar and from a six-month low against the euro.
USD/NOK fell to 7.9577, nearly 2% down on the day, adding to the 1.3% decline on Thursday. The pair had touched a high of 8.2702 on 7 July, its highest since mid-March.
EUR/NOK shrugged off a broad euro rally aided by the positive news from Greece and fell 0.3% on the day to a low of 8.9484, adding to the 1.4% slide of the previous day. The cross had traded as high as 8.9754 on 8 July, its highest since January.
Headline consumer price inflation in Norway jumped to 2.6% from a year earlier in June from 2.1% in May, data showed on Friday.
Analysts had been expecting a decline to 2%. The month-on-month rate has risen to 0.3% from 0.2% against the consensus of -0.2%.
Thursday's data showed industrial output rebound to 4.2% year-on-year growth in May from a 3.4% decline registered in April. The monthly rate too had bounced to 0.7% growth from -4.9%.
Norges Bank had slashed the key policy rate to 1% from 1.25% in the 18 June policy, adding to the 25 basis points reduction done last year.
Inflation rate has been holding near 2% after bottoming out near 1.8% last year but the sharp rise in June suggests the central bank has now less reasons to lower rates further.
The next review is on 24 September and some market participants have predicted a further reduction in the policy rate to 0.75%.
© Copyright IBTimes 2023. All rights reserved.