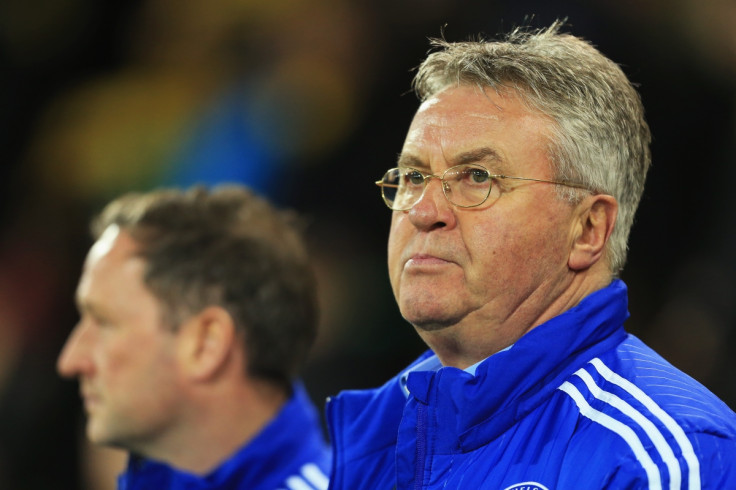 Chelsea manager Guus Hiddink has criticised his side's complacency which almost cost them a third Premier League win in a row against Norwich City at Carrow Road. Kenedy and Diego Costa put the Blues two up at half time but Nathan Redmond's goal capped a resurgence from the hosts and they almost came close to grabbing a crucial point in their battle to avoid the drop.
Kenedy made his second start for the defending champions and he scored the fastest goal of the season so far after 39 seconds, driving home from range after Eden Hazard had fed the Brazilian. Costa then doubled the advantage in controversial circumstances as ran through from an offside position, to finish past John Ruddy.
Norwich, who are now into the bottom three with goal difference separating them from safety, improved after the break and Redmond fired past Thibaut Courtois to set up a grand stand finish. Alex Neil's side pressed for an equaliser as Redmond the substitute Gary O'Neil went close but Chelsea held on to clinch a third win in a row and move into the top half for the first time since August.
"We were sloppy in the first half, we started very well with the beautiful goal from Kenedy and I think we could have finished it off early in the first half," said Hiddink, whose side are now eighth, four points adrift of the top six. "We were a little bit complacent in the last third. And then we go 2-0 but at the end they made our life very difficult.
"Everyone knows how we started in December. We were down, almost in the relegation zone and then we had a target to get as soon as possible out of that zone and we started to do that with draw and now there are a few games in a row that we are winning and that is encouraging."
After dominating the first half, Chelsea were unable to maintain that level of performance in the second 45 minutes with their poor possession allowing Norwich plenty of opportunities to grab a point. Gary Cahill was part of the defensive effort which helped extend the club's unbeaten league run to 12 matches.
"It was horrible by the end, the last 15-20 minutes was very tough," the Chelsea defender told Sky Sports. "I thought in the first half we were in control but the second half was a totally different game and we had to dig in and had to defend. It seemed like we couldn't get up the pitch, we couldn't get out. Credit to them they put the pressure on, they made changes and put forwards on and what have you. The second half was totally different and tough but it feels good to dig in and grind out the result in the end.
"We said collectively we needed to keep this momentum going and it was important we got the three points. We know they are struggling a little bit but they didn't show that. They showed a lot of fight, a lot of spirit and they made it really tough for us in the end. It is a big three points for us."