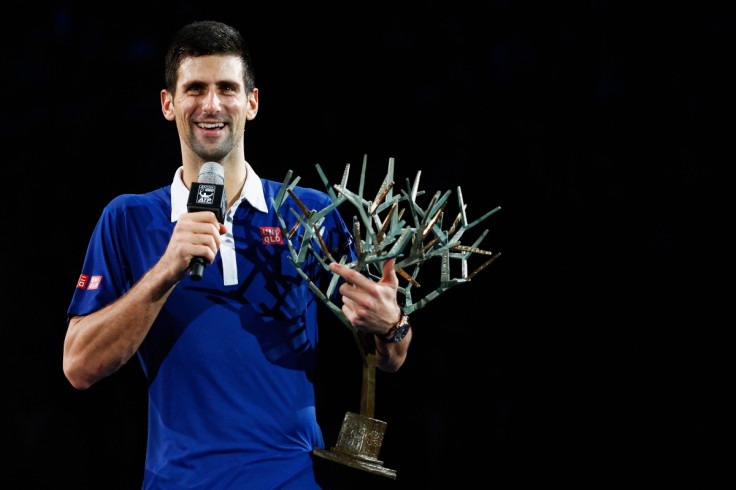 Novak Djokovic has added another title his incredible 2015 after easing past Andy Murray in the final of the Paris Masters. Already guaranteed to finish this year as the top ranked player in the world, Djokovic clinched his 10th title of 2015 after beating Murray 6-2 6-4, his 10th win over the Scot in their last 11 matches.
The Serbian not lost since his Cincinnati Open defeat in August, a run of 22 matches. The Australia Open, Wimbledon and US Open champion took just 90 minutes to dispatch Murray, capitalising on a string of unforced errors and breaking in the third and seventh games of the opening set.
Djokovic broke in the third game of the second but the British no. 1 would provide sterner resistance, clawing his way back into the contest to level things up at 2-2. But Djokovic simply stepped up another gear and broke again in the seventh game before sealing the contest, leaving him a strong favourite to win the ATP World Tour Finals in London this month.
"I think I was very solid from the very first point, very similar to my performance against him in Shanghai in terms of intensity and strength in the shots and really protecting the baseline, trying to be the one that dictates the play," Djokovic said after his win.
"There were a couple of games in the second set where he started turning things around, broke back and was leading 3 2, Love 30, and just barely missed one forehand return. So things could have gone a different way like they did maybe yesterday against Wawrinka at the same stage.
"But I managed to stay tough, you know, save my service game at 3-2, and I think that after that point I felt that I had a good chance to finish off the match in straight sets. It was, all in all, the best performance of the week, and it came at the right time."