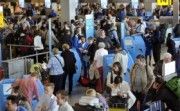 The 24-hour strike called by British unions is expected to bring normal life to a grinding halt Wednesday as most major services across the country are going to be disrupted. Here is a detailed description of the essential services likely to be affected during the day.
1. Health services will be one of the worst hit. Thousands of non-emergency operations will be postponed because of the strike. However, urgent medical help for patients needing chemotherapy and dialysis will be available. Maternity units of hospitals will also be open.
2. Ambulance services will be affected, as the crews will be on strike. Emergency calls will be attended but patients are advised to dial 999 only in urgent situations.
3. About 90 percent of the schools in England could be forced to close as the majority of teachers are part of the strike. In London alone, 2,000 schools are expected to remain shut on Wednesday.
4. There would be extended delays for immigration clearance in airports and ferry terminals.
5. Rail service disruptions and tunnel closures are expected. In northeast England, metro services will be severely hit and an RMT rail union leader will address a rally.
6. There may not be updated weather forecasts as the staff in the Met Office is participating in the strike.
7. Catering staff in the House of Commons and museum curators are also among those who will walk out on Wednesday.
8. Protest marches are due to be staged in Manchester, Bradford, Leeds and Sheffield.
9. There will be no train or public bus services in Northern Ireland. Major public offices, including the passport office, will be closed in Belfast.
10. Other services which are expected to be disrupted are courts, job centres, driving tests and council services, such as libraries, community centres and refuse collections.