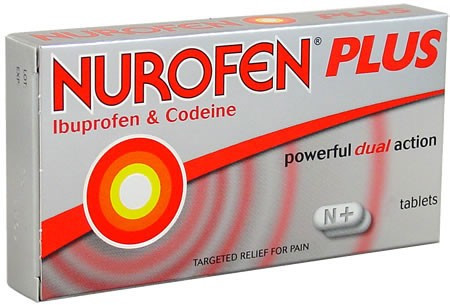 The Medicines and Healthcare products Regulatory Agency issued a safety alert on August 26 warning consumers to check packs of Nurofen Plus after it emerged that thousands could mistakenly contain antipsychotic drugs.
Reports by the MHRA revealed that some batches contained Seroquel XL 50mg prescription-only anti-psychotic drug used to treat mental health conditions, instead of Nurofen Plus.
The mix up has seen some batches of Nurofen Plus which are small and have silver and black packaging contain individual blister packs of Seroquel XL 50mg Seroquel tablets which are larger and have gold and black packaging
Nurofen Plus is for pain relief and contains codeine and ibuprofen.
Reckitt Benckiser, manufacturer of Nurofen Plus, said in a statement that there have been three cases identified so far which have all been confined to south London, reported The Press Association.
Seroquel XL is used to treat several disorders including schizophrenia, mania and bipolar depression. Side effects of Seroquel can include dizziness, weight gain, rapid heart rate and blurred vision.
Two people are believed to have taken Seroquel by mistake, but are not thought to have experienced any ill-effects, reports BBC News.
People with the affected packets said to be in batches numbered 13JJ, 57JJ and 49JJ, were told to return them to their pharmacy immediately.
Each of the affected batches contains between 4,000 and 7,500 packs - around half a million in total. But not all the packs are affected, reported BBC News.
Confusion has occurred over how the mix-up occurred as it was revealed that Seroquel XL is ib fact manufactured by another drug firm, AstraZeneca.
Reckitt Benckiser early this morning ruled out a manufacturing error to explain how potentially harmful antipsychotic drugs used to treat schizophrenia and bipolar disorder were found in their products reported the Metro.
Ian Holloway, from the MHRA's defective medicines report centre (DMRC), said "if you have taken a tablet and you have any questions, speak to your GP", quoted BBC News.
Dr Aomesh Bhatt, medical director for Nurofen Plus, said: "We are taking this matter extremely seriously and we are working closely with the MHRA to investigate fully" quoyed BBC News.
"Additionally, we are in the process of working to ensure the Nurofen Plus packs are double-checked by pharmacy staff before they are handed to customers."
The mix-up is still under investigation.