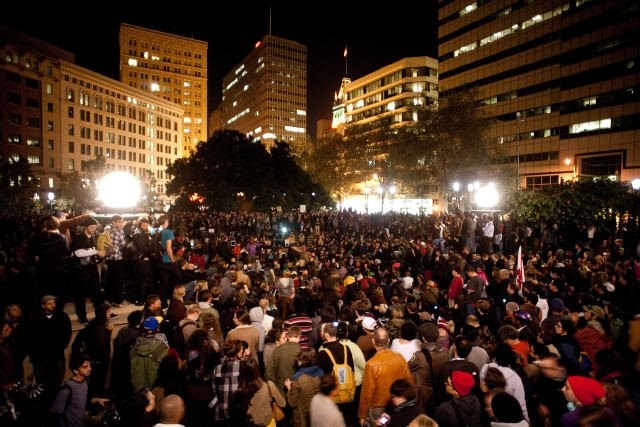 The general strike called for by the Occupy Oakland movement is set to begin in less than 24 hours.
The general strike was agreed upon by the movement's general assembly -- the body that coordinates the movement's actions via weekly votes -- on 26 October.
When it occurs on 2 November it will reportedly see all like-minded residents, both workers and students, walk out of their schools and offices to join the existing protesters in downtown Oakland.
"We as fellow occupiers of Oscar Grant Plaza propose that on Wednesday November 2, 2011, we liberate Oakland and shut down the one per cent," read the movement's statement.
"We propose a city wide general strike and we propose we invite all students to walk out of school. Instead of workers going to work and students going to school, the people will converge on downtown Oakland to shut down the city."
The movement went on to instruct all "banks and corporations" in the area should also shutdown for the day or see the inflated host of protesters "march" on them.
The call-to-arms follows numerous reports of violent clashes between Oakland protesters and the city's police.
Most recently the reports of police brutality have led to a revenge attack by the hacker cell of the Anonymous collective.
The attack saw the Anonymous hackers follow the collective's previous pattern, breaking into the police department's networks, going on to publish data taken in the cyber-raid online.
Oakland authorities have since clarified that they are "aware" of the strike.