Yingluck Shinawatra, an ex-prime minister of Thailand, was so fed up of eating bad Thai food in other countries while on diplomatic missions that she started a new government initiative – the idea of having a robot that would be able to evaluate how authentic a Thai dish is.
Although Shinawatra was ousted from government by a military coup in May, Thailand loved the idea so much that the Thai National Innovation Agency (NIA) was instructed to develop two taster robots using nanotechnology that can measure and analyse the flavours of Thai food by the country's Ministry of Science and Technology.
"There are many Thai restaurants all around the world that are not owned by Thai people," NIA advisor Supachai Lorlowhakarn told the New York Times.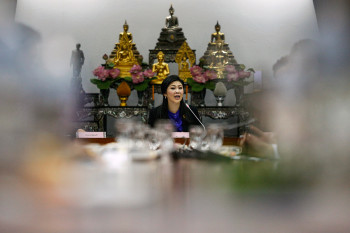 "They are owned by Vietnam or Myanmar, or maybe even Italian or French."
To figure out how to standardise Thai food recipes, NIA's researchers sought help from Chulalongkorn University students in Bangkok, getting 120 participants to test out 10 differently-prepared versions of favourite Thai recipes like Tom Yum Goong (spicy soup), Pad Thai (noodle dish), Mussaman Curry and Golek Chicken Sauce.
The winning choice in each category was chosen to be the government-standard and its chemical coordinates were programmed into the robot, together with the tasters' opinions, so that the robot could understand how to judge if a dish is considered to be too salty, spicy or has other flaws, like being burnt, for example.
The robots
The first robot, named e-Delicious, cost about $100,000 to produce. It has an electronic nose consisting of 16 gas sensors, together with an electronic tongue that can detect salty, sweet, bitter, sour and umami (meat or savoury) flavours, according to ABC News.
"There is a 5 to 10% error probability," NIA's Dr Krit Chongsrid, who developed the robots, told ABC News.
The second robot, called ESenS, is the size of a printer and runs an application on the mobile operating system Android to analyse food samples detected by micro-sensors against the database of Thai government-standardised recipes.
In order for a dish to do well, the food sample has to score at least 80 out of 100.
The robots took a year to develop and the whole "Thai Delicious Committee" initiative cost 10 million baht ($308,000, £190,116). The NIA hopes to be able to create over a hundred of the machines and sell them at $18,000 per robot to Thai Embassies in countries that have lots of Thai restaurants.
The Thai Delicious Committee has also released a free iOS app called "Thai Delicious" containing 11 government-approved recipes. The app, which works only on iPads for now, lets users download recipes and connect to the web to watch how-to video tutorials on cooking authentic Thai food.