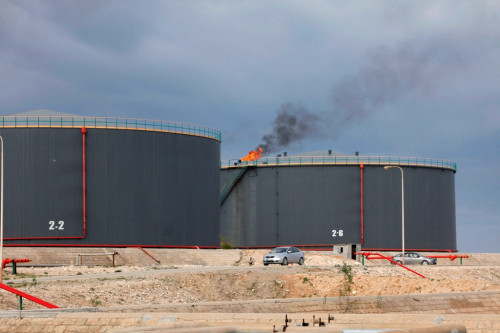 Global crude oil futures dropped this week amid higher US distillate and gasoline supplies and amid the anticipated recovery in Libyan exports.
February US crude oil contract dropped $1.48, or 1.6%, to finish at $93.96 a barrel on 3 January and prices fell 6.3% for the week, according to FactSet data.
February Brent contract lost 89 cents, or 0.8%, to finish at $106.89 a barrel on 3 January and prices fell some 4.7% for the week.
The US Energy Information Administration said on 3 January that distillate stockpiles, which include heating oil, rose by five million barrels, while gasoline supplies rose 800,000 barrels.
Analysts polled by Platts had forecast distillate supplies to rise by 600,000 barrels, and gasoline stockpiles to increase by two million barrels.
Friday's EIA data also showed that crude oil supplies decreased by seven million barrels for the week ended 27 December. The American Petroleum Institute had reported a drop of 5.7 million barrels.
The Platts survey forecast a drop of 1.5 million barrels.
Earlier, in Libya, state-owned National Oil said the El Sharara oil field would resume production within two to three days after protesters agreed to end the near three-month blockade of the production terminal.
Crude oil briefly tried to rally on the "seemingly bullish" EIA report, said The Daily Distillation's Matt Smith.
"But given the near-4 million barrel draw from the Gulf Coast, it would appear end-of-year destocking has something to do with this. Combine this with builds to both distillates and gasoline and this report is much less bullish than what first meets the eye," he said.
Selling in the oil market accelerated into the close "as the bearish global news of Libyan [crude] flows returning have been compounded by a bearish domestic inventory report, especially for the [petroleum] products," Smith told MarketWatch.
Tim Evans, energy analyst at Citi Futures said in a recent note to clients: "Libya still needs to reopen some oil export terminals and follow through on ramping up actual production, but for now it looks as though the production trend is up."
Evans added that the global oil market was "relatively well supplied, particularly over the first half of the [new] year."
Libya Outages
Opec-member Libya, which accounts for over 1.5% of global oil output, is producing just 250,000 barrels per day.
Months-long protests for more regional autonomy and a lion's share of Libya's oil income have hampered oil production and exports from the country, which holds Africa's biggest crude reserves.
Around 85% of Libya's oil is exported to Europe and its biggest customer in the region is Italy.