Crude-oil futures traded marginally lower on 18 July and witnessed mixed trade for the week, as geopolitical tensions in the Middle East and Ukraine fuelled supply disruption concerns.
Brent September contract finished 65 cents lower at $107.24 a barrel on 18 July.
The European benchmark finished flat for the week as a whole, having lost less than a penny since 12 July.
US August contract finished six cents lower at $103.13 a barrel on 18 July.
The contract gained 2.2% for the week.
Oil markets this week reacted to Israel's decision to launch a ground offensive against Hamas forces in the Gaza strip and the downing of Malaysia Airlines flight MH17 over eastern Ukraine.
MH17
US intelligence agencies remained divided over whether the missile, which brought down flight MH17, was fired by the Russian military or pro-Russia separatists, who the US and Europe believe are being supported by Russia.
Both Russia and Ukraine have denied involvement in the 17 June downing of the Malaysia Airlines jet, which came a day after Washington stepped up sanctions against Moscow.
"Any interruption in Russian crude-oil or product exports off the sanctions, or possible Russian reaction to the sanctions, would certainly be a larger supply issue for Europe than the US," Citi Futures analyst Tim Evans told MarketWatch.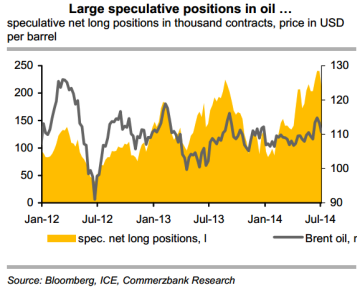 Commerzbank Corporates & Markets said in a note to clients: "Temporarily dropping below $105, the price of a barrel of Brent oil continued its correction in the first half of the week. Speculative investors, in particular, seem to have withdrawn further from the market. However, the subsequent rapid recovery to $107 suggests that supply risks were being priced out somewhat too prematurely.
"Thus, whilst Libyan oil output was recently raised rather quickly from 200k to around 550k barrels per day, the 'normal' daily production level of more than 1 million barrels is unlikely to be reached near term given current levels of violence in the country. Hence, in the weeks ahead, the price of a barrel of Brent ought to be stuck in the middle of its established trading range of $105 to $110."