Sochi Olympic Torch Blasts off for Spacewalk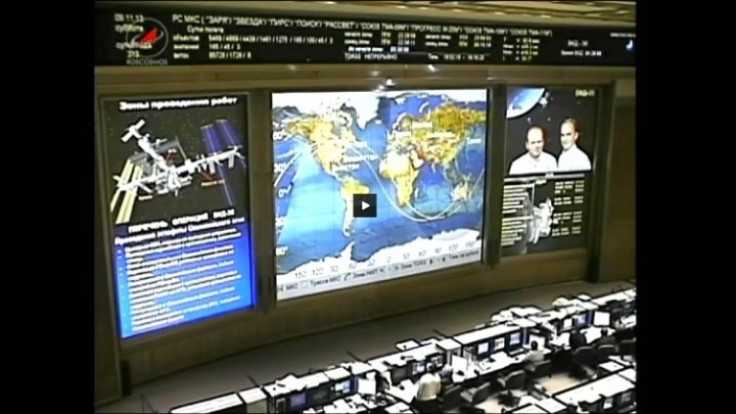 Two Russian Cosmonauts working aboard the International Space Station (ISS) have begun a five-hour "spacewalk" with the Olympic torch tethered to their spacesuits. Oleg Kotov and Sergei Ryazansky spent the first hour taking pictures to mark the occasion before getting on with their more hundrum day job: carrying out routine maintenance to the vessel.
Russia had originally asked for the torch to be taken into space alight but there are strict laws forbidding naked flame aboard the ISS in case it burns up vital supplies of oxygen. Instead the Olympic flame will remain lit on earth while the torch visits space.
Kotov is the first to carry the torch, with Ryazansky taking photographs for posterity. The hardest part, Ryazinsky joked earlier, would be getting his colleague to part with it:
"I will climb out first with a video camera in my hand and other photo equipment, then Oleg will climb out with the torch, and I will be the one taping it. Then we will switch - if he lets me hold the torch."
Today's event will be the third time the Olympic torch - a feather-shaped silver and red symbol of peace and friendship - has been in space, following expeditions in 1996 and 2000, but today marks the first time it has actually left the ISS. The torch has also visited the North Pole on a nuclear-powered icebreaker and is scheduled to visit the depths of the world's largest lake, Baikal, ahead of the opening ceremony on 7 February 2014.
Speaking about the planned spacewalk on Friday (7 November) Kotov said: "Such momentous events are usually marked by some sort of grand pronouncement, but we are not going to be so original. Our speeches will be dedicated to the promotion of the Olympic movement, healthy lifestyles and the development of sport around the world."
The Sochi Winter Olympics have been dogged by controversy, with some UK celebrities calling for a boycott due to what they believe is state-sponsored homophobia in the country. Others have cited the imprisonment of the punk band Pussy Riot and the imprisonment of the so-called "Arctic 30", including British journalist Kieron Bryan. The Russian authorities will probably hope today's event marks the beginning of more favourable coverage.
© Copyright IBTimes 2023. All rights reserved.