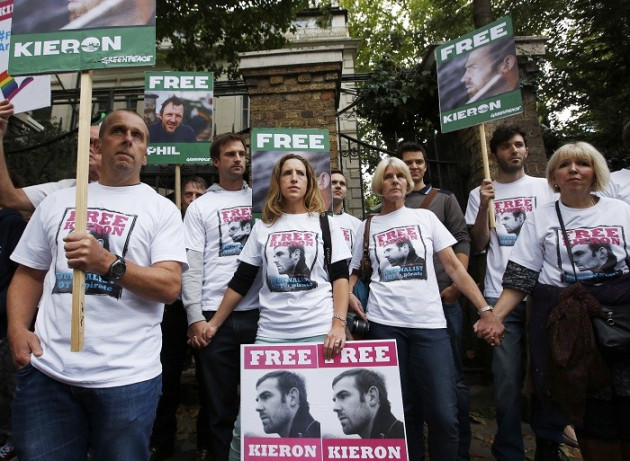 Protesters have gathered outside the Russian embassy in London to demand the release of video-journalist Kieron Bryan, who was arrested on a Greenpeace ship by Russian security forces in September.
Supporters of the Free Kieron campaign assembled with journalists in silent protest at the embassy building in Gee Street and delivered a petition to embassy staff calling for the 29-year-old Briton to be released from the prison in Murmansk, northwest Russia, where he is currently being detained.
Bryan, a video-journalist from London, was with around 30 Greenpeace activists who were arrested by Russian authorities when they boarded the ship Arctic Sunrise. He has been charged with hooliganism and Russian investigators have opened a criminal case against the activists, accusing them of attacking the oil prospecting platform Prirazlomnaya in the Barents Sea.
Bryan's brother Russell told BBC News: "We feel and he feels that he shouldn't be there, he's a freelance journalist not a Greenpeace activist.
"He goes through some positive moments when he hears from family and friends through letters and he also has his dark times. He spends 23 hours in a cell presumably on his own. It's scary for all of us, it's terrifying."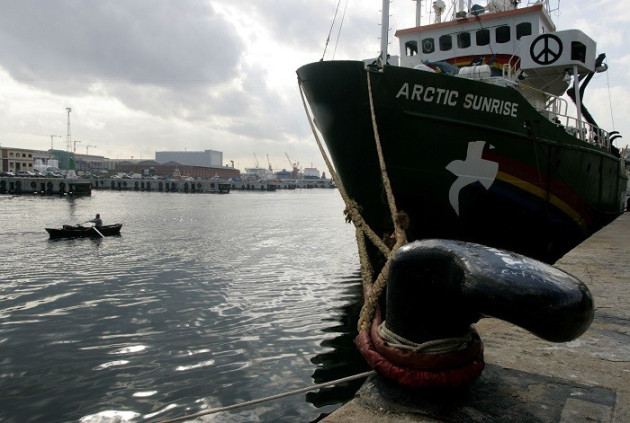 A spokesperson for the National Union of Journalists, which helped organise the silent protest, said: "After first being charged with piracy, [Kieron's] now facing trial for hooliganism. This is unacceptable. He's facing up to seven years in jail for simply doing his job. He must be freed immediately.
"Kieron tells us he spends 23 hours a day alone in his cell. This is a terrible injustice. It is absolutely vital that the Russians understand that Kieron is a freelance journalist, not an activist."
The activists were arrested at gunpoint while protesting against Russia's Arctic oil exploration plans. Greenpeace maintains that the ship's capture was illegal because it took place in international waters.
The Netherlands has taken the case to the Hamburg-based UN-backed International Tribunal of the Law of the Sea, which arbitrates maritime disputes and helps enforces rules governing the use of the world's oceans and their resources.
A statement released by the Russian foreign ministry said Moscow opted out of the UN Law of the Sea dispute resolution process in 1997.