OS X 10.8 Mountain Lion Review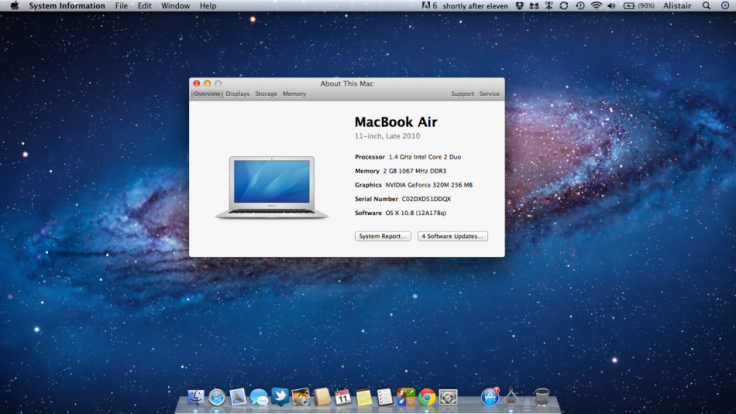 Key features:

iOS inspired interface unifies both operating systems
Game Center allows games to be played between Mac and iOS devices
Notification Center ported over from iOS
Gatekeeper protects you from malicious applications
Messages allows for free texting between Mac and iOS devices
Available in July for $19.99 from the Mac App Store
Introduction
Mountain Lion is the latest major update to Apple's OS X operating system, replacing Lion and bringing with it a comprehensive range of iOS-inspired features and applications.
Much as Snow Leopard was a sizable update to Leopard rather than a major new operating system, Mountain Lion is evolutionary rather than revolutionary, giving Lion a fresh new suit instead of completely revamping the OS.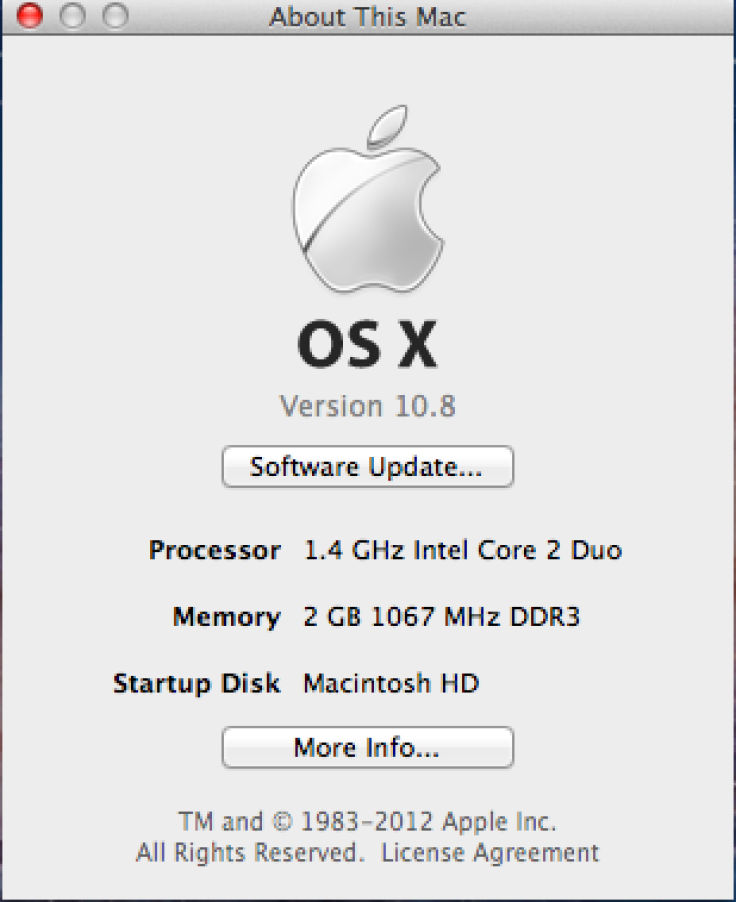 Officially called OS X 10.8 Mountain Lion - Mac is no longer part of the name - the new operating system was released as a preview to developers back in February and will go on sale this summer.
At IBTimes UK we've been using the developer preview since it was made available and what follows is our extensive review of OS X Mountain Lion with its many iOS influences.
Apple's biggest changes to its operating system for Macs and MacBooks is obviously the addition of iOS applications ported straight over from the iPad. These include Reminders, Game Center, Notes and the Notification Center.
OS X 10.8 Mountain Lion: Notification Center
First announced for iOS 5 in late 2011, Notifications Center was badly needed on the iPhone and iPad, as previously applications had no universal place to show their own updates and messages, and the lock screen only displayed the most recent notification across the entire OS.
While Notification Center in iOS drops down from the status bar, its Mountain Lion cousin slides in from the right-hand-side when you click the icon in the top right next to Spotlight, pushing the rest of your desktop over to the left.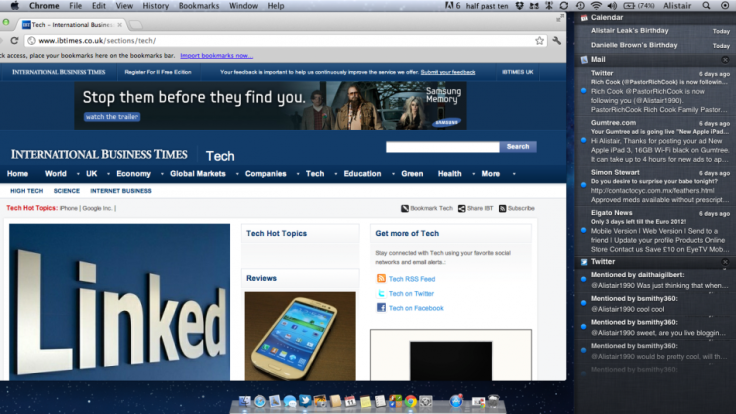 Notification Center for Mountain Lion can be configured to display messages from as many or as few applications as you like. These include; email, iMessages (more on those later), reminders, Twitter mentions and direct messages, software updates, calendar events, FaceTime invitations, Game Center and more.
Clicking on a notification takes you to the relevant app and removes the message from the list. Notifications for an entire application can all be removed at once by clicking the X.
Notification Center can be hidden by either clicking again on the icon in the top right, or swiping with two fingers from left to right on the trackpad.
As with the iOS version, Notifications can be customised to appear either as a banner in the upper right corner of the screen or as an alert that stays in place until it is clicked.
OS X 10.8 Mountain Lion: Reminders and Notes
Reminders is basically the iOS application that has been carried over to Mountain Lion and is almost identical to its iPad equivalent. The app comes close to stepping on the toes of Calendar (previously called iCal) but it is intended to act more as a to-do list than as a fully-fledged calendar.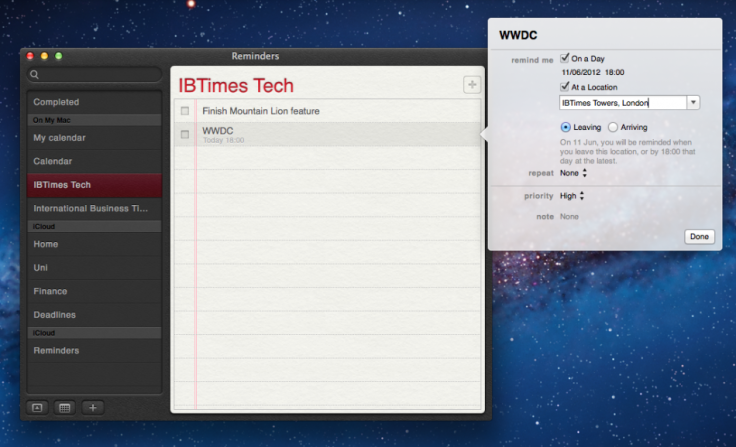 Half-way between a to-do list and a calendar, Reminders lets you either set a list of tasks to be done, or include deadlines on when they've to be done by. As with the iOS version you can add a location to reminders, so the app will notify you when you're in a certain location, although with Wi-Fi-based location guessing is dodgy at best, we wouldn't trust Reminders with anything too important - just set a time and date instead.
Everything in Reminders - and just about everything else in Mountain Lion, too - is synced up with iCloud and back down to your iOS devices, so a reminder added on your iPhone will automatically appear on your Mac and iPad moments later.
Notes is also ported over from the iPad and features the same yellow paper, leather folder and torn pages that the iOS version has. Personally, we really don't like Apple's use of these kind of real-world textures and graphics mimicking actual objects - something more original would have been appreciated.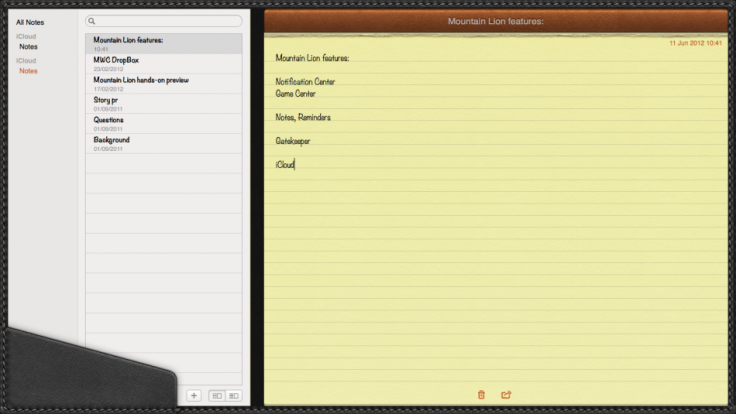 All notes written are synced with iCloud and to your iOS devices, and the app can be viewed in full screen mode, along with just about all of Mountain Lion's apps.
OS X 10.8 Mountain Lion: Mail
Like many other apps, such as Safari, Calendar and Notes, Mail can be made full screen in Mountain Lion and one of the biggest additions is VIPs. You can assign certain contacts to the VIP category, giving them their own inbox and keeping those messages separate to those from mailing lists and work, for example.
Mail works with Notifications Center so that it can be set up to only show alerts to emails you're interested in. So instead of seeing a notification for every email, you can set Mail to only show alerts for your VIPs or any other specific mailbox.
For reasons better understood by Apple, Mail for Mountain Lion no longer supports RSS feeds, which used to be configured to appear in their own inbox. This feature has now been completely removed, so if you want to view RSS feeds in Mountain Lion then you'll have to resort to a third-party application.
Unless, of course, Apple adds its own RSS reader app before the finished version of the newest big cat goes on sale.
Mail's full-screen column layout is similar to that on the iPad when held in landscape and shows your inboxes and folders on the left, then a list of your message, and finally the who email on the right.
OS X 10.8 Mountain Lion: Messages
Apple has shown little love for its iChat instant messaging service in recent years and all but replaced it last year with the video calling app FaceTime.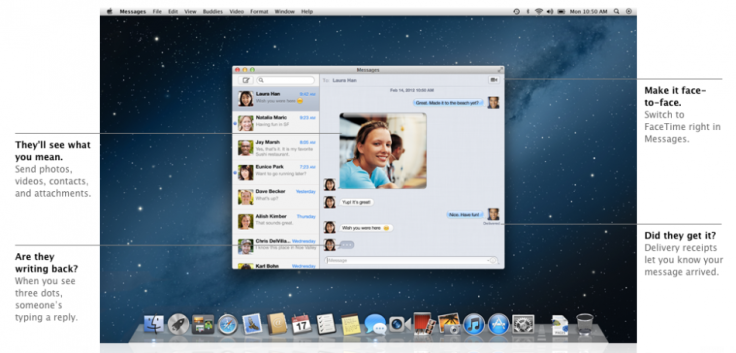 For Mountain Lion, however, iChat has undergone a rebrand and is now called Messages. The app works the same as before, but includes integration with iMessage.
Free and instant iMessages can be sent between Macs and iOS devices - these include text, images, video and invitations to start a FaceTime conversation. Messages also includes delivery receipts and an icon to show when someone is typing a message to you.
A beta of Messages has been available for Lion users to try out since February, but now the app will only be available as a finished version with Mountain Lion.
OS X 10.8 Mountain Lion: Game Center
Game Centre is another new addition to Mountain Lion. Once again, the app is very similar to its iOS counterpart and allows users to play against friends on different devices - so a Mac user can play against someone on an iPad, for example.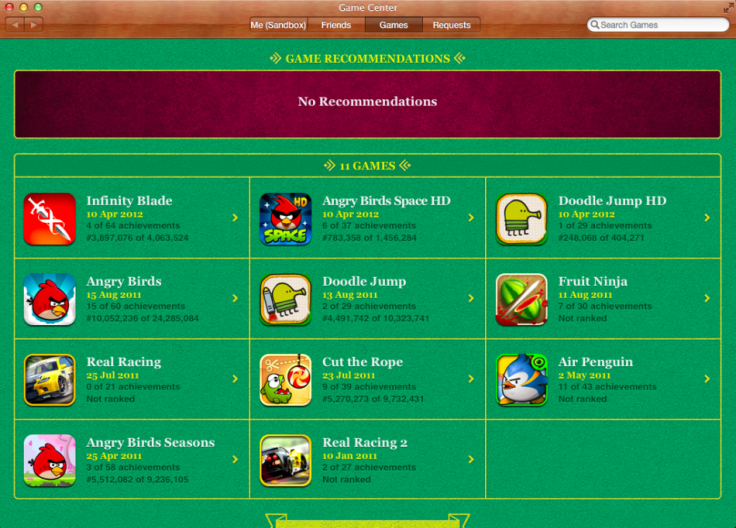 You can log in to Game Center on the Mac with the same Apple ID as you use on your iOS devices and the interface is very similar. As on iOS, there are leaderboards to compare you against your friends and the very best players in the world, and finding friends is as easy as entering their email address and sending a request.

OS X 10.8 Mountain Lion: Gatekeeper
With the number of application available for the Mac on the increase, and the threat of malware ever-present, Apple has felt the need to develop Gatekeeper, a security system that tries to persuade Mac users into only downloading applications from Apple's Mac App Store.

By default, only application from the Mac App Store will be allowed through Gatekeeper, but you can delve into the settings and open the security to allow apps from third non-App Store sources that are identified as safe by Apple or, if you're feeling brave, from absolutely anywhere you like.
Some will see Gatekeeper as a way to force developers into using Apple's App Store rather than their own servers, while novice users will perhaps see Gatekeeper as a good way to stop them from accidentally installing dubious software.

At the end of the day, Apple takes a 30 percent stake from all apps sold in the App Store, so by making all new Macs refuse to download anything from elsewhere by default, Gatekeeper seems like its protecting Apple's bottom line as much as our computers from rogue software.
OS X 10.8 Mountain Lion: Twitter
As seen with iOS, Twitter integration has been improved with Mountain Lion. Links in Safari and images in iPhoto can be tweeted from within the app - no need to open a separate Twitter application like TweetDeck.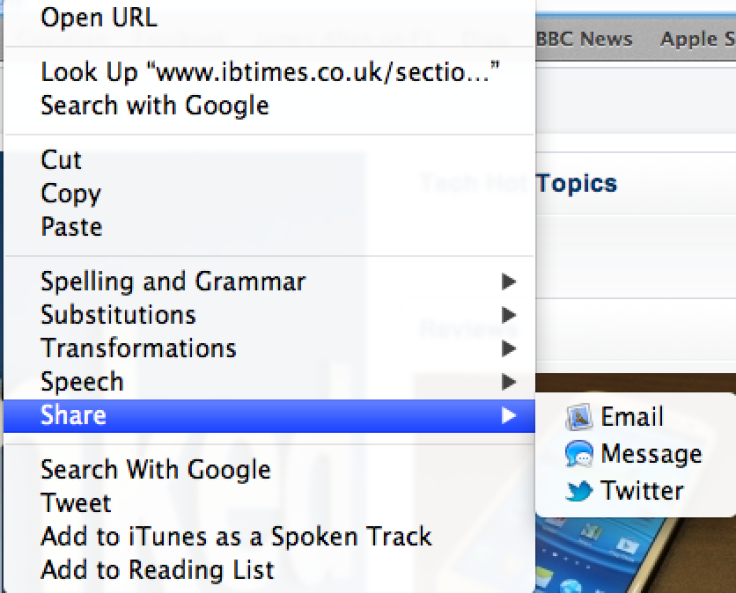 During our time with the beta of OS X 10.8 we found that attempting to tweet a website link would open the official Twitter app that we had installed. If you don't have that app, then a tweet box like the one shown below opens.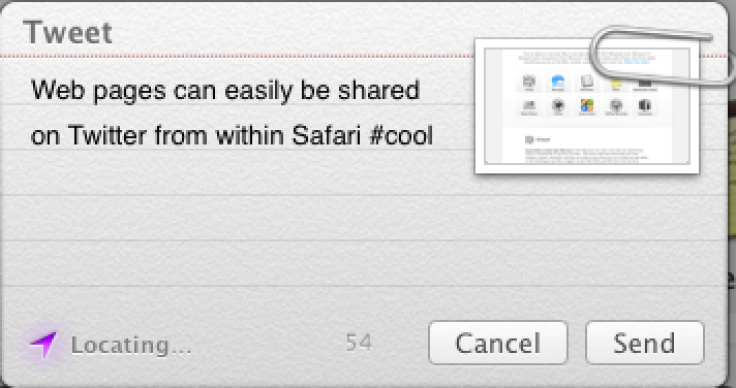 Mentions and direct messages can be set up to appear in Notification Center, if that's what you want. Annoyingly, however, when we click on a mention in your list of notifications we're taken to a new Safari page and the Twitter website - we'd rather that click take us to the already-open Twitter Mac application instead.
OS X 10.8 Mountain Lion: iCloud
iCloud is integrated heavily with Mountain Lion, with Notes, Reminders, Game Centre and Messages all syncing with each other and every Apple device you own to keep everything up to date.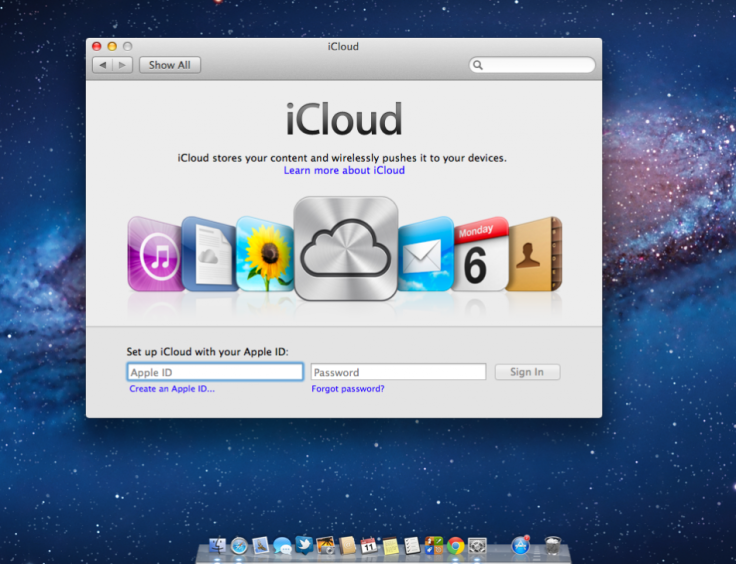 The theme of Mountain Lion is clear - to sync everything across every Apple device seamlessly through iCloud. Apple wants users to feel comfortable and find a familiar interface on every product, whether it is their phone, tablet or computer.
OS X 10.8 Mountain Lion: LaunchPad
First introduced with Lion in 2011, LaunchPad offers an alternative way to searching for and opening applications that closely resembles the home screens on iOS.
New for Mountain Lion is the ability to type for an application; enter a couple of letters and LaunchPad weeds out what you're looking for, displaying just the apps that begin with the letter you've typed.
OS X 10.8 Mountain Lion: Safari
A small tweek for Safari in Mountain Lion sees website addresses adjusted to highlight what is important. So http:// is shown in grey, the website, such as 'www.ibtimes.co.uk' is shown in black, then anything after, like '/sections/tech' is also grey, to help you see quickly what website it is you're visiting.
Mountain Lion also brings two-finger swiping to Safari to navigate back and forth between websites. Swipe two fingers from left to right on the trackpad and the user interface slides the website you're viewing from left to right, revealing he previous page underneath. of course, swipe the other way and the page move right to left, showing the forward-most page.
OS X 10.8 Mountain Lion: Conclusion
We've saved complaining about the user interface until now because it seemed unfair to criticise all apps for a shared problem, and it's this: Game Center, Notes, Calendar and others are designed to look like something from the real world, rather than a computer application.
Why make Game Center look like a card table, with felt covering and a wooden border? Why make Notes look like an actual notebook with leather folder and torn pages?
In our eyes, these design gimmicks make the operating system feel cheap and as if Apple has held back and not been as creative and original as it could have been.
These visual metaphors just about work on iOS with its touch interface, but on a laptop or desktop where input is via a mouse/trackpad and keyboard, the reasons to use applications modelled on the analogue objects they have replaced seems backward.
Mountain Lion was never going to be a radical new operating system, or Apple would have chose a big cat further removed from its Lion processor, or - say it quietly - moved away from the big cat naming entirely, and maybe onto planets or galaxies to fit in with the astrology theme of recent OS X wallpapers.

Away from the love-it-or-hate-it UI designs, the selling point here is iCloud and integration with iOS. By unifying the two systems - OS X and iOS - Apple has further strengthened the ecosystem. Yes, this means adding even more security to that walled garden, making it harder still to leave, but for those happy to stay it puts everything you need - contacts, calendars, notes, emails, documents - everywhere you need them and any time.
People used to speak of the iPod and its 'halo effect', where users who liked their iPod and iTunes would then see what else Apple made, and some of those would buy a Mac. Now the 'halo effect' is with iOS.
Moving from Windows to Mac was seen as daunting and a step into the unknown, but by borrowing features - and yes, those dodgy user interface designs too - from iOS, Apple has made OS X a more welcome place for those new to Macs to start out.
OS X Mountain Lion will be available from the Mac App Store in July for $19.99.
OS X 10.8 Mountain Lion: Compatibility
Mac Mini - from early 2009 or newer
iMac - from mid-2007 or newer
Mac Pro - from early 2008 or newer
MacBook - must be the 13in aluminium model from 2008, or the plastic model from early 2009 or newer
MacBook Pro - 13in model from mid-2009 or newer, or a 15in model with a 2.2GHz or 2.4GHz processor from late 2007 or newer - and the same goes for the 17in model.
MacBook Air - late-2008 or newer
Xserve - no older than the early-2009 model
The Good:
iOS styling unifies both operating systems
Fast and responsive, feels like a performance boost from Lion
Easy to upgrade from Lion
Full screen apps are very welcome
The Bad:
Finder folder organisation is dated and needs improving
Real-life design - torn pages, etc - may not appeal to everyone
Evolutionary, not revolutionary - it's an update to OS X that you want rather than need
Yet more multitouch gestures means that computer mouse isn't far from extinction
© Copyright IBTimes 2023. All rights reserved.