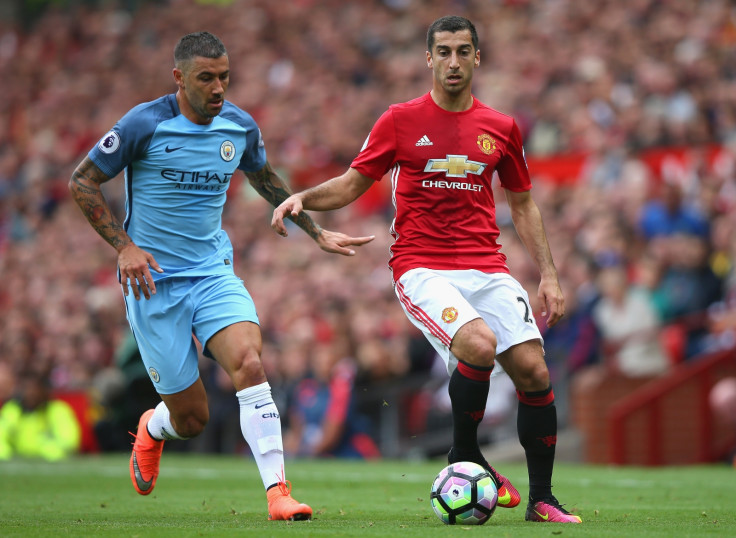 Manchester United manager Jose Mourinho has compared Henrikh Mkhitaryan's initial troubles at the club to those of Brazilian midfielder Willian at Chelsea and Angel di Maria at Real Madrid.
Mkhitaryan, 27, has started just one game for United since his £27 million signing from Borussia Dortmund against Manchester City in September – a game where he was taken off at half-time. The Armenia international has not been seen since, having failed to even make the United bench after then.
While the player suffered a thigh injury during international duty in September. Mourinho insists his signing is now 100% physically fit. The former Chelsea manager, however, has suggested the new arrival from Germany is struggling with the intensity and aggression of the English game.
The manager had little doubt his summer signing will eventually reach the level required, however. Speaking at a press conference ahead of Saturday's game against Burnley, Mourinho recalled Willian's first season at Stamford Bridge following his arrival from Shakhtar Donetsk in 2013. By this time that year, the Brazil international had also started just one league game for his new club and would complete 90 minutes just four times before the turn of the year.
"I think Micki will work here for sure," Mourinho told United's official website.
He added: "A player who had a problem to play when he first arrived was Willian. He went through a process and then, after a few months, he became a top player. Then, when we won the championship, he was phenomenal and still is. That is just an example.
"Similarly, Di Maria had to learn a lot about his game when he came into Madrid from Portugal. Sometimes this is what happens. It happens with defenders, but it is often easier for them to adapt than attackers. Some go straight to success and others it takes more time."
Mkhitaryan's persistent absences have been a cause of concern among supporters but Mourinho is confident the club's measured approach will pay off.
"In Micky's case the process was interrupted by injury, which does not help the process of evolution. Being out for a month meant he has had to go through the process of getting match fit, then once he has that he needs the competitive level to do it. We believe him and, sooner or later, there will be no problem."