Over 100,000 rotting bat corpses are believed to be covering southern Queensland following a heatwave that killed colonies across the area.
The RSPCA in Queensland said there were mass deaths at 25 different colonies across the state after temperatures plateaued around the mid-40s for several days.
Areas where bat deaths were reported include Mt Ommaney, Redbank, Boonah, Palmwoods, Laidley and Gatton, Australia's ABC News reports.
Michael Beatty, spokesman for the RSPCA, said: "The heatwave was basically a catastrophe for all the bat colonies in south-east Queensland.
"That's obviously going to have a pretty disturbing impact on those colonies and those colonies are vital to our ecosystem."
Locals in the Scenic Rim Regional Council, west of Brisbane, organised rubbish collectors to help clear the carcasses, while residents near Boonah's Athol Terrace said the smell of the dead animals had been with them for days.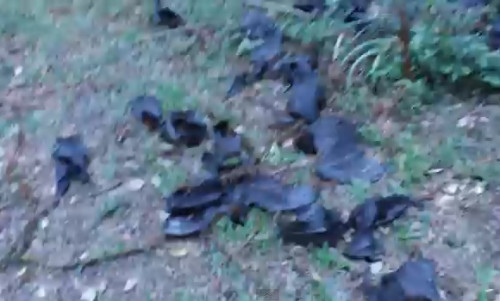 One man, Murray Paas, from Dayboro filmed over 1,000 dead bats in his back garden: "More dead in the trees, waiting to fall," he said. "The council is on the way to start the clean-up. I've been instructed not to touch them."
Hundreds of bats are also lying in trees and bushes and are being eaten by maggots. However, councils have advised locals they will not be clearing the carcasses from bushland.
Sammy Ringer, from Bat Rescue, reiterated advise issued by Queensland's Health Authority, which told people not to touch the bats: "Don't touch them, they're stressed. If they do bite or scratch you and break the skin you can get a vaccination, you can get a shot for the lyssavirus."
Dr Jeanette Young, the state's chief health officer, also told APN: "Some bats may appear dead but they are not and when people have attempted to remove them they have been bitten or scratched. Bats also have a claw on their wings which is a frequent cause of injury."