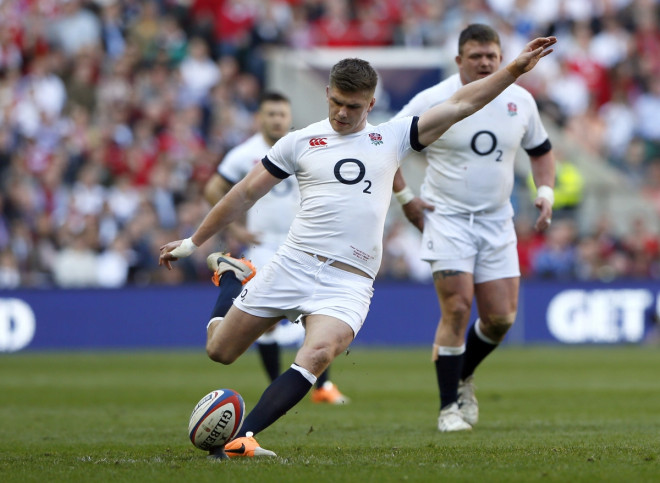 Of the motivational words that consume the walls of the Twickenham gym, the quote which borders the pristine image of England fly-half Owen Farrell are perhaps the most striking.
They pay tribute to the progressive American football coach Vince Lombardi, whose approach to attaining victory broke boundaries, and goes: "Practice does not make perfect. Only perfect practice makes perfect."
It's a quote which not only consumes and surrounds Farrell, but now defines him.
If the position which provided the greatest contrast between England and Wales was at first choice kicker, Farrell mocked the dearth of experience he gave away to Wales' Leigh Halfpenny by matching the leading scorer from last year's Six Nations and from the British and Irish Lions' tour of Australia kick for kick.
Having shown such assurance in laying the platform for England's 29-18 win over Wales in the most pressure-filled environment of his 24-cap international career, Farrell's stranglehold on the England No.10 jersey is becoming ever-more firmer. Perfect, 18 months short of a World Cup on home soil
"I realised two weeks ago [I was facing Leigh Halfpenny] before we even started this game," admitted the 22 year old. "That was always going to be the case. Leigh is a fantastic kicker and I am glad I got into a good way and kicked through the ball nicely.
"All I can do is be confident going into the game because of the work we have been doing in the first place.
"Being able to kick with Catty [Mike Catt] and George [Ford] during the week and to make stuff into competitions and things like that and put as much pressure on ourselves as e can in training and that's been working pretty well.
"There aren't a spare 80,000 people knocking about. We just try and make it into a competition and everyone is competitive enough and put pressure on to make that into a pressure situation just by doing that."
Such confidence under pressure through proper practice ridicules England's football counterparts, who will entrust a psychologist during of this summer's World Cup finals in Brazil solely to deal with the seemingly hereditary flaw of missing penalty kicks.
Amid failure to convert their superiority coupled with Wales doggedness, Farrell's accuracy with the boot built the platform that keeps England in pursuit of the Six Nations title and the Saracens half-back is hopeful such focus will prevail this weekend.
With Ireland possessing an unreachable points difference advantage, England require victory in Rome against Italy before willing France to victory over Joe Schmidt's team in Paris.
"Ireland have been playing well," Farrell added. "There's probably a lot of emotion for Ireland going into that last game with it being Brian O'Driscoll's last one but it's a strong French side that could probably beat anyone on its day.
"Rugby is all about what happens on the day so we'll see."