A British councillor who visited the West Bank on a peace trip with a Labour group claims to have been arrested, beaten and humiliated by the Israel Defence Forces following a protest near the West Bank city of Ramallah.
Cllr Dipu Ahad, from Newcastle, had travelled to the Middle East with the Newcastle Labour Friends of Palestine to visit communities across Israel and the Palestinian territories, as well as Israel's Holocaust Museum Yad Vashem.
Ahad was arrested in the town of Bil'in, a Palestinian village which holds a protest against the Israeli occupation and separation wall built through the town every week.
"It was one of the most terrifying experiences I've ever had," he said.
"There were rubber bullets flying around left, right and centre. The soldiers were getting closer, I could barely run, so I just stopped and held my hands up."
"They handcuffed me behind my back and used my scarf as a blindfold. I was dimly aware of shapes moving through the cloth," he told local media outlet ChronicleLive.
The councillor claimed that the soldiers tooks selfies of themselves with Ahad while laughing at him. They then kicked him on his injured ankle and, when he asked for water, they placed a cup to his lips before taking it away and mocking him.
"They began taking selfies of me despite me being in distress. I had showed them my business card which identified me as a Newcastle city councillor and told them I was an observer of the demonstration and they just laughed.
"They were mocking me, they didn't give me water. When I asked for water they put a cup to my lips then withdrew it when I tried to drink from it. They hit my on the shoulder with their guns and kicked me on my swollen ankle."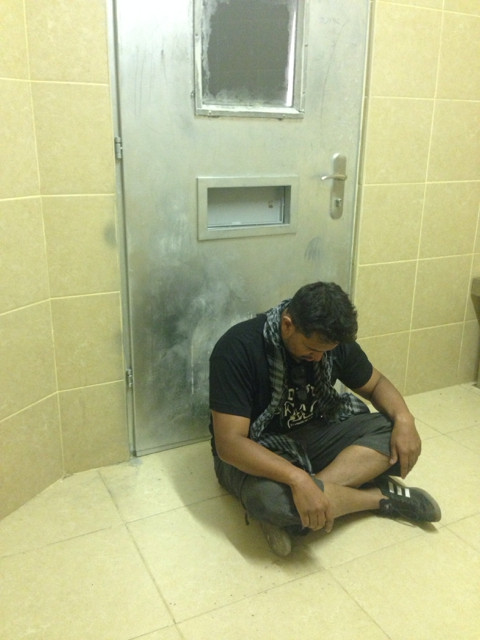 He was released after 10 hours without charge and was separated from the Labour group at Ben Gurion International Airport in Tel Aviv for an "aggressive" interrogation.
Also in the delegation that Ahad travelled in was Newcastle Central MP Chi Onwurah and fellow Newcastle councillor David Stockdale who was struck by a rubber bullet.
"We had gone as observers to watch demonstrators protest against the Israeli occupation," Stockdale said.
"We were wearing black T-shirts with peace written in English, Hebrew and Arabic on them. We were so 'leftie' clichéd peace protestors that I was even wearing sandals, for God's sake.
"Quite early on the Israeli Defence Force began firing tear gas. Then a gate opened and an army vehicle sped out."
Stockdale added that he had been hit by a rubber bullet which had deflected off the ground during the protest. He said: "If it'd been direct I would not have been able to run."
Labour MP Onwurah said that she would raise the incident with both the Foreign and Commonwealth Office (FCO) and the Israeli Ambassador to Britain.
"It was a distressing experience and Dipu was very badly treated. It was a peaceful demonstration and there was no need for tear gas and rubber bullets. I will be raising the matter with the Foreign and Commonwealth Office and the Israeli Ambassador," she said.
"While we were there we got in touch with an official at the British Consulate in Jerusalem who said they had observed a previous protest there and they had been tear gassed."
An FCO spokesman said: "We are aware of an incident involving a British National in the Occupied Palestinian Territories on 19 September. We provided consular assistance."
A representative from the Israeli Embassy to London was not available for comment.