Reigning laser class Olympic champion Paul Goodison says his London 2012 campaign is all but over after a recurrence of a back injury.
Goodison, who is 10th overall after four races, picked up a back problem on Monday on the opening day of competition.
However, having undergone rigorous treatment overnight, Goodison is still struggling with the problem, and with a large deficit to make up the 34 year old's Games could meet a premature end.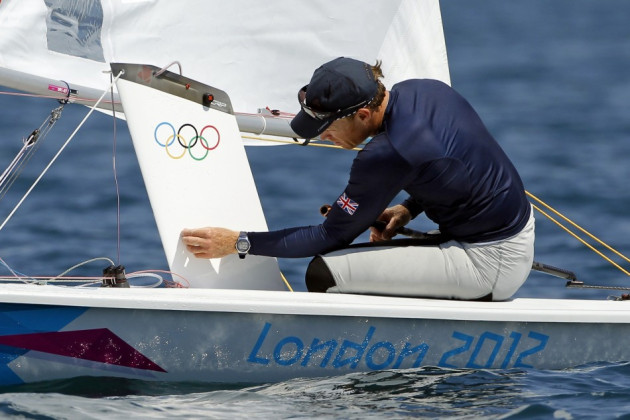 "I could hardly bend down last night," Goodison said. "The physios did an amazing job to get me back out there today and I was kind of hoping it would be a quick fix but unfortunately not.
"We'll have to do the same thing again tonight. The body is in a lot of pain. You can push through that to a certain degree and fire yourself forward but when the pain is affecting your decision making it's very difficult.
"Yeah, for sure [he said on the possibility of withdrawing]. I'm more worried my body is in a lot of trouble.
"Until that is fixed you can't really fire on all cylinders and unless you deliver your very best it's going to be hard to win. I've just got to keep ticking away and give myself a chance if I get better later on."
Another defending champion from Beijing, Ben Ainslie, is optimistic that after a fourth and third place finish on day three saw the gap between him and leader Jonas Hogh-Christensen extend to ten points, he is still in the hunt for a fourth Olympic gold.
The three-time champion has four races and the medal race remaining to close to the gap to the Dane, who has enjoyed three wins in six races in the regatta.
"He's on fire and at some point the tables have to turn. At the end of the day it's about winning. I'll keep going to the end whatever happens," Ainslei said. "There is still a long way to go."
Elsewhere, Alison Young lies three points behind third place Marit Bauwmeester after just four races in the women's laser radial, while Stevie Morrison and Ben Rhodes are 12th in the 49ers class after capsizing in the day's second race.
"It is a bad thing to happen but it has happened." said Morrison. "There is no point in panicking. You can't win a sailing event by panicking."