Britain's business secretary and the consumer affairs minister will meet the Archbishop of Canterbury on Tuesday, to forge new draft legislation and guidelines for credit unions, in order to protect vulnerable consumers from 'predatory' payday loan companies.
Speaking exclusively to IBTimes UK on camera, the minister for employment relations and consumer affairs, Jo Swinson says that the Department for Business, Innovation & Skills are creating a new set of robust practices to make sure consumers can protect themselves against falling into a debt spiral.
"My colleague and I, business secretary Vince Cable, are meeting the Archbishop of Canterbury on this issue. We are very keen that credit unions are expanded as they are important way of lending to a community that benefits local people," said Swinson to IBTimes UK, who is also a Liberal Democrate MP for the East Dunbartonshire constituency.
"The government has already committed £38m to help credit unions modernise and some of the challenges they face, by going up against the likes of payday lenders, include infrastructure issues.
"They also face a restriction on the level of interest rates they are allowed to charge. We are now going to bump this up to 3% a month, from 2% a month."
Last month, Welby told chief executive Errol Damelin, of incumbent payday lender, that "we're not in the business of trying to legislate you out of existence; we're trying to compete you out of existence."
Protecting Consumers from 'Predatory Practices'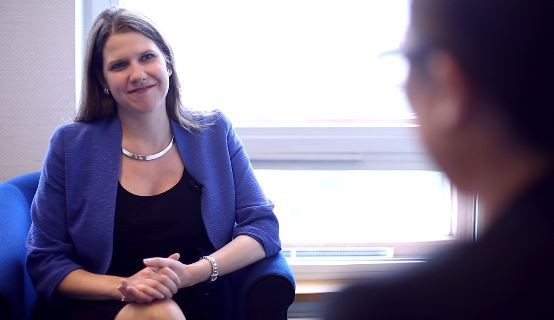 According to the most recent Office of Fair Trading statistics, the payday lending sector is worth £2bn ($3bn, €2.3bn) in the UK.
In May, the Public Accounts Committee (Pac) urged the Financial Conduct Authority to crack down on payday loan companies which use 'predatory techniques' and lend money to consumers at astronomical interest rates.
The sector in 2013 has doubled from that of 2008 to 2009. Current figures show that this corresponds to between 7.4 and 8.2 million new loans.
Despite these loans being described as one-off short term loans, costing an average of £25 per £100 for 30 days, up to half of payday lenders' revenue comes from loans that last longer and cost more because they are rolled over or refinanced.
Interest rates on the short term loans can reach highly inflated levels. For example, one of the UK's largest payday loan companies, Wonga, bumped up its representative APR of 5,853% on its website this month.
Capping Interest Rates?
When asked why the government can't either cap the level of interest rates charged by payday loan companies, Swinson said that wouldn't solve the problems of the payday lending sector.
"We do recognise that there are significant problems with the payday lending sector and that's why we are taking tough action," said Swinson.
"The problems that exist, which research shows us, are that it is not as simple to look at interest rates actually it is about consumers getting loans that are unable to afford to pay them back or the rollover of loans that should have been just short term financing."
In July, the UK government launched two surveys at the ministerial summit to address concerns in the payday loans market.
These surveys aim to check how well payday lenders are meeting the standards set out in the industry codes implemented last November.
For the full video interview, don't forget to check out IBTimes TV, or the video on the top right hand of this page.