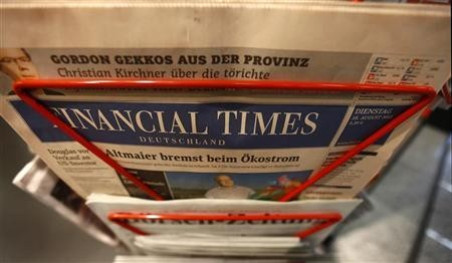 Pearson PLC, the publishing group which counts The Financial Times and Penguin among its businesses, has lowered its earnings estimate for 2012, sending its stock price sharply lower in early London trading trading.
Earnings per share will be around 84p in 2012, said Pearson in a trading statement published on its website, down from its previous estimate of 84.9p after a weak fourth quarter, its key selling season.
Pearson shares fell around 3.2 percent, or 40 pence, to change hands at 1,198 pence in the opening minutes of trading on the London Stock Exchange.
"Market conditions remained weak, as expected, in the key fourth-quarter selling season for higher education, consumer publishing and corporate advertising," the statement said ahead of its full year results on February 25.
Operating profit will be £935m (€1.11bn, $1.5bn) for the full year.
Global government austerity amid the economic slowdown in developed markets has weighed on Pearson's international education publishing businesses, though better performance in its developing markets helped lift this division to double-digit sales growth.
It also said that its professional publishing business will see a significant profit slump.
"We have achieved good growth once again in professional testing but our UK adult training business, Pearson in Practice, faced a dramatic fall in demand with changes to the apprenticeships programme," said the company's statement.
"We believe this business no longer has a sustainable model and therefore recently announced that we are planning for the exit or closure of Pearson in Practice."
The cost of closure will be £120m and reported as a loss in Pearson's 2012 accounts.
FT will see good revenue growth despite weaker advertising sales in the final quarter, though its full year profits will be "significantly lower" than in 2011.
Looking forward, Pearson also said it is facing "tough market conditions and structural industry change" in 2013.
The group has been the subject of sell-off rumours in recent months, with speculation that it has set a price tag of £1bn for its FT title. Pearson has rejected that it is looking for a sale.
---
Follow @shanecroucher