A 76-year-old woman had a pen removed from her stomach by a surgeon 25 years after swallowing it whole.
The unnamed woman went to her GP complaining of weight loss and diarrhoea with the subsequent CT scan clearly showing a pen lodged in her stomach.
On removal, her symptoms were relieved almost instantly.
The woman swallowed it 25 years ago after checking her tonsils and using the pen to hold her tongue down, it slipped and fell straight down her gullet.
The abdominal checks of her stomach came back clean in 1986 and her GP and husband dismissed her claims.
The surgeon even went as far to write a message for his patient using the pen he had just removed from her.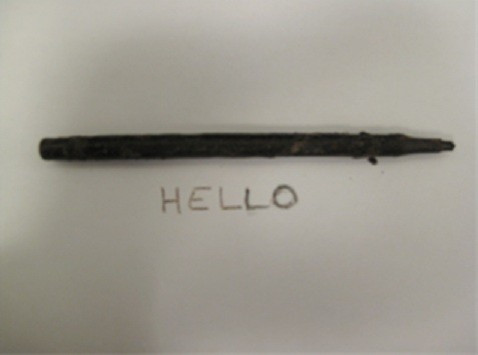 The study alongside the images went on to say: "The case was discussed at the gastrointestinal multi-disciplinary meeting and the consensus of opinion was that despite being there for 25 years without causing any problems, the pen should be removed as there has been at least one case report of a duodenal perforation caused by an ingested ballpoint pen.
"It was subsequently removed a combined endoscopic and ear, nose and throat procedure under general anaesthetic. The pen was still in working order.
"This case highlights that plain abdominal x-rays may not identify ingested plastic objects and occasionally it may be worth believing the patient's account however unlikely it may be."