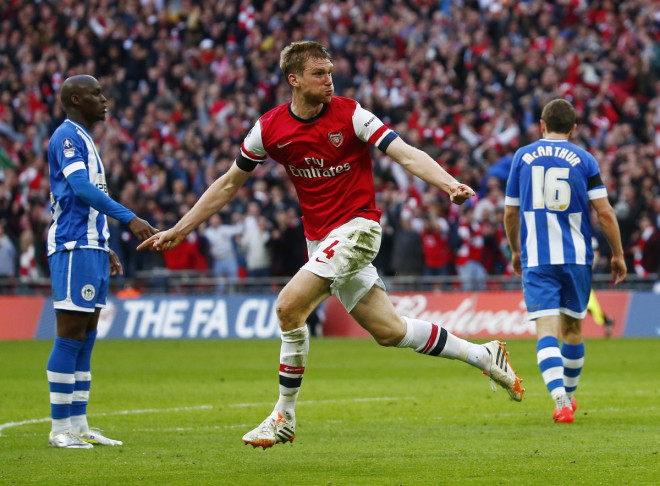 Arsenal centre-back Per Mertesacker has admitted the club don't deserve to be in the Premier League's top three, as they fail to win the big games against their rivals.
The Gunners moved a step closer to securing Champions League football after beating Newcastle 3-0 on Monday, leaving them four points ahead of Everton with just two games remaining.
However, even though they started the season leading the table, Arsenal have drifted out of the Premier League title race after a number of disappointing results against Liverpool, Chelsea and Manchester City.
They have only managed to beat one of their top-four rivals, a 2-0 victory over Liverpool earlier this season, and Mertesacker believes that they don't deserve more than the top four.
"We could not afford [to lose] those big games against big teams, so we did not deserve to be in the first three. That is something we have to manage much better next year," the centre-back was quoted as saying by Standard Sport.
"Everyone dreamed about the title but it takes more than staying top until the winter period. The away games killed us. We have to learn how to play and how to defend in the first 20 minutes. The games were all similar, we got caught on the break and that is something we have to look at."
The Gunners now need just one win from their final two games to secure qualification for the Champions League before their FA Cup final against Hull.
"Everyone questioned our qualities but how we have came back, especially from those away games, as a team makes us stronger for the future," said the German.
At the same time, he heaped praise on his teammate Mesut Ozil, who scored a goal and was involved in the other two during the 3-0 victory over Newcastle.
"The first year in the Premier League is always tough. He [Ozil] can make the difference in games with his runs and his assists. He can play the final ball, the vital ball, to set up other players. It is very important that he is back for the last couple of weeks of the season. He is getting back to full fitness and you see his potential."