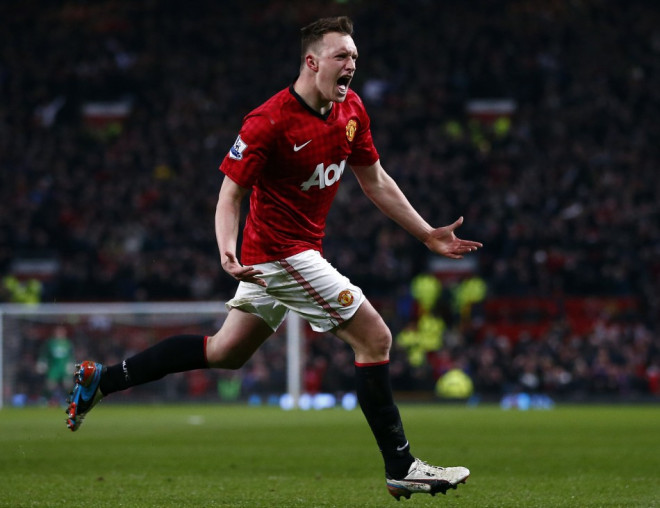 Manchester United defender Phil Jones believes the club will bring another centre half to the club this summer but insists he and Chris Smalling can keep him out of the team next season.
David Moyes is expected to add to his back line before next season with Nemanja Vidic set to join Inter Milan and with little sign of Rio Ferdinand being offered a new deal, despite recently claiming he wants to stay at Old Trafford.
Jones has been utilised in his preferred role at centre half this season and expects the club to bring in defensive reinforcements, but is confident his blossoming partnership with Smalling will ensure they remain at the heart of United's defence.
"I've played with Chris for three or four years in the England Under-21s and also United, and we have a really good understanding," Jones said.
"We complement each other well and when you look at other central defender partnerships and how they grow and build, they get better by playing together.
"You make mistakes along the way – everyone does – but the more you play together and understand each other the better the partnership gets.
"Hopefully that can happen and hopefully we have shown the manager that we are ready for the challenge. Whoever we bring in, I'm sure me and Chris will always be knocking on the door."
United find themselves in the unusual position of having nothing to play for in their final five games of the season. It marks a stark contrast from this stage last yearwhere the club held a 13 point lead over nearest rivals Manchester City at the summit of the Premier League table.
Although a compelling title race looking likely to run down the final day, United will have no part to play in it.
"It's a strange feeling for a lot of us to be in the position that we find ourselves in," Smalling told Inisde United. "Even before I joined, and since I've been here, we've always been competing at the top of the league.
"Whenever we've made progress this season, we've not followed it up in the next two or three games, which has been disappointing. That has hurt us. I know how much the fans are hurting and we're hurting as well.
"I want supporters to know that we're always striving and trying to improve and, hopefully, we can build up a little run between now and the end of the season because the fans deserve it."