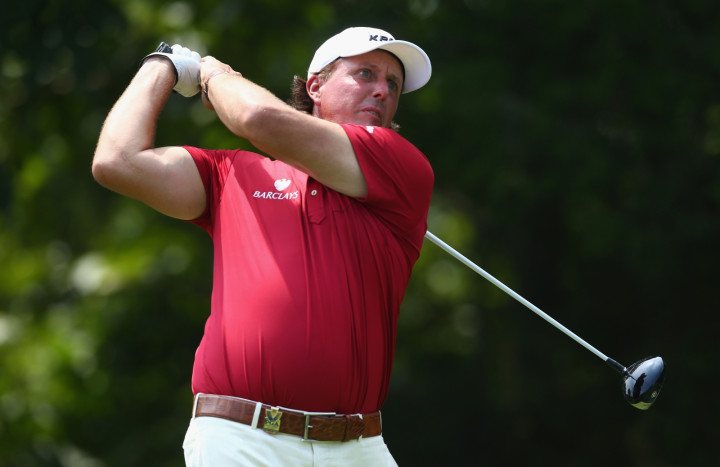 Phil Mickelson remains hopeful of securing an automatic place in America's Ryder Cup team for a tenth successive time despite standing on a precipice of requiring a wildcard to feature at Gleneagles.
Mickelson is 11th in the current standings - with the top nine assured of a spot - but will jump up a place after Dustin Johnson was ruled out for the remainder of the season due to personal problems.
The 44 year old has not won this season, missing the cut five times including at The Masters and The Players Championship, but carded an impressive 62 on his final round at the WGC-Invitational.
This week's US PGA Championship represents the latest of only a handful of remaining opportunities for Mickelson to improve his standing in the rankings, with the five-time major winner requiring a return to form to guarantee himself a place on Tom Watson's team.
And heading into Valhalla off the back of an impressive 15th place last week, Mickelson is optimistic he can sustain his return to form in Kentucky.
"I'm not to that [of needing a wildcard yet] point yet," Mickelson said. "I've got five more days here.
"I really do believe that after the way I played on the weekend, I think I'll continue that play into this week and I'm confident that I'll get on the team on my own and won't require that pick. I want to keep that streak going of two decades that I have."
Watson has just three wildcards in his 12-man Ryder Cup team but faces a selection dilemma with both Mickelson and Tiger Woods currently outside automatic qualification.
Woods' participation during the remainder of the season is clouded in uncertainty after he withdrew with a recurrence of a back injury, while his attendance at the US PGA Championship is also unknown.
Despite suffering a poor run of form in 2014, Watson has revealed he is keen to have Mickelson on his team.
"When you go over his record, I think he's missed five cuts this year, but he can turn it on," Watson said.
"Last year he turned it on, on the back nine and won the British Open Championship in spectacular fashion. I'd certainly like to have him on my Ryder Cup team that's for sure."