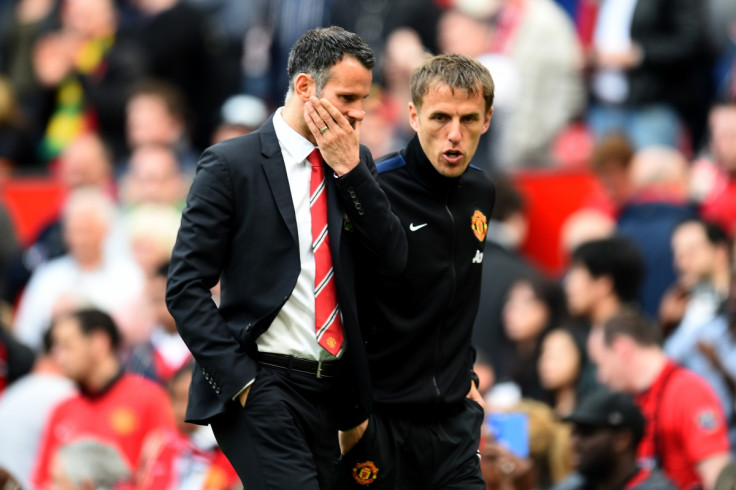 Manchester United coach Phil Neville says a desire to further his managerial career led to Ryan Giggs calling time on his illustrious playing days.
Giggs will work as assistant manager to newly appointed manager Louis van Gaal from next season after holding a role as interim boss following the sacking of David Moyes in April.
After the announcement of van Gaal's arrival at Old Trafford, Giggs announced his retirement after 24 years as a professional to move solely into the Dutchman's backroom team and Neville – who remains at the club amid the upheaval - says the lure of eventually managing United led to his exit from the game.
"I was really surprised when he retired because he was still so fit and still contributed so much," said Neville.
"I think obviously the new role [being appointed assistant manager] hastened his retirement but in terms of fitness and performance he was still up there. He was still the driving force in training and the one that set the example.
"He's got unbelievable drive and determination and he's not lost that. And that's probably the biggest attribute you can say that over a period of time he never lost that drive to do well and drive and hunger to sacrifice, to perform and prepare as a top class professional footballer."
The former Wales international ends his career as both United's record appearance maker and most decorated player having claimed 25 major honours.
United fans were given a taste of the future as Giggs took control of the club's final four games of the season, with wins coming against Norwich City and Hull City and Neville believes the 40 year old is perfectly set for a tilt at management.
"I think he's doing everything right to prepare himself for that opportunity and the four games he had at the end of the season was a wonderful insight to what he does possess in management material," he added.
"I think he'll continue to learn and develop as a coach now, and I'm sure there will be bigger things to come. His career path tells you that everything he does he does it well and succeeds so that will obviously continue.
"We've had some great players who've played for Man United but he's probably up there with the greatest - the Bests the Laws the Charltons the Bryan Robsons because of his longevity and the amount of medals that he's won."