Protests have erupted across the Muslim world against US President Donald Trump's decision to recognise Jerusalem as the capital of Israel. People set fire to US and Israeli flags and destroyed effigies of Trump in Muslim-majority countries around the globe, including Pakistan, Afghanistan, Egypt and Indonesia.
The militant al-Qaida network urged followers around the world to target vital interests of the United States, its allies and Israel. A statement posted on al-Qaida's media arm as-Sahab called for holy war or jihad and described America as an oppressor of Muslims.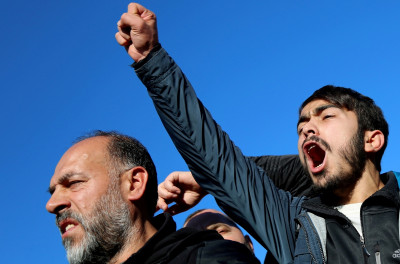 At least one Palestinian was killed in skirmishes between protesters and Israeli troops along the Gaza border fence, the Palestinian Health Ministry said. Dozens more were reported wounded in clashes in the West Bank and Gaza Strip. The ministry said that Mohammed Al-Masri died after being struck by live fire east of Khan Younis in the southern Gaza Strip, and that more than 35 Palestinians were injured, two seriously.
It was the first death since clashes erupted across the Palestinian territories after President Donald Trump recognised Jerusalem as Israel's capital. The Israeli military said in a statement that during clashes along the border fence soldiers "fired selectively at two main instigators" and confirmed hitting them.
Trump's dramatic policy shift has triggered widespread international condemnation, including from US allies. Several European leaders have warned that the decision could further destabilise the region.