Arriving in the UK this summer having been available in the US since last year, the Piper home security system promises to give you peace of mind while away from home, without having to spend a huge amount of money.
The appeal of Piper is obvious. It is an all-in-one security system which includes a camera, motion detector, noise detection, alarm, and compatibility with a range of home automation sensors and switches.
But does it work as well as it claims and can you rely on it to protect your house? Let's find out.
---
Piper: Design
---
The Piper unit is a neat, compact, and relatively unobtrusive piece of hardware. It comes in black or white, stands 140mm high and 89mm wide.
Obviously aesthetics is secondary to features here, but considering the Piper unit needs to be positioned somewhere prominent if you are to make the most of the camera, the fact it's not entirely ugly is a positive.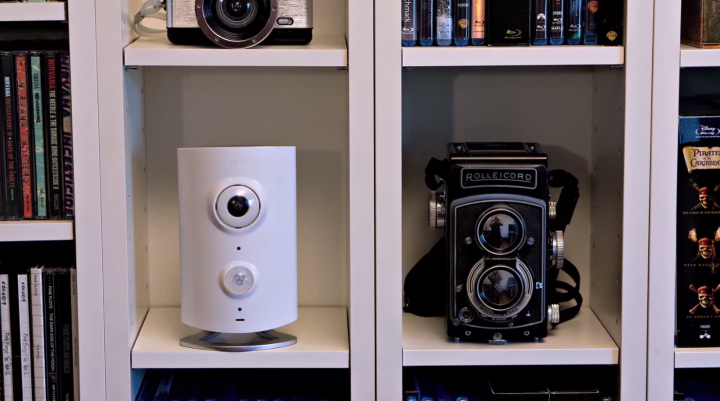 However, it is not a piece of art and will stand out in a minimalist setting.
The unit can be mounted on your wall, or using the included stand can be positioned on a shelf or table. While there is a built-in battery in case of a power outage, it requires a continuous power supply, so you will need to take this into account when deciding where to position it.
---
Piper: Set-up
---
Once you have decided where the unit is going to be positioned, the next step is to get it working - and this is one of the Piper's best points.
Simply turn the unit on and wait for the LED to turn blue. Download the Android or iOS app, create an account including the email address and phone number you want alerts sent to, and connect the device to your home Wi-Fi network.
And that's it, the Piper is ready to go.
---
Piper: Features
---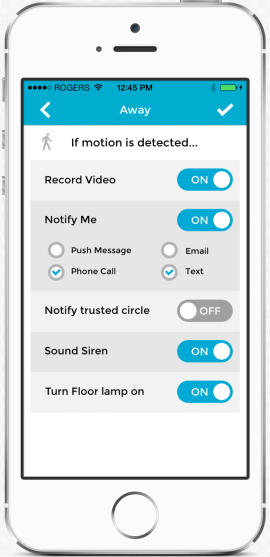 Piper is essentially a low-cost version of a monitored security alarm which is typically installed by a professional company - with the person doing the monitoring being you.
The system allows you to set rules for different modes. For example, in holiday mode, you can tell Piper to alert you if it detects any motion. Alert options include push notifications, text messages, email, or a phone call.
You can also program it to sound the ear-shattering 105 decibel siren, record video, or notify others within your "trusted circle".
This system works well with the app allowing for a lot of granular details to be changed, including what constitutes "motion" which is particularly important if you have a pet at home.
Once you receive an alert, you can open the app to watch live footage from your home wherever you are or a recorded video of the event which triggered the alert.
Piper automatically records 25 seconds of video (5 seconds before the event, and 20 after) which it uploads straight to the cloud, with each account able to store 1,000 of these clips before being deleted.
If you do find something amiss, you can then remotely sound the alarm which is loud enough to scare away even the most persistent thief.
There are three modes available - Home, Work, and Holiday - all of which can have their own rules assigned in relation to motion, noise or temperature.
The Piper also has a microphone which allows you to communicate remotely to whoever is in the room. I found the system to be a bit clunky and it didn't work every time, but it could be a handy feature to have in an emergency (or to play practical jokes on unsuspecting guests).
But, and this is a very big but, Piper lacks one huge feature.
You cannot schedule the system to kick in at a particular time. You need to remember to manually turn it on when you leave the house everyday.
Or, if you are like me, you will need to remember to turn it on when your partner leaves the house, a couple of hours after you every morning.
And while I'm sure there are some people who will remember to do this on a daily basis, I am not one of them, meaning there have been numerous days when I forgot to turn it on.
---
Piper: Z Wave Accessories
---
Not only does the Piper itself have a lot of built-in features it also works well with the Z Wave family of sensors and switches.
Z-Wave is a wireless communications protocol used by a number of home automation companies to allow their products work with each other.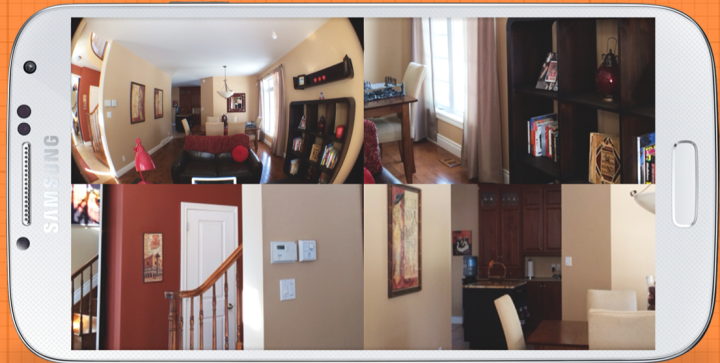 iControl, the company which makes Piper, offers a number of these as part of a package when you buy your Piper. Among them are door/window sensors, smart plugs and smart switches.
I got hold of one of the sensors which can be placed on windows or doors to alert you to when each is opened/closed. Installing the sensor and connecting it to the Piper was simple, and setting up rules based on it in the app was also straightforward.
Using sensors like this in conjunction with a single Piper unit would give you a much more "whole house" security system, rather than the Piper on its own which is more of a single-room device.
---
Piper: App
---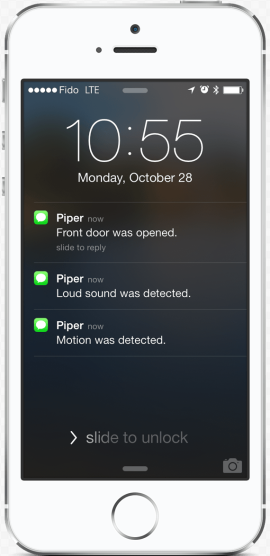 The Piper app, which is available on Android and iOS but not Windows Phone, is well designed and easy to use.
At times it does take a significant amount of time to connect securely to the Piper and there were occasions when it stopped connecting without telling me, which is a bit worrying.
There is a neat sleep mode which you can pull up for night-time monitoring, with a special Panic button which will set off the alarm automatically.
However, there was one occasion when the alarm was triggered while I was at home and it took several minutes before I could turn it off as the app was unresponsive, and at 105 decibels, it was not a pleasant experience.
---
Piper: Value and Verdict
---
The basic Piper unit costs €149 (£115) to buy direct from the company. While this is a lot cheaper than installing a monitored alarm system it means that you have to constantly be near your phone in order to know if something is going wrong.
So, if you are on a long haul flight, out of network coverage or your phone dies, then you won't know if anything is amiss until it's too late.
You will however have a video of what has happened, stored in the cloud, which could help identify any intruder.
Setup is very easy; the app (when you can access it) is well-designed and easy to use and the ability to make granular settings changes is great.
However, for me, the inability to schedule the Piper to kick into certain modes at certain times is a big let down, though the company says integration with apps like IFTTT and Tasker is in the pipeline.
Score: 7/10