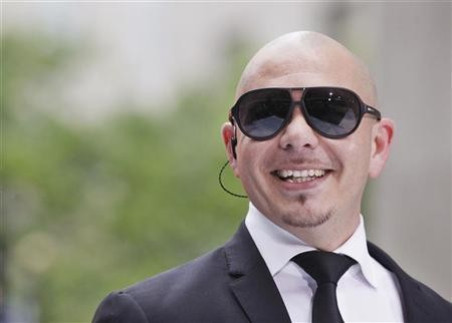 Rapper Pitbull has confirmed he will visit a Walmart store on a remote Alaskan island after an online competition was hijacked.
As part of a promotion with Walmart and Sheets Energy Strips, Pitbull - aka Armando Cristian Perez - agreed to visit whichever Walmart received the most "likes" on its Facebook page.
After David Thorpe and Jon Hendren, of comedy website Something Awful, began a campaign to encourage people to send the rapper to the most remote branch in America, more than 71,000 voted for him to play in Kodiak, Alaska
The viral campaign also spread via Twitter under the hashtag #ExilePitbull.
The island of Kodiak has a population of just 13,000, and is over 4,000 miles from Pitbull's home city of Miami. However the artist - whose songs including Give Me Everything and Hotel Room Service - has promised to give the pranksters what they want, and travel to the Kodiak Walmart.
Pitbull posted a video onto YouTube to address the outcome of the result, and confirm his appearance, while on tour in Madrid, Spain.
He said: "I heard that Kodiak, Alaska, has the most likes due to someone who thinks he was playing a prank.
"I said, '"ok, great, this sounds really good." You have to understand I will go anywhere in the world for my fans."
And he doesn't want to make the trip alone.
"I want to invite that someone who thinks it's a joke to Kodiak, Alaska, with me," he said.
In an email to the Associated Press, Thorpe, who also writes for The Boston Phoenix, said it is "very likely" he'll make it to Kodiak, but he has to "raise the funds to get to Kodiak on my own, since Pitbull's invitation doesn't include actually getting me there."
Thorpe said he doesn't really have anything against Pitbull, and instead saw this as a way "to disrupt a corporate social media campaign, since they really set themselves up for it."
However, Thorpe did add: "I guess my one regret is that everyone on the corporate side will probably spin this as a big social media win, which is kind of gross."
An Alaskan who submitted a post to Reddit - one of the key sites used in the hijack - had a warning for Pitbull.
"It's not a regular-sized Walmart," said the poster. " It's about half the size and sells all sorts of strange stuff. Bear repellent, snow shoes, hunting gear etc."