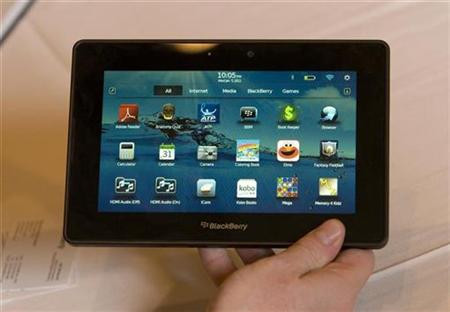 An update for the BlackBerry PlayBook that promised to bring BlackBerry Messenger (BBM) and a host of other features this month has been delayed until next year.
Boy Genius Reports claims that the delay until February 2012 is because BlackBerry manufacturer Research in Motion (RIM) has been unable to make BBM work over multiple devices with one user account.
"RIM has never allowed more than one device PIN per BlackBerry account, so it hasn't been possible to use both your smartphone and PlayBook PIN for your email or BlackBerry Messenger at the same time."
BGR continues: "We have heard that RIM is trying to take a page out of Apple's new iMessage service and make BlackBerry Messenger work much the same way on both your BlackBerry and PlayBook, but 'that isn't happening' according to our source,"
Delaying the update for four months is yet another headache for RIM, who is still struggling to restore its image after a massive data outage prevented tens of millions of users from using email, internet and BBM for three days earlier this month.
Just last week, RIM announced its upcoming mobile operating system, BBX, but right away the name became subject of a proposed lawsuit involving trademark violation.
This latest setback is the last thing RIM and BlackBerry wanted, and will no doubt encourage potential customers to look at the iPhone, iPad and Samsung Galaxy range as better alternatives.