An image of what is believed to be a prototype of the new PlayStation 4 controller has been leaked online showing a touch panel on the front and a motion tracking sensor.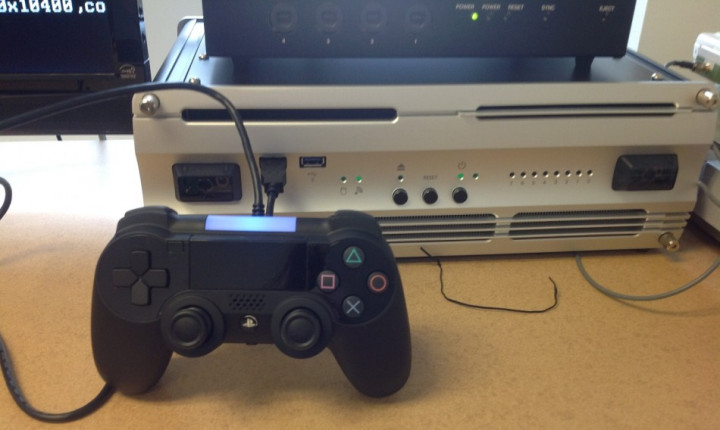 Sony is set to launch the PlayStation 4 at an event in New York on 20 February and the leaked image shows the company is not planning on straying too far from the design of the current DualShock controller.
The image was originally posted by Destructoid who said the unit it got was very likely not a final design though it believed it did represent the final functionality of the new controller.
Games websites IGN and Kotaku have since confirmed that the controller is real but IGN's sources agreed that it is just a prototype and things may change between now and when the console is launched.
The image confirms earlier reports of the new controller having a touch screen, and the Start, Select or Share buttons being shifted or completely removed in this new version.
Last November, Sony filed a patent for a "Hybrid Seperable Motion Controller" which features motion sensors and can be split into two halves to provide a movement sensitive controller for each of the player's hands.
Touchpad
The touchpad, similar to the back of PlayStation Vita, has been added to the new variant. But, this time, the touch screen has been put at the centre of the controller.
There is an illuminated panel on the head of the controller, resembling the light in Sony's PlayStation Move controller and is said to track the motion of the controller.
The analog sticks seem to bit further apart from each other, though unlike Xbox controllers, the sticks remain level. The sticks are conclave on this new controller, unlike PS3's convex-shaped ones.
At the centre, the inclusion of speaker grate suggests that Sony is in the process of building an integrated speaker or microphone into the controller. IGN reports that the new microphone/integrated speaker could be similar to Wii and Wii U to provide audible cues. They also suggest that the new button could be used to detect voice commands for online play or audio/video conferencing.
The unmarked button to the left of the touch pad could be enable users sharing in-game clips with friends and, probably, third-party platforms like Facebook and Twitter.
IBTimes UK will be in New York for the launch of the PlayStation 4 on 20 February.