With the next generation of consoles now looming large over us like the Mother Ship from Independence Day, you might be wondering precisely which shiny new dream-box you should be putting under your television.
It's a tough choice. But with the Xbone and PS4 costing a collective £780, you're going to have to make a decision sooner or later (unless you're the Sultan of Brunei).
To help you decide, over the coming weeks we're going to present you two fact sheets that aim to round-up all the truths and consumer advice you need before committing £400 to an expensive blinky black box that plays videogames.
We start this week with Sony's PlayStation 4.
PS4: Price and Bundles
When the PS4 goes on sale on 29 November in the UK (two weeks earlier if you're reading this in the US) a PS4, including a controller but no games, will set you back £350. Not bad, especially considering the Xbox One by itself is going for £430.
In terms of bundles, your best bet is Amazon, which has the biggest range of bundles. Bundle 1 goes for £385 and comes with controller and Killzone: Shadow Fall. Then there's the "Action Pack" for £425, same as Bundle 1 except it also includes Battlefield 4. For the same price, you can also get the "Adrenalin Pack", which swaps Battlefield for Need for Speed: Rivals.
The "Gamer Pack" for £429 is just the console and Killzone, except with two controllers instead of one and then there's the "Mega Pack": Console, two controllers, Killzone, FIFA 14 and the PlayStation Camera (more on that in the hardware section) for £470.
GAME seems to have the most expensive offers - £399 for the Killzone pack. It's also offering its own Mega Bundle at £450, but that only comes with two controllers, Killzone and a camera - no second game.
In terms of standalone games, you're looking at between £45 and £50 each, across all retailers. A mark up from the £39.99 RRP of most PS3 games, but you can expect the price to drop as the PS4 ages.
PS4: Hardware
We're not going to bore you (or ourselves) by listing off technical specs here, because chances are if you're the kind of gearhead that cares about clock speeds and teraflops, you know all that stuff already. Beside, we've covered it before.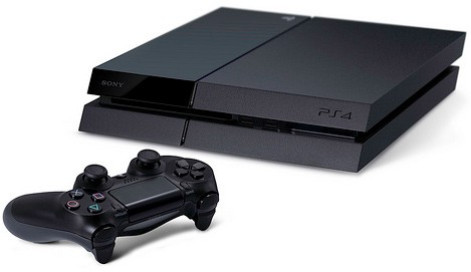 Instead, here are two key things you need to know about the PlayStation 4's hardware:
It's practically identical to the Xbox One
After playing some of the launch games, it seems that, for now at least, the difference between PS3 and PS4 graphics is minimal.
Though not imperceptible. If you take a look at one of the many graphical comparison videos circling the web, you can make out a few small cosmetic differences. In Battlefield 4 for example, texture pop-in, which plagues the current gen version of the game, is drastically reduced and there's a heap more detail added into things like backgrounds and faces.
The new PlayStation Camera won't have much use on day one - of all the launch games, only The PlayRoom integrates it properly. However, you can use it to take photos of yourself and issue voice commands to the console - including turning the console on - since it has four microphones built in. It's also used to track the position of the Lightbar on your Dual-Shock, so to play any motion-sensitive games on the PS4, you're going to need one. They're sold separately at £55, though some PS4 bundles include cameras.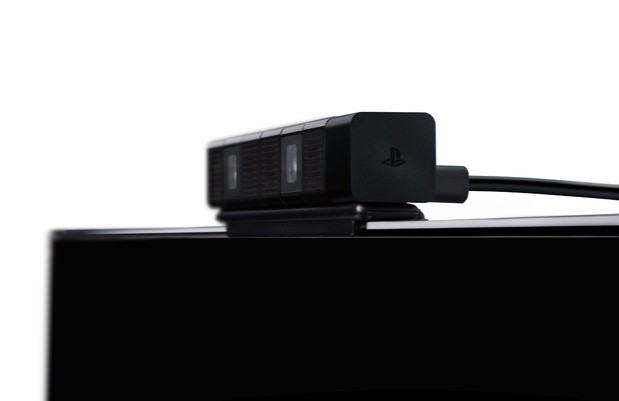 However, if you're worried about falling behind in the hardware race because you picked PlayStation over Xbox, don't be. Beneath the bonnet, the difference between the consoles is negligible. The controllers on the other hand...
PS4: Controller
The new Dual-Shock 4 is slightly bigger than the PlayStation 3's Dual-Shock 3 - 6.4in across as opposed to the 3's 6.2in. It's heavier as well, weighing in at 210g against the DualShock 3's 190g. But that doesn't make much of a difference while playing.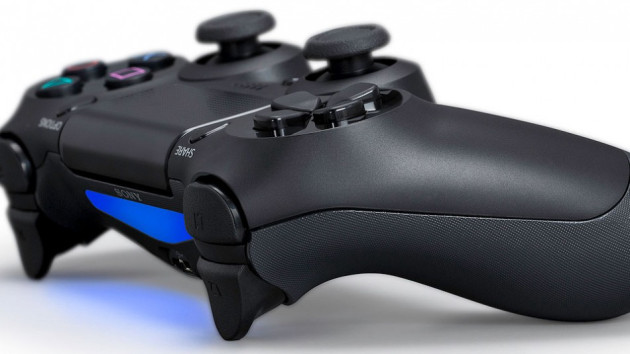 More important are new features like the outwardly curved trigger buttons, which are much handier than the Dual-Shock 3's inward ones, and the PS Vita-like touchpad in the controller's centre.
It's used to perform perfunctory actions like weapon selection. And although that's an interesting optimisation, it can get in the way a lot, as you often wind up touching it by mistake and getting dragged into a menu you didn't want to open.
Frankly, it's a bit gimmicky and like the Dual-Shock 3's motion sensing SixAxis technology, is likely to fade away pretty sharpish. Don't let it sway you.
Then there's the Lightbar, which is sat on top of the Dual-Shock 4 and serves a range of purposes. The eagle-eyed among you will have spotted how much it resembles the sensor on a PlayStation Move controller. That's no coincidence, since the Lightbar is also used for motion-sensitive gameplay.
However, it's not quite as sophisticated as the Move. As Toshimasa Aoki, manager of Sony Computer Entertainment's product planning department explained in an interview with Gamesbeat, the Lightbar only detects movements on the X and Y axes, unlike the Move, which picks up X, Y and Z.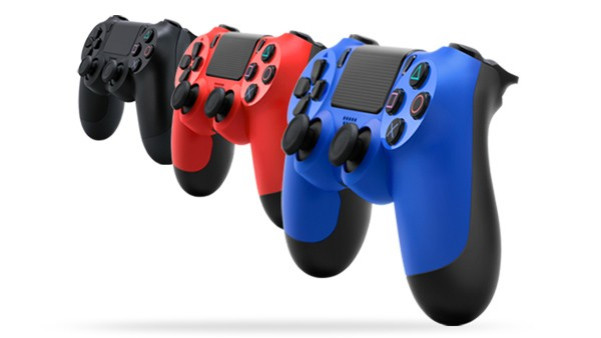 So the Dual-Shock 4 will trace you moving side-to-side and up and down, but won't track how far away or close you are to the screen.
The Lightbar is also used for some small gameplay functions.
In Killzone: Shadow Fall for example the colour of the light changes depending on your current health, going from green to red the closer you get to death. A nice aesthetic touch, sort of, but hardly an Earth shaker. Still, as with the hardware, it's early days. There's a lot of potential in the new Dual-Shock controller.
PS4: Multimedia
The big thing here of course is streaming. All the apps available on PlayStation 3 - Netflix, 4oD, iPlayer etc. - will be available on the PS4 from launch, as well as Sony's Music Unlimited and Video Unlimited services. Though you buy movies from Video Unlimited on a watch-by-watch basis, for Music Unlimited, you'll need to pay a subscription fee - £59.99 for 12 months.
That's cheaper than Spotify Premium and the service boasts millions of songs. Another interesting point - you can create custom playlists on Music Unlimited to run in the background while you play games on the PS4.
Though the PS4 lacks backwards compatibility in terms of physical discs, you can still play old games by streaming them digitally via GaiKai, a streaming service Sony bought back in 2012. Though game streaming isn't set to launch on PS4 until an unspecified date in 2014, it will include the neat feature of letting you play the opening stages of a game instantly while the rest streams in in the background.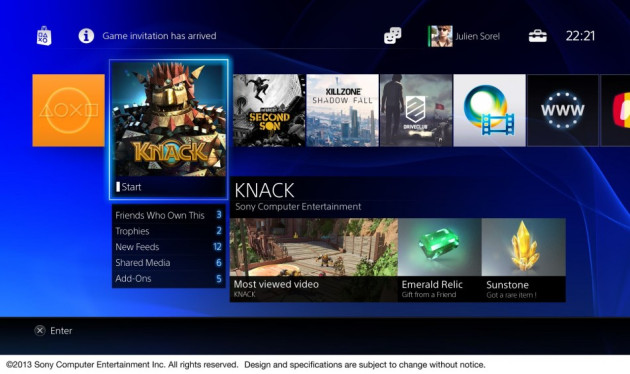 There's also a big push towards social networking on PS4, as this nightmarish video demonstrates.
As well as passing messages and notifications between your PlayStation friends, you'll be able to send them up to 15 minutes of gameplay via the Share button on the Dual-Shock 4.
It works thus:
The PlayStation 4 constantly records your play, but will only export the latest 15 minutes to a video file once you hit the Share button. That means that if anything mega happens, you'll catch it automatically, without having to hit the Share button beforehand. A nice touch, though expect Facebook and Twitter - which you can directly upload to from the PS4 home-screen - to be inundated with frag videos.
Also, if you have a PS Vita you'll be able to stream your PlayStation 4 directly to it via Wi-Fi, a lot like the second-screen on the Wii U Gamepad. That frees the television up for other people to watch it and also frees Nintendo up to never make any more money from consoles ever again.
Another thing, and bad news for some, the PlayStation 4 cannot play mp3 files, meaning that the precious music collection currently sitting on your PS3 hard drive is now useless. A shame, but hardly world-ending, considering you're probably in range of six mp3 playing devices right now.
Also, the PlayStation 4 will not support external hard drives, so you'll have to make do with the 500GB of storage that comes as standard.
Lastly, PlayStation Plus, and how PS4 connects to the internet.
Yes, you will need a PS Plus membership to play online multiplayer games, and they currently run at £39.99 a year. However, you won't need PS Plus to access other online features like streaming and music, so if you're not after online games, you might not want to bother.
You WILL want to bother however with the day-one software patch, version 1.50, that allows you to play Blu-Rays or DVDs on the PS4. Repeat, without the patch, you cannot watch Blu-Rays or DVDs. To get the patch you'll have to be connected online, which will also allow you to complete the one-off, once-only console registration you need to do when you buy a new PS4. This isn't to be confused with the Xbox One every-24-hours-check-in charade. It's just a one-off validation of your machine. So don't worry.
PS4: Games
Right, finally, the games. Phew!
Firstly, used games on PS4 work the same as used games on PS3. Once you own a disc, that's it, it's yours. There's no activation code, no restrictions, nothing. You can re-sell and lend it out as much as you want.
Okay. Now here's the launch game line-up.

Day one titles, launching 29 November, same as the console:
So that's 28 games on day one, a pretty healthy offering. Confirmed launch window games, i.e. games that will launch between November this year and March, 2014, include: DriveClub, Infamous: Second Son, Thief, The Witness and Wolfenstein: The New Order. Exact dates for these haven't been confirmed yet.
We have a round-up of some of the first-party PS4 launch games available here.
Well, that's pretty much everything for now. We'll be bringing you a full review of the PlayStation 4 itself as well as the launch titles when the console lands at the end of November.