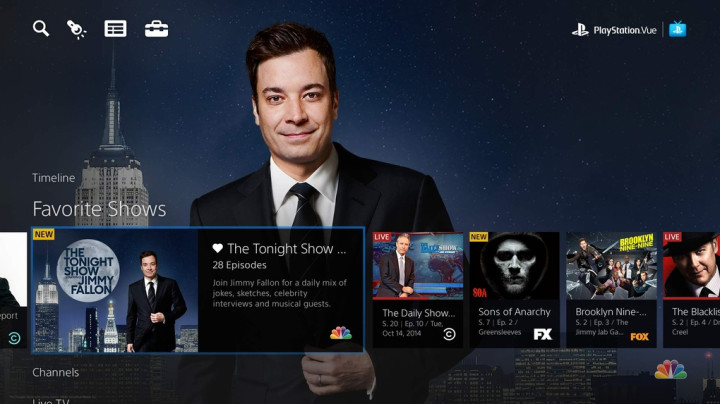 Sony has unveiled PlayStation Vue, an internet-based television service coming to PlayStation consoles and other devices.
Vue will offer a large range of TV channels on release at a "fair and competitive" month-to-month subscription. Sony are hoping the service will replace traditional television subscriptions.
Sony's plans for Vue's release in the UK are unknown. IBTimes UK reached out to Sony who said: "We have nothing to announce about international expansion at this time."
An invite-only beta will roll out in the US this month on PlayStation 4 and PlayStation 3 before coming to iPad "shortly thereafter" and then to other "Sony and non-Sony devices" at a later date.
In a statement president of Sony Computer Entertainment Andrew House said: "Everyday TV is about to become extraordinary with our new cloud-based TV service.
"PlayStation Vue reinvents the traditional viewing experience so your programming effortlessly finds you, enabling you to watch much more of what you want and search a lot less. PlayStation Vue brings the best of live TV and a robust catalogue of the latest content, always keeping you connected to what's popular, new and trending."
A large amount of US TV networks have picked up the service, among them Fox, NBC, E!, CBS, The Discovery Channel, MTV, Comedy Central, Fox Sports channels and National Geographic - though others such as HBO, Disney and ESPN are conspicuous by their absence.
The US beta will start in New York this month before following to Chicago, Philadelphia and Los Angeles. Sony hasn't announced pricing but stated clearly that their price will be "transparent with no hidden fees or charges".
Vue's features as detailed in Sony's statement:
PlayStation Vue will launch commercially in the first quarter of 2015.