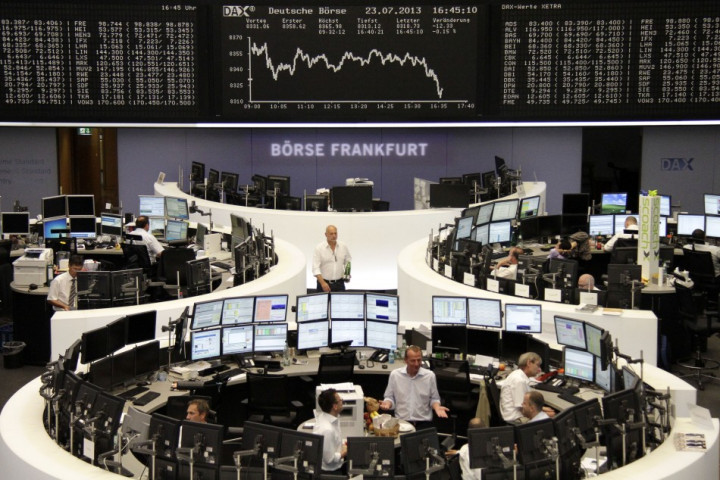 European markets open higher, ahead of manufacturing activity data from the eurozone, and despite weak Chinese factory activity data confirming a further slowdown in the world's second largest economy.
The Stoxx Europe 600 index opened 0.3% higher at 300.19.
Britain's FTSE 100 opened 0.4% higher.
France's CAC 40 opened 0.3% higher while Germany's DAX was up 0.1%
Spain's IBEX opened 0.70% higher while Italy's FTSE MIB was up 0.44%
Market participants will be tracking UK-based pharmaceutical firm GlaxoSmithKline's second quarter earnings update. GSK CEO Andrew Witty is expected to unveil the company's official response to the bribery allegations it faces in China during a quarterly results announcement.
Chinese police have questioned an American citizen as the net widens against alleged corrupt practices by Big Pharma in the wake of the GSK bribery scandal. News of the American's detention follows the detention of British national Peter Humphrey, a well-known China-fraud investigator. Chinese authorities have, so far, detained four GSK executives. They have also visited the offices of Belgian drugmaker UCB and British drugmaker AstraZeneca.
Data from Europe showed that eurozone manufacturing surprisingly expanded in July, for the first time in two years.The manufacturing purchasing managers index (PMI) rose to 50.1 from 48.8 in June, London-based Markit Economics said today.
Germany leads the revival in factory activity in the eurozone. Manufacturing activity in Europe's strongest economy expanded for the first time since February. In France, the manufacturing index rose to 49.8 from 48.4 in June, Markit said.
Market participants will also be tracking preliminary services PMI data coming in from the EU's statistics office. The European Central Bank (ECB) will release the results of its bank lending survey during the day.
In company news, UK-based software developer ARM, real estate firm British Land, airline easyJet, bar chain owner JD Wetherspoon, telecoms firm EE and agri-business Tate and Lyle will release earnings reports during the day.
Austrian oil and gas company OMV, Irish drug maker Elan, Italian domestic appliance manufacturer Indesit and Dutch semiconductor company ASM International too will put out earnings reports later today. Portugal-based bank Banco BPI, Swedish automobile manufacturer Volvo and Swiss agri-business Syngenta will all report second quarter earnings.
In Asia and the US
Earlier in Asia, most major stock markets opened lower after China's data showed that factory activity in the world's second largest economy declined further, hitting Japanese exports in the process. .
Chinese factory activity dropped to an 11-month low in July owing to a significant decline in new orders, according to a preliminary survey of purchasing managers.
The flash purchasing managers' index (PMI) released by HSBC Holdings and Markit Economics showed a reading of 47.7, lower than last month's 48.2. Economists projected an improved reading of 48.6 for July. A reading below 50 indicates a contraction in the manufacturing sector.
"The lower reading of the July HSBC Flash China Manufacturing PMI suggests a continuous slowdown in manufacturing sectors thanks to weaker new orders and faster destocking," Hongbin Qu, HSBC's China chief economist said in a statement.
Elsewhere, Japanese exports rose 7.4% in June compared to a year ago, down from May's 10.1% increase. Economists polled by Reuters had predicted a 10.3% gain.
In Australia, the government's statistics office said consumer prices rose 0.4% in the April to June quarter compared with the previous quarter, while they were up 2.4% on year-on-year. Analysts had expected increases of 0.5% and 2.5% respectively.
On Wall Street, indices finished mixed on Tuesday amid weak regional factory data.
The Dow finished 22.19 points higher at 15,567.74, a new record high for the index. The S&P 500 closed 3.14 points lower at 1,692.39. while the Nasdaq ended 21.11 points lower at 3,579.27.
Factory activity in the central Atlantic region shrunk in July, dropping to -11 from a downward revised 7 in June, according to the Federal Reserve Bank of Richmond. A value above zero indicates an expansion.