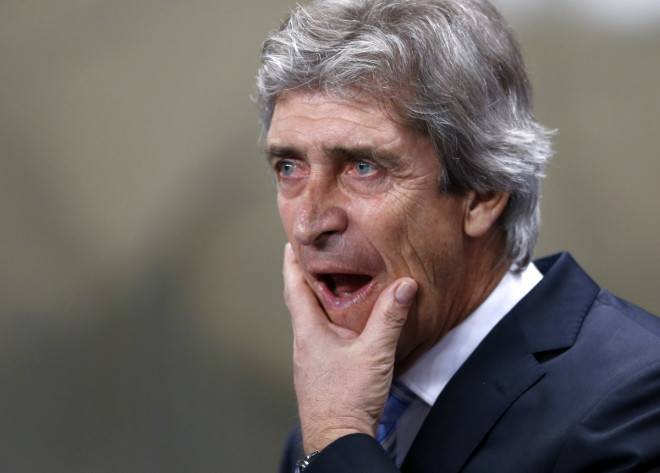 Manchester City 4 - 1 Southampton FT
Aston Villa 1 - 2 Fulham FT
Cardiff 0 - 3 Crystal Palace FT
Hull 1 - 0 Swansea FT
Newcastle 0 - 4 Manchester United FT
Norwich 0 - 1 West Brom FT
Chelsea 3 - 0 Stoke FT
Leicester promoted to the Premier League
7:20pm: And that's a wrap from Stamford Bridge! Chelsea with a commanding win, and with the other results of the day the pressure is on Liverpool as they prepare for their match tomorrow.
7:14pm: Around five minutes left and it's nigh impossible to see this game turning around. If anything, Chelsea will sneak another one in.
7:08pm: Ashley Cole has come on for Chelsea replacing Willian.
7:06pm: Chelsea are now sitting comfortably for the win and have kept a tight fight for the Premier League title alive. Liverpool sit at second and host both the Blues and Manchester City at home and these games will be crucial in who takes the trophy from Old Trafford at the end of the month.
6:59pm: GOAL! Willian puts Chelsea 3-0 up and the side are powering home against Stoke now.
6:56pm: Stoke are looking ragged as Chelsea push forward to capitalise on their lead. The side have now had 17 shots on target compared to one from the Potters. Looks like that second half turnaround isn't happening.
6:46pm: GOAL! Frank Lampard scores, despite fmbling his penalty kick, to take Chelsea to 2-0 over Stoke.
6:46pm: PENALTY! Chelsea have a chance to double their lead after Andy Wilkinson brought down Mo Salah in the box.
6:34pm: Stoke have rung in the changes for the second half and Hughes brings on Andy Wilkinson and Charlie Adam for Geoff Cameron and Wilson Palacios.
6:33pm: And the second half has begun at Stamford Bridge - will Stoke turn it around? Or will Chelsea continue to dominate? Stay tuned to find out!
6:23pm: While the players are busy getting ready for the second half, why not read up on the Premier League's newest side Leicester? The side were promoted today despite not playing. Details here.
6:18pm: And the half-time whistle is blown! Chelsea well and truly on top for now, in both the match and the Premier League table.
6:17pm: Stoke need a big turnaround and fast if they hope to square up with Chelsea in the rest of the 90 minutes. They'll be holding on now until half time - what changes will Mark Hughes make?
6:12pm: OFFSIDE! Chelsea very close to making this 2-0 but Branislav Ivanovic is ruled offside after thinking he got the goal. It's *just* correct from the replays.
6:10pm: Chelsea are now well and truly on the front foot and have had 11 shots to Stoke's single one. They could have been two up very quickly thanks to Mo Salah, and as it stands they're top of the table with this win.
6:02pm: GOAL! It was coming, and Mohamed Salah has provided the goods for Chelsea as they go up 1-0 against Stoke. Assist goes to Nemanja Matic who beats the defender to get the ball to Salah from 15 yards out.
5:59pm: Chelsea are now taking control of the ball more and look completely on top of their opposition. Nine shots on goal to one and Frank Lampard is having a go on goal now too.
5:53pm: Make that two shots on target for Chelsea now thanks to Willian. Could there be a goal in the coming minutes as the side pile on the pressure?
5:47pm: Stoke are controlling the possession but Chelsea's forward options are giving them a handful at the moment - the Blues have had four shots on goal now though just one has been on target.
5:40pm: Looks like Torres might be stepping it up a notch this game if the first minutes are anything to go by! The striker is just off target from 25 yards out.
5:35pm: Stoke are quick to try and control the possession off the mark, and it's obvious that they're already trying to build a wall that Chelsea will find it difficult to break through. Jose Mourinho has given Fernando Torres a chance up front but the striker's future looks as good as finished with the club as the summer approaches.
5:30pm: And Stoke kick-off the match!
5:28pm: Kick-off is fast approaching at Stamford Bridge as the players take to the pitch. Mark Hughes fancies his side's chances and with Chelsea having lost two of their last three matches anything is possible tonight.
4:52pm: And that's full time on the 15:00 kick offs. Now for the big one - Chelsea take on Stoke in the hopes of keeping serious pressure on both Liverpool and Manchester City at the top of the table. Back soon for more action.
4:50pm: GOAL! Adnan Januzaj piles on the embarrassment for Newcastle as Manchester United go up 4-0.
4:48pm: GOAL! Crystal Palace take a commanding lead over Cardiff, going up 3-0 after Jason Puncheon seals a brace for the side.
4:47pm: Meanwhile, Leicester are minutes from being promoted to the Premier League with the current results in the Championship.
4:45pm: As it stands now Fulham are 18th in the table and five points off Norwich. They might still be firmly in the relegation zone but at least if things stay as they are they're at the top of it, making it slightly easier to climb out.
4:43pm: GOAL! Fulham are ahead! Thanks to Hugo Rodallega the side are now in the driving seat against Aston Villa.
4:42pm: Stoke line-up against Chelsea: Begovic, Cameron, Shawcross, Wilson, Pieters; Whelan, Palacios; Odemwingie, Nzonzi, Arnautovic; Crouch.
Chelsea line-up against Stoke: Cech, Ivanovic, Cahill, Terry, Azpilicueta; Matic, Lampard; Willian, Schurrle, Salah; Torres.
4:39pm: Getting into the last 10 minutes and while it's end to end stuff at Villa Park Manchester United are looking in the driving seat. Can Norwich level with West Brom? And whill Swansea peel one back against Hull?
4:29pm: GOAL! Crystal Palace go up 2-0 against Cardiff who are looking done and dusted at home. Joe Ledley takes scoring honours.
4:27pm: GOAL! Aston Villa quickly level the scores with Fulham 1-1 after Grant Holt heads the ball into the back of the net from the centre of the box.
4:22pm: GOAL! Javier Hernandez taps it in and this is getting embarrassing for Newcastle, with the fans already starting to leave.
4:19pm: GOAL! Fulham go up 1-0 against Aston Villa thanks to a goal from Kieran Richardson.
4:16pm: Over at Hull and the side are holding firm over Swansea who have only had one shot on target over the whole match so far. Both sides are equal in the possession stakes and with both hoping to look well clear of the relegation zone at the end of the game it's Hull who are looking the goods.
4:09pm: Fulham have had the majority of shots against Aston Villa but it's Villa who are currently looking dangerous. They just hit the woodwork against the west Londoners and a loss for Fulham would leave them almost certain for relegation.
4:07pm: GOAL! Juan Mata puts two on the board as Manchester United go up 2-0 against Newcastle.
4:02pm: Let the second half begin.
3:49pm: The half-time whistles are blowing everywhere, and United have had a final chance on goal with Chicharito hitting the post.
3:39pm: GOAL! Hull go up 1-0 against Swansea thanks to George Boyd's header with Angel Rangel failing to stop the ball before it hit the back of the net.
3:38pm: GOAL! Juan Mata puts Manchester United up 1-0 against Newcastle at St James Park with a tremendous free kick.
3:33pm: GOAL! Cardiff 0-1 Crystal Palace Jason Puncheon finds the back of the net to silence the hosts, who were on the attack.
3:27pm: Not much action at Villa Park where neither Fulham nor the hosts have had a shot on target. For Cardiff and Palace it's more lively but the Welsh side are on top, dominating and pushing close for a goal...
3:20pm: Ashley Young comes off for United after looking to sustain an injury to his thumb. Adnan Januzaj is on in his place.
3:18pm: GOAL! Norwich 0-1 West Brom thanks to Morgan Amalfitano.
3:16pm: Over at Cardiff and the side are dominating possession against Crystal Palace, looking much more comfortable behind the ball. It's Palace who have had the shots on goal though which could prove vital as City showed earlier today against Southampton.
3:12pm: DISALLOWED GOAL - Phil Jones goes against the run of play to get one into the net for Manchester United but Marouane Fellaini had his hand on the ball first.
3:10pm: Over at St James' Park and Newcastle have had the majority of possession against Manchester United so far with two shots on goal. Moyes has gambled with his team selection today, clearly prioritising the mid-week clash with Bayern Munich in the Champions League. But a heavy loss today won't give the fans anymore confidence in his abilities.
3:06pm: Chances already for Newcastle and Fulham - could this be a goal happy afternoon on the back of City's 4-1 win?
3:00pm: And we're underway with the 3pm kick-offs! For United and Newcastle the tie means little, though David Moyes will certainly be hoping to end the season on a good note. Cardiff, Crystal Palace, Norwich, Hull, Swansea and West Brom are all in the bottom end of the table with some fighting harder to be out of the relegation zone than others.
2:40pm: And that's a wrap! City finish with a convincing 4-1 win over Southampton to take them to second in the Premier League table, just a point off Liverpool with a game in hand. We'll be back soon to cover the 15:00 kick offs including Newcastle v Manchester United and some tough relegation battle matches.
2:31pm: Gazzaniga might have had a shocker today but he stops Southampton being totally embarrassed by City as Yaya Toure tries to make it 5 for the side. The keeper pushes the shot into the crossbar.
2:28pm: GOAL! Manchester City go 4-1 up against Southampton thanks to a goal from Stevan Jovetic. Saints goalkeeper Paulo Gazzaniga contributed to that one too though, making it particularly easy for the hosts to tkae a commanding lead.
2:26pm: Naughty boy Yaya Toure! He's been shown a yellow for going down to a 'challenge' from Fonte which wasn't a challenge at all, but rather just a clear dive.
2:22pm: Close For Southampton as Rickie Lambert shoots just wide from a difficult angle. Meanwhile Sam Gallagher comes on for Steven Davis.
2:18pm: Now you know every player taking to the pitch this afternoon let's get back to the game shall we?! Not long left for Southampton to turn this one around against Manchester City, who look very much in control. They're slowly chipping into the Saints' dominance in possession and it's hard to see Pochettino's men coming back...
2:16pm: Hull team line-up: Harper, Rosenior, Figueora, Chester, Davies, Meyler, Livermore, Boyd, Jelavic, Long, Elmohamady.
Swansea team line-up: Vorm, Rangel, Chico Flores, Williams, Davies, Britton, Shelvey, De Guzman, Routledge, Michu, Bony.
2:15pm: Fulham team line-up: Stockdale; Riether, Hangeland, Heitinga, Amorebieta; Diarra, Sidwell; Kasami, Holtby, Richardson; Woodrow.
Aston Villa team line-up: Guzan, Lowton, Vlaar, Baker, Bertrand, Westwood, Bennett, Bacuna, Albrighton, Weimann, Holt.
2:14pm: Norwich team line-up: Ruddy; Martin, Yobo, Bassong, Olsson; Snodgrass, Howson, Tettey, Hoolahan; Elmander, Hooper.
West Brom line-up: Foster, Reid, McAuley, Olsson, Ridgewell, Amalfitano, Morrison, Mulumbu, Dorrans, Sessegnon, Vydra.
2:11pm: Cardiff line-up: Marshall; Theophile-Catherine, Caulker, Turner, Taylor; Medel, Mutch, Daehli, Zaha; Campbell, Jones.
Subs: Lewis; Eikrem, Noone, Cowie, Mcnaughton, Cala, Bellamy.
Crystal Palace line-up: Speroni, Mariappa, Dann, Delaney, Ward, Dikgacoi, Jedinak, Ledley, Puncheon, Bolasie, Jerome.
Subs: Hennessey, Gabbidon, Parr, Ince, Gayle, Murray, Chamakh.
2:08pm: Manchester City's efforts against Southampton have had a lot to do with Eden Dzeko and the Bosnian has now had two shots on goal in quick succession to take the side close to a 4-1 lead.
2:05pm: Manchester United team v Newcastle line up:Lindegaard; Valencia, Jones, Smalling, Evra; Young, Mata, Fletcher, Fellaini, Kagawa; Chicharito
Subs: De Gea, Büttner, Vidic, Cleverley, Januzaj, Nani, Wilson
David Moyes clearly trying to rest his best in preparation for Bayern Munich in the Champions League quarter final this week.
Newcastle United line-up: Elliot, Santon, Williamson, Coloccini, Haidara, Anita, Gosling, Tiote, Gouffran, De Jong, Cisse
2:00pm: Southampton might be at a distinctive advantage on the scoreboard but the side are playing well at the minute, stopping City from having any particularly dangerous chances and continuing to control the possession in their favour.
1:52pm: Javi Garcia is on for City as Fernandinho comes off. Let the second half begin!
1:50pm: Another talking point from the first half of Manchester City v Southampton will be whether their second goal was offside. It certainly looks that way with the replays and Match of the Day presenter Gary Linekar claims: "I think even Vincent Kompany, when he comes in for MOTD tonight, will admit City's second goal was offside."
1:44pm: Taking a look at the comparison of passes, Southampton had a whopping 241 compared to Manchester City's 133. They might have been on the ball more, with 61% possession over the first half, but City know where it counts and this could be the difference in their fight for the title.
1:41pm: It's the kind of injury no one wants to see, and the pain on Jay Rodriguez's face makes it hard to be optimistic over what the outcome will be.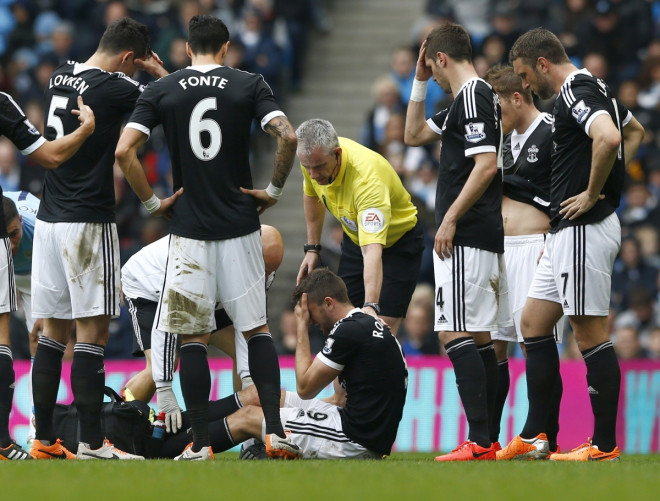 1:38pm: HALF-TIME WHISTLE - Manchester City looking firmly in control against Southampton despite being level with the side until the last minutes of that first half.
1:35pm: GOAL! Edin Dzeko adds to the tally for City quickly as they go up 3-1 against a bewildered Southampton.
1:31pm: GOAL! Samir Nasri puts City back in front thanks to a bit of tiki-taka magic with David Silva. Yaya Toure and Edin Dzeko also contribute as City look back to their best. And just like that it goes from crisis to comfort once more for the title contenders.
1:26pm: According to OptaJoe, Rickie Lambert has scored all 31 penalties he's taking in league football for Southampton. World Cup place.
1:24pm: It's looking on much more even footing now for Southampton and Manchester City with both sides having the single shot on target, and 4 on goal for the former while the latter have 6.
1:23pm: GOAL! Rickie Lambert scores from the penalty area with ease to take Southampton to 1-1 with City. Game on!
1:22pm: PENALTY! Southampton have a chance to level with City after Jack Cork draws a foul against Pablo Zabaleta.
1:21pm: Close again for City! Dzeko has a free header but frustratingly hits the crossbar.
1:17pm: Here's the foul on Eden Dzeko. He might have gone down easily but Fonte's leg was far from where it should have been...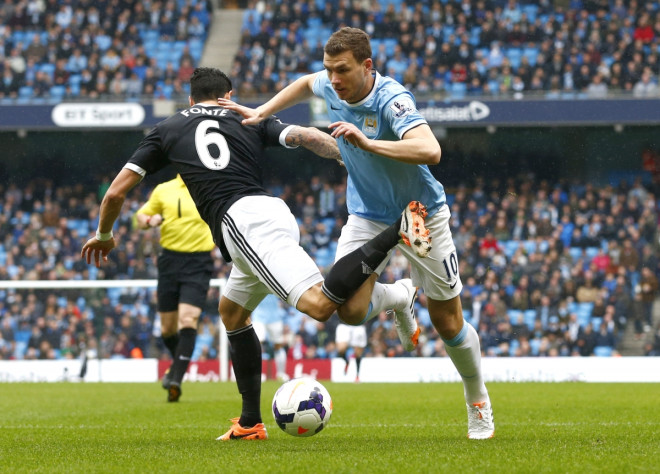 1:13pm: That's tough to take for both Southampton fans and Rodriguez who had hopes of going to the World Cup in the summer. James Ward-Prowse replaces him and this could be the last we see of the England man on the pitch for some time as he looks distraught coming off.
1:09pm: Southampton have got in the mix too for a goal but they are yet to have a shot on target. And now things are getting worse for them as striker Jay Rodriguez lands badly after going for the ball and screams out in pain. It looks as if he's done something to his knee... a stretcher is currently coming onto the ground.
1:03pm: Another attempt by City halts the pressure Southampon have been trying to place on them as Aleksander Kolarov heads the ball from the centre of the box. It's just wide the left and too high but City are still looking dangerous.
12:59pm: No chances at the net yet for Southampton but they're coming together a lot better than at the beginning of the game. Luke Shaw has been pushing City's defence but Toure has a handle on him at this stage.
12:55pm: While it looked as though Dzeko went down easily it's hard to argue it wasn't a penalty, with Fonte's leg coming out in a very irresponsible fashion. City have another chance through Samir Nasri and their tally goes up to two now. Southampon have 61% of the ball though so it's not all done and dusted yet.
12:48: GOAL! Yaya Toure strikes for Manchester City and Southampton are already behind with just three minutes gone. The hosts are certainly looking comfortable in the opening minutes despite not having the majority of possession.
12:46pm: PENALTY! Manchester City on the front foot early as Eden Dzeko falls under a challenge from Jose Fonte. Was it a penalty? Really??
12:45pm: And we have kick-off!
12:35pm: From Southampton's point of view the side will be hoping to take advantage of City resting some of their top players in preparation for Liverpool next week and notch up a fourth win in their most recent five matches. The side are well clear of relegation and look to be close to pushing for a European spot. Finishing the season on a high is at the top of Mauricio Pochettino's list but can they do what's needed against Pellegrini's title contenders today?
12:28pm:Manuel Pellegrini is well aware of how important the match-up is today for City. The side are four points behind current league leaders Liverpool but have two games in hand and should they win both of those they will be favourites to take the title. The manager told BBC Sport:
"Our destiny is in our own hands. To come back home again after two difficult away games very important for us. We cannot drop points here if we want to win the title.
"I don't think Sergio (Aguero) will have any problems to play next week. This week might have been a bit early."
12:21pm: Team line-ups for Manchester City v Southampton:
Manchester City starting XI: Hart, Zabaleta, Kompany (C), Demichelis, Kolarov, Navas, Fernandinho, Toure, Nasri, Silva, Dzeko.
Substitutes: Pantilimon, Lescott, Richards, Garcia, Milner, Jovetic, Negredo.
Southampton starting XI: Gazzaniga, Chambers, Fonte, Lovren, Shaw, Cork, Schneiderlin, S. Davis, Lallana (c), Rodriguez, Lambert.
Substitutes: Cropper (GK), Clyne, Wanyama, Ward-Prowse, Guly, Hooiveld, Gallagher.
12:15pm: Good afternoon and welcome to IBTImes UK's live coverage of Saturday's Premier League action! It's a big day today in English football with seven games to keep us entertained. With just four points seperating the top three, Manchester City and Chelsea's games with Southampton and Stoke respectively will be all-important as the end of the season nears.
Meanwhile the fight at the bottom is equally as tight and Fulham, Crystal Palace, Cardiff and West Brom will all be looking for maximum points to avoid the drop in the next month.