Two men described as operating in the 'premier league' of firearms suppliers have been jailed in the UK after using the dark web to purchase guns and ammunition to sell to gangsters.
Umair Khan, 29, from Caldwell Road in Birmingham, was sentenced this week (18 September) to 22 years in prison. Khan's close accomplice Nazim Hussain, 46, from Bromford Lane in West Bromwich, was handed nine years. Both men were arrested in February 2017.
Khan used the identity 'cheeko412' to buy explosives, ammunition and stun guns from the dark web, including more than 50 revolvers and over 1,600 rounds of ammunition between August 2014 and February 2017, the National Crime Agency (NCA) said.
He had ordered a hand grenade to be delivered to an address in Birmingham but it was intercepted in transit and replaced with a "non-explosive substitute."
Officers searched his home and recovered four revolvers and 15 rounds of ammunition, later found to have been imported from a dark web armourer.
Khan sold the firearms, complete with ammunition, to organised crime groups across the UK.
Investigators established that Khan was also actively buying large quantities of custom-made ammunition from the dark web to use antique revolvers and weapons he had purchased from legitimate firearms dealers and auction houses across the country.
One weapon, the NCA said, was recovered following a West Midlands Police investigation, fully loaded and in the hands of a Class-A drug dealer who was stopped in a stolen vehicle.
Birmingham Crown Court heard this week how Nazim helped Khan to find places to store the weapons and ammunition, managed the dark web deliveries to multiple addresses and ensured they were signed for by others before being passed onto Khan.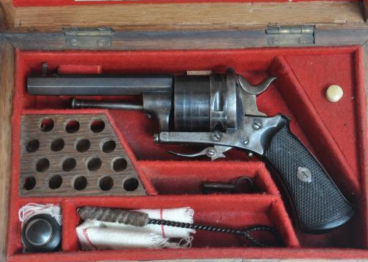 Judge Peter Carr described the pair as being in the 'premier league' of dealers.
Spencer Barnett from Met Police service's Organised Crime Partnership (OCP) said: "Khan set himself up as an armourer for organised crime groups and had no thought for where or how the weapons would be used.
"Although we have been able to link 50 revolvers to him, I believe he is linked to many more and we are looking into his wider criminal activities with support from West Midlands Police and the West Midlands Regional Organised Crime Unit (Rocu).
"The dark web is a distribution channel for the purchase and onward supply of illegal firearms in the UK, as well as in many European countries and the USA.
"We use a variety of traditional and innovative techniques to target and tackle criminals who use the dark web to conduct their business.
"Working with partners, we want the dark web to be a less attractive place for criminals to operate. This, and bringing offenders to justice regardless of how secure they feel hiding behind technology, is part of our wider strategy to tackle online marketplaces."
Khan pleaded guilty to transferring a prohibited firearm, importation of ammunition, transferring ammunition, importation of prohibited weapons, possession of prohibited weapons for sale or transfer and the attempted importation of a grenade.
Hussain pleaded guilty to importation of ammunition and prohibited weapons and the attempted importation of a grenade.
Jonathan Ramsay, unit head in the International Justice and Organised Crime Division within CPS, said: "Khan and Hussain were responsible for arming a substantial number of serious criminals, obtaining lethal weapons originally designed for law enforcement or the military.
"The CPS worked to build a picture of the scale of Khan and Hussain's offending and how they were planning to bring the obsolete firearms they were buying back into full use.
"When presented with the cases against them, both men pleaded guilty."