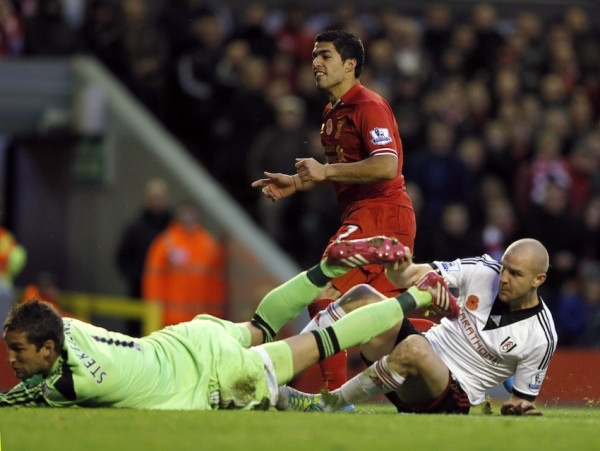 Crystal Palace 0-0 Everton
5:10pm: It\'s full time at Crystal Palace and Everton have now gone two games with a 0-0 full time score.
5:01pm: we\'re into the final five minutes for the delayed match between Crystal Palace and Everton. Can either side steal a late goal? The Toffees are in a good position to
4:57pm: and that\'s full time for Chelsea and West Brom as the Blues save a point after a penalty that will no doubt be discussed in detail this week. Meanwhile Aston Villa and Cariff hit full time also with the final score 2-0 to the hosts.
4:55pm: GOAL! Chelsea saved from almost certain death as Eden Hazard scores to make it 2-2.
4:53pm: PENALTY FOR CHELSEA: Chelsea on a very controversial penalty kick after Ramires looks to collide with Steven Reid.
4:53pm: And Southampton have had their 4-1 win confirmed over Hull.
4:52pm: It\'s full time at Merseyside and Liverpool have taken the 4-1 win against Fulham.
4:50pm: Injury time is reigning - looks like Liverpool and Southampton are assured in their wins, along with Aston Villa bar a miracle from Cardiff. West Brom and Chelsea not so certain...
4:47pm: GOAL! Southampton go up 4-1 against Hull and now look set for the win. Steven Davis is on target from the centre of the box with Nathaniel Clyne providing the assist.
4:44pm: As it stands, Southampton will be third in the table come the end of the fixtures. And if United win against Arsenal tomorrow will put them equal on points with Chelsea
4:43pm: GOAL! Aston Villa get into a more comfortable 2-0 lead over Cardiff City thanks to Libor Kozak.
4:42pm: We\'re heading into the final 10 minutes everywhere but Crystal Palace, can Chelsea turn this around? Can Liverpool add to their goal difference? And can Hull make pile the pressure on Southampton?
4:40pm: And while we\'re on records, Cristiano Ronaldo has now scored 24 hattricks after today\'s goal shower against Real Sociedad. He\'s now equal with Lionel Messi on that front.
4:37pm: Meanwhile, in Germany Pep Guardiola has continued Bayern Munich\'s record of unbeaten matches with the side taking the tally to 37 in a row today, one more than Hamburg\'s record of 36 in 1983.
4:36pm: This is some stat: Jose Mourinho is currently at risk of losing his first ever home match as a Chelsea manager. Can this record really be broken against West Brom?!
4:34pm: GOAL! Aston Villa\'s Leandro Bacuna scores to open up the fixture with Cardiff in the 75th minute.
4:32pm: Juan Mata is handed a chance by Mourinho as he makes some quick changes after going behind. If the Spaniard can produce some magic here it will go along way to proving the manager wrong over his recent bench-status.
4:30pm: It\'s still goalless between Aston Villa and Cardiff, and while Cardiff are seeing more of the ball they haven\'t been able to make anything of it, having just 5 shots this game to Villa\'s 10.
4:27pm: GOAL! And West Brom have another against Chelsea! This is turning into some game. After Jose Mourinho takes off Frankf Lampard for Bemda Ba Stephane Sessegnon gets one on the board. Lots of work for the Blues to do now.
4:22pm: EUROPEAN UPDATE: Real Madrid are currently 4-1 up against Real Sociedad with Cristiano Ronaldo running riot against the side. Bayern Munich are beating FS Ausburg 2-0 in the final minutes and Borussia Dortmund have completed a shock 1-2 loss to Wolfsburg.
4:20pm: GOAL! And it\'s more than a close call this time as Shane Long evens the scoreline with Chelsea. The striker heads the ball from close range and the Blues are now having to make their attacking plays count more than ever.
4:18pm: Close call for Chelsea as Shane Long hits the woodwork for West Brom. Chelsea still looking in control but that will have given Mourinho a quick skip of the heartbeat.
4:17pm: That\'s eight goals in seven appearances for Suarez now so far this season. Liverpool will be ever so thankful they ignored his pleas to leave in the summer.
4:14pm: GOAL! Hull\'s Yannick Sagbo peels one back against Southampton to score his side\'s first goal of the game.
4:13pm: GOAL! Luis Suarez breaks through a terrible-looking Fulham side quickly after the half time break to add more pain on the side. The scoreline now sits at 4-0. And another assist from Steven Gerrard, who certainly looks back to his best form after a slightly disappointing showing against Arsenal the week before.
4:08pm: Luis Suarez is already having a go against Fulham, this does not look good for the Cottagers. The Reds have had 72% possessino so far, they\'ve had 22 shots on goal compared to Fulham\'s two and seven on target compared to just one.
4:05pm: And we\'re off with the second half starting for four of the five 15:00 fixtures. Can Martin Jol turn it around against Liverpool? Can Chelsea find their scoring flare and inflict more pain on West Brom?
4:03pm: It\'s now half time between Crystal Palace and Everton. The Toffees have dominated possession but Palace have looked dangerous and could easily have been ahead in the final minutes of the first half. Still anyone\'s game.
4:00pm: It\'s a sight Liverpool fans will be delighted to see, Coutinho and Suarez playing together and combining to put the side up 3-0 before half-time.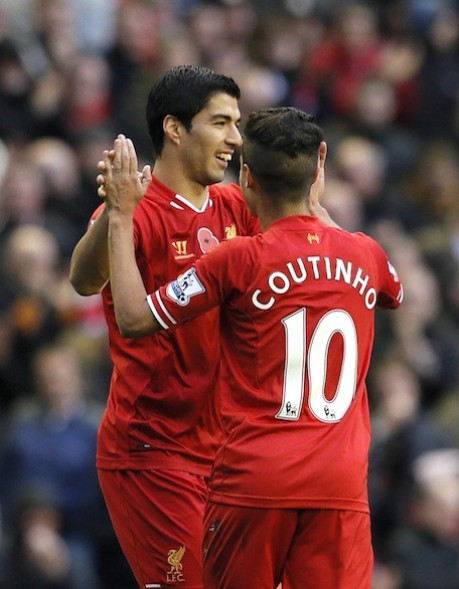 3:49pm: It\'s now half-time everywhere apart from in the delayed kick off between Crystal Palace and Everton.
3:46pm: GOAL! Looks like I spoke to soon! It\'s Samuel Eto\'o once more who puts the Blues ahead. This is one striker who Jose Mourinho can count on! And once again it\'s because a defender doesn\'t make a clearance quickly enough, with Liam Ridgewell dilly-dallying for just long enough for Eto\'o to steal and score.
3:46pm: It\'s surprisingly quiet on the Chelsea front, with the side not looking as dominant as some might have thought. They\'ve had three shots on target and Oscar has been a standout performer but their attack hasn\'t been completely in tune with one another - yet.
3:40pm: The odds on Martin Jol being given his marching orders must be closing up shop as we speak, as Fulham look like an under 21 side compared to Liverpool. As it stands, and the score isn\'t likely to change today apart from getting bigger in Liverpool\'s favour, the side will be just two spots from the relegation zone.
3:38pm: GOAL! Southampton also running rampant at Hull as Adam Lallana adds another to the scoreboad for Saints. Rickie Lambert credited with the assist but Lallana got the goal from a particularly difficult angle, smashing the ball from the left to the bottom right hand corner of the net.
3:36pm: GOAL! Liverpool are starting to run rampant and Luis Suarez finally takes advantage of Fulham\'s woeful defence with Jordan Henderson providing the through ball. Things are not looking good for Fulham.
3:33pm: Everton holding court at Crystal Palace currently, but the Toffees have so far been unable to find a shot on target.
3:28pm: GOAL! Rickie Lambert converts the penalty for Southampton.
3:27pm: PENALTY TO SOUTHAMPTON: Hull\'sSteve Harper is shown a yellow card for a harsh tackle as Rickie Lambert takes to the spot for Southampton.
3:27pm: GOAL! Liverpool go up 2-0 within minutes of their first goal against Fulham thanks to Martin Skrtel. It\'s looking like it will be a good game for Steven Gerrard, who provided the assist to allow Skrtel to head the ball into the net from the centre of the box.
3:26pm: EUROPEAN UPDATE: Real Madrid are currently leading Real Sociedad 2-0, while Bayern Munich are up 2-0 against FC Ausburg and Borussia Dortmund having a 1-0 advantage over Wolfsburg.
3:25pm: GOAL! Liverpool score a goal, but it won\'t count for any of their star attackers with the credit going to Fulham\'s Fernando Amorebieta, who deflected the ball after a free kick from Steven Gerrard.
3:23pm: Liverpool have now had five shots on goal, and Phlippe Coutinho is certainly looking very fresh as he gets his first start after recovering from a shoulder injury.
3:16pm: The delayed Crystal Palace v Everton fixture has now kicked off, by the way.
3:15pm: GOAL! Southampton take the lead against Hull within 16 minutes thanks to a header from Morgan Schneiderlin in the centre of the box, with the assist coming from Rickie Lambert.
3:13pm: It\'s been a much more lievly time between Aston Villa and Cardiff with both sides have two shots already. Villa are looking in control of possession at the moment but Cardiff are equally dangerous on the counter.
3:11pm: Meanwhile Chelsea currently hold 65% possession against West Brom but the side have only mounted one serious attack so far.
3:07pm: Liverpool have already started on the front foot against Fulham, who have been in poor form in recent weeks, with Luis Suarez starting to test out Martin Jol\'s defensive line-up already.
3:01pm: All the teams have kicked off after a minutes\' silence is observed at every game to remember our fallen heros. Lest We Forget.
3:00pm: And we\'re off! Except for at Crystal Palace where kick off has been delayed until 3:15pm.
2:45pm: Hello and welcome once again to a big Saturday full of action in the Premier League. IBTimes UK will be bringing you all the updates as Chelsea and Liverpool look to recover from losses last week with matches against West Brom and Fulham respectively while Aston Villa take on Cardiff, Crystal Palace face Everton, Southampton play Hull and Norwich take on West Brom in the late kick-off.