Rugby League World Cup Final
Full time: New Zealand 2-34 Australia
Premier League
Full time: Aston Villa 0-0 Sunderland
Full time: Cardiff City 0-3 Arsenal
Full time: Everton 3-0 Stoke City
Full time: Norwich City 1-0 Crystal Palace
Full time: West Ham United 3-0 Fulham
Full time: Newcastle United 2-1 West Bromwich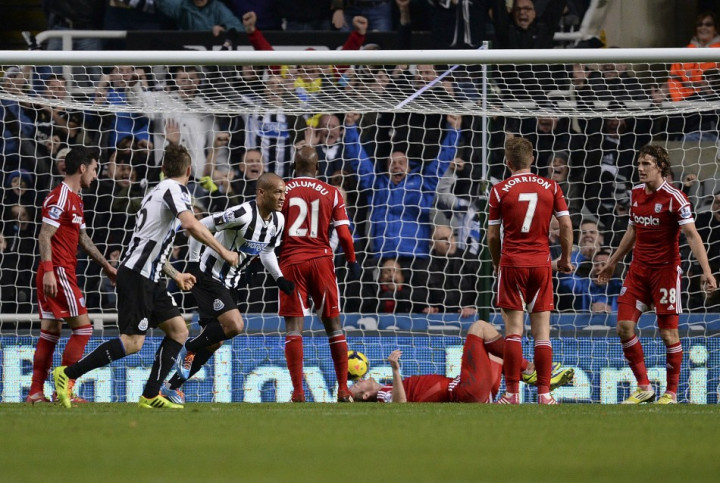 19:25: A goal fit to win any match sends Newcastle fifth in the Premier League. Moussa Sissoko thrashed the ball into the top corner just prior to the hour to thrust the Toon is their highest league position for 18 months while West Brom produced one of their poorest showings of the season. Chris Brunt had earlier cancelled out Yoan Gouffran's header, but it was the best the Baggies mustered.
That's your lot for this Saturday of sporting action, but make sure to swing by here tomorrow for an early Christmas present worth of football, starting with Tottenham v Manchester United, followed by Hull City against Liverpool, Chelsea facing Southampton and Manchester City hosting Swansea City. A real cracker I think you'll agree. See you tomorrow then.
Full time: Newcastle United 2-1 West Bromwich Albion
19:22: Four minutes of added on time at St James'
19:18: West Brom doing all the pressing and Zoltan Gera comes on for the final three minutes. Morgan Amalfitano off.
19:11: Two changes for West Brom with Berahino and Anichebe on to bolster their attack. Tim Krul has had little to do in the second half, bar picking the ball out of his own net. Just 10 minutes left for the Baggies to grab a point.
18:50: West Brom level for around five minutes as Newcastle thunder back into the lead. Gouffran heads on towards Moussa Sissoko and with little on, the Frenchman smashes the ball into the top corner from 25 yards. From almost nothing the home side are back in front
Goal: Newcastle United 2-1 West Bromwich Albion (Moussa Sissoko)
18:44: West Brom have started the half much the better and have a deserved equaliser through Chris Brunt. A cross from the right goes through Shane Long and Brunt controls the ball and from a tight angle lashes the ball beyond Tim Krul.
Goal: Newcastle United 1-1 West Bromwich Albion
18:36: Second underway at St James' Park.
18:33: Difficult to be too critical of West Brom after that first half but the reality is one mistake sees them behind at the break through Yoan Gouffran's header. Newcastle have threatened in dispatches, but Loic Remy's missed header aside they have been kept largely at bay. Bit of a nip and tuck first half all in all.
Half time: Newcastle Unted 1-0 West Bromwich Albion
18:08: Newcastle hit the front. Boaz Myhill flaps at a cabaye corner and Gouffran is on hand to nod into an empty net past the desparing West Brom defenders. Scrappy goal.
Goal: Newcastle United 1-0 West Bromwich Albion (Yoan Gouffran)
17:50: Tight opening at St James' but Newcastle should he ahead. Cabaye cross finds Remy unmarked and Jones, although I'm not sure how much he knew about it, heads behind. The home side on top now.
17:43: Newcastle and West Brom fans unite in a minute's appluase to mark the second anniversary of Gary Speed's death. Nice moment.
17:37: For those who have been out getting some early Christmas shopping in, here is a review of the results from the 3pm kick-ofs.
17:33: Underway at St James' Park.
17:26: So Newcastle could go fifth with a win today while Steve Clarke's side, who have won two of their last eight meetings at St James', will furthr enhance their status as the surprise package this season. Push both Manchester United and Chelsea all the way already this season. Both sides in the tunnel.
17:15: Worth mentioning that Zoltan Gera returns to the West Brom squad for the first time since January after 10 months out with a knee injury. Good to have him back
17:12: So just one change for Newcastle for welcome back Mathieu Debuchy from suspension, otherwise the Toon are unchanged from the win over Norwich City as they go in pursuit of a fourth successive win. West Brom make three changes, with Bill one and Liam Ridgewell back from injury, while James Morrison replaces Claudio Yacob in midfield.
17:05: Teams:
Newcastle United: Krul; Debuchy, Williamson, Coloccini, Santon; Sissoko, Tiote, Cabaye, Gouffran; Shola Ameobi, Remy.
West Bromwich Albion: Myhill, Jones, McAuley, Olsson, Ridgewell, Morrison, Mulumbu, Amalfitano, Sessegnon, Brunt, Long.
16:57: Well a cracking end to those five Premier League games. Arsenal cruise to victory over Cardiff in the end while West Ham pile the pressure on Fulham with a 3-0 win. Everton thrash Stoke, Norwich edge Crystal Palace but Aston Villa and Sunderland can only draw.
16:54: Icing on the cake for Arsenal. Aaron Ramsey exchanges passes with Theo Walcott and smashes home on his return to the Welsh capital.
Goal: Cardiff City 0-3 Arsenal (Aaron Ramsey)
Goal: West Ham United 3-0 Fulham (Joe Cole)
16:46: The points now secure for Arsenal. Ozil feeds Flamini in side the penalty area and he lashes the ball into the roof of the net. Cardiff's resolve broken.
Goal: Cardiff City 0-2 Arsenal (Mathieu Flamini)
Goal: West Ham United 2-0 Fulham (Carlton Cole)
Goal: Everton 4-0 Stoke City (Romelu Lukaku)
16:36: Craig Noone on for Cardiff who showed last weekend against Manchester United that they don't go away. Arsenal will need the cushion of a second you feel. Mathieu Flamini on now for the Gunners to shore things up.
16:30: So a bit of a damp squib at Old Trafford but congratulations to Australia, who are worthy winners. So, back to the Premier League action, five games to get our teeth into and around 20 minutes remaining.
16:23: Australia are protecting a four-game run without conceding a try and the biggest win in a Rugby World Cup Final and New Zealand are trying to ruin that symmetry. Full time: New Zealand 2-34 Australia
Goal: Everton 3-0 Stoke City (Bryan Oviedo)
16:17: Breakaway for Australia. Hayne intecepts Sonny Bill Williams' pass and releases Morris and it's very easy for the nine-time winners. New Zealand 2-34 Australia
16:14: Testiment to the success of this World Cup is the size of the crowd at Old Trafford of 74,000 which is a world-record crowd for a major final of this sport. Fantastic achievement for the organisers.
16:11: WHAT A SAVE! Frazier Campbell gets on the end of a cross and heads down and Szcesney somehow turns it away low down. Amazing stop to keep Arsenal ahead.
16:09: It's become less of a Rugby League contest as it has become an exercise in humiliation at Old Trafford. New Zealand are hanging on with Australia seemingly tormenting them. You wonder how much the win over England has taken out of them.
Goal: Everton 2-0 Stoke City (Seamus Coleman)
Goal: West Ham United 1-0 Fulham (Mohamed Diame)
16:02: So Arsenal, Everton and Norwich are ahead at half-time in the Premier League. Not been a cracking first half across the country it must be said. Hoping for betting upon the second half getting underway.
15:54: Australia take a further step towards regaining the World Cup as Brett Morris runs on to a through kick and touches down in time before the ball goes out. New Zealand are sitting ducks here and there is just less than half an hour left. New Zealand 2-28 Australia
Goal: Everton 1-0 Stoke City (Gerard Deulofeu)
15:40: Within a minute of the second half starting, Australia put themselves out of sight. Thurstone feeds Bird and when he finds Billy Slater he has the simple task of touching down. The Queensland trio combine to devastating effect. New Zealand 2-22 Australia
15:38: Before the second half begins at Old Trafford where Australia lead 16-2 a word on this Rugby League World Cup. It has had its critics but after a well attended and thrilling tournament, there is no doubt this sport has a place in the public limelight. Second half has now begun. New Zealand kick-off.
15:34: Well Cardiff will be wondering why they aren't level. A free-kick from the left causes problems and Jordan Mutch attempts an overhead kick from seven yards but he mis-cues and the ball goes behind.
Goal: Norwich City 1-0 Crystal Palace (Gary Hooper)
15:30: The league leaders hit the front. Mesut Ozil swings in a cross from the left and Aaron Ramsey ghosts in and glances a header beyond Marshall. No celebration from Ramsey, who plays against his form side for the first time this afternnon since leaving the club.
Goal: Cardiff City 0-1 Arsenal (Aaron Ramsey)
15:27: So while the half-time interviews are conducted at Old Trafford, lets turn our attention to the Premier League and the eagle-eyed among you will have noticed there are no goals in any of the five 3pm fixtures. Plenty of possession for Arsenal in south Walwes against Cardiff City but no real chances. The main talking point so far; Olivier Giroud being put clean through but not playing to the whistle it seems.
15:24: Chance for New Zealand and it goes wide on the second tackle but Vatuvei is sheparded out of play. Has the potential to become very one-sided this. Half time: New Zealand 2-16 Australia
15:20: Penalty for Australia, who are in cruise control it seems. Jonathan Thurston kicks over and leaves New Zealand now three scores behind with just 36 minutes gone.
15:14: Outrageous Australia hands springs the ball wide and after a miss-hit kick, Cooper Cronk pounces and this time scores ligitimately. The nine-time winners are taking a grip of this final. Jonathan Thurston puts over to become the joint-leading scorer in international Rugby League. New Zealand 2-16 Australia
15:12: First real opening for New Zealand after 28 minutes as Shaun Johnson's cross-field kick causes problems but Australia claim it just a meter out. Penalty for Australia meanwhile, and they will start on half-way.
15:09: Well Australia are convinced they have scored through Cooper Cronk but video replays show us New Zealand have survived. At the Cardiff City stadium however, we have a nasty injury for Per Mertesacker whose outh looks blood-filled. Long break in play
15:03: All of the 3pm kick-offs in the Premier League are underway. Our focus on Cardiff-Arsenal where Jack Wilshere has already hit the underside of the bar.
14:58: Briliant from Australia. They reach four tackles and Thurston, who has looked for the cross-field kick all afternoon, picks out Billy Slater who turns and goes over from just three meters out. Macnificent start. Thurston adds the goal. New Zealand 2-8 Australia
14:56: New Zealand dropping out from their own line as Cameron Smith puts the ball on a postage stamp with a deft kick into the corner. Australia start inside the New Zealand half.
14:53: High tackle from Australia and New Zealand have the chance to level the scores with 15 minutes left. Shaun Johnson, who scored that try against England last weekend, makes it New Zealand 2-2 Australia
14:50: Jarryd Hayne remains on despite taking a heavy blow two or three minutes ago. New Zealand have a fresh set mid-way through the Australia half after a penalty but they fail to take advantage and Australia can build again.
14:47: Greg Inglis is in pursuit of a hanging kick after the fifth but it's agonisingly out of his reach about 10 meters out. Hasn't really settled down in this final.
14:45: Wounded bodies all over the place and now it's Australia who are under an injury cloud, with Jarryd Hayne down after a misjudged tackle. Recieiving plenty of treatment.
14:44: Penalty for New Zealand after Australia don't retreat. Problem for Tuivasa-Sheck though, who has suffered a recurrance of a shin injury. The World Cup Final is over for him.
14:41: Billy Slater is fouled by Foran and the referee has no choice but to award a penalty to Australai in the New Zealand half and Thurston duly puts Australia in front. New Zealand 0-2 Australia
14:38: Australia knock-on after a booming kick after the third. New Zealand's defence holds firm.
14:37: Set of six early on for Australia in the New Zealand half after a knock-on from Bromwich.
14:35: Underway at Old Trafford. Australia kick off.
14:28: Teams are filtering through from the five 3pm Premier League fixtures and we'll have news of all the goals as they go in with particular focus on Cardiff City v Arsenal. A certain Aaron Ramsey returns to his old stomping ground. But for now, to Old Trafford...
14:25: We're five minutes away from kick-off at Old Trafford. For all the build-up and team news ahead of what is expected to be gruelling 80 minutes just head this way to the IBTimes UK preview. A packed house at Old Trafford is expecting a cracker.
14:15: We're set for another ding-dong sporting weekend and today we're split across two sports. At Old Trafford, Australia have revenge in mind when they take on New Zealand in the Rugby World Cup Final.
Elsewhere, there is a healthy portion of Premier League football on offer with Cardiff City against Arsenal the main course, with a decent sweet of Newcastle United and West Bromwich Albion.
No need to go wandering for the next five hours, IBTimes UK is across all the major sports stories this Saturday afternoon.