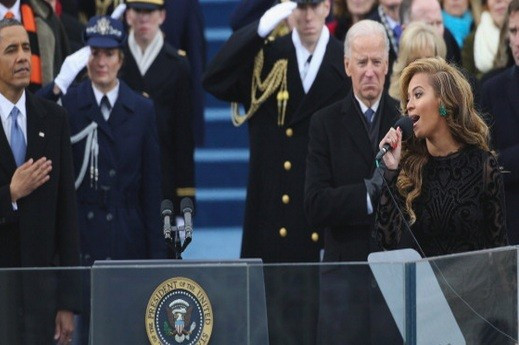 Beyoncé's rendition of The Star-Spangled Banner at the official Inauguration of President Obama has received mixed reviews after critics claimed it was 'not as good a Whitney's'.
The Single Ladies hitmaker, who performing at his first inauguration in 2009, hit the stage for the second time in front of an estimated 700,000 people in Washington DC to mark his second term of office.
Dressed in a black floor-length Pucci gown and emerald earrings by Lorraine Schwartz, the superstar belted out the national anthem to close the ceremony after Barack Obama was sworn in. She was accompanied by the US Marines band.
But whileher performance of Etta James's At Last went down a storm four years ago, her latest performance drew unflattering comparisons to Houston's 1991 performance at the Superbowl in Tampa, Florida.
Some critics argued that Houston, who has sung the national anthem on several occasions during her career, set the benchmark for how the song should be performed.
One fan said: "She has a powerhouse voice but nowhere next to Whitney Houston's rendition. They should just put the record of Whitney Houston singing it and leave it be."
Another wrote: "Beyoncé did a good job but have to agree with most of the gang here. It doesn't stir the soul like Whitney and that's coming from a Beyoncé fan.
"This [Houston Superbowl] is truly an untouchable performance. It's 2013 and we are all still talking about this performance, so what does that say?"
Watch both performances below and decide for yourself...