Demand for property in some of central London's most prestigious neighbourhoods has fallen substantially over the past four months as uncertainty surrounding the election weakened appetite, new research has shown.
Primrose Hill, home to the likes of Daniel Craig, Jude Law and model Kate Moss, has seen demand plummet 71% since February.
Upmarket St Johns Wood saw demand drop 36%, Fitzrovia fell 30% and Kensington decreased 16%, according to data from online estate agent eMoov.co.uk's Property Hotspots Index.
The research, which monitors the change in supply and demand for properties over £2m ($3.1m, €2.8m) in 16 prime London locations, also showed that nearly half of the areas have continued to decline substantially.
Founder and CEO of eMoov.co.uk, Russell Quirk, said: "Of course the uncertainty caused by the general election was a large contributing factor, with many waiting to see the outcome before committing to a property above £2m.
"However with Labour's political presence now almost non-existent, taking the threat of a Mansion Tax with it, it will be interesting to see the data points for prime central London in two or three months' time."
The areas that saw the largest increases in demand were Maida Vale (+66%), Chiswick (+54%), and Islington (+30%).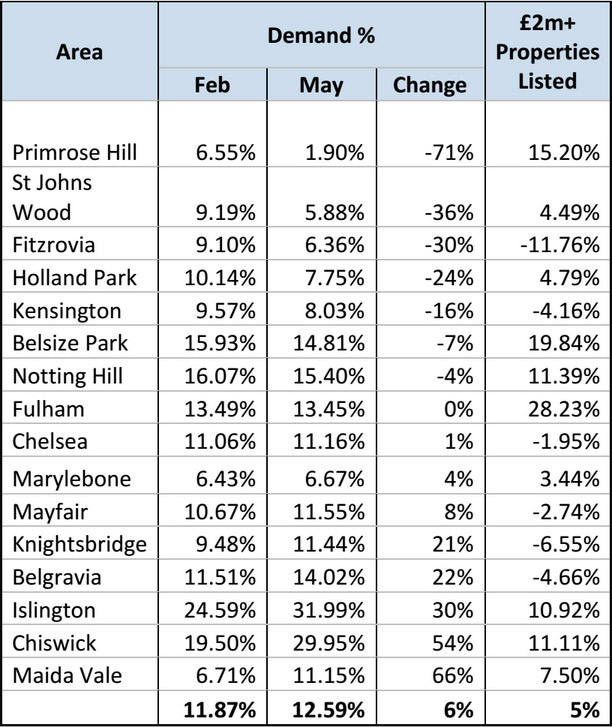 There was also a rise in demand in Chelsea, Mayfair, Knightsbridge and Belgravia, where the average house ranges between £2.1m and £3.7m. eMoov said that although these areas would have been hit by a Mansion Tax had Labour come to power, last week's election result has "restored confidence in buyers looking to buy at that end of the market".
Quirk added: "We are already aware of a significant increase in buyer activity, by the well-heeled home owner in the higher echelons of the London market, since Thursday's election reprieve. It is most likely this is going to translate into a more buoyant picture in the months to come."