Prince Harry and Cressida Bonas Seen Kissing in London Club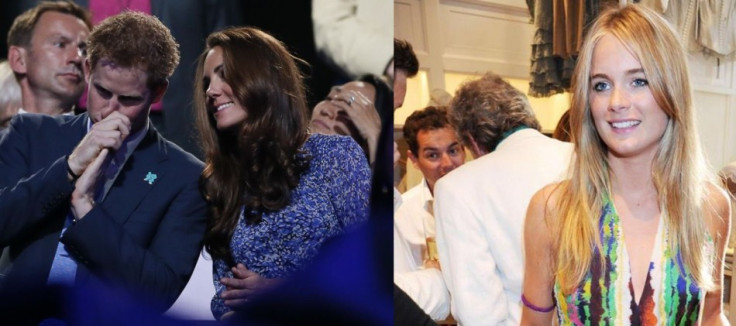 After Prince Harry and Cressida Bonas were seen cuddling up last month while skiing in Verbier, Switzerland, the couple has been spotted partying together at Caribbean-themed bar The Rum Kitchen in Notting Hill, west London.
The 28-year-old royal seems finally to have got his girl as they were seen emerging from the London nightclub after a "proper date" together, early on Friday morning, reports Mail Online.
The royal party animal apparently left the club with a smile on his face.
The report quoted royal sources as saying that the Prince and the 24-year-old model and dance student are officially together after they were first linked in July last year.
According to onlookers inside the club, the two seemed to be getting intimate, exchanging kisses and hugs and making their romance apparent.
Prince Harry and Cressida Bonas "looked very much like a couple. They were very affectionate. They were hugging and they kissed a few times. It was very sweet. Both of them were milling about with other guests. The music is loud so it was quite lively," an onlooker said.
The couple reached the club at around 10pm with a group that included Harry's cousin, 24-year-old Princess Eugenie, and his friend Tom Inskip. As soon as they arrived, the group headed straight to the club in the basement and, according to onlookers, spent the night listening to reggae music and drinking rum cocktails.
"There are no tables or booths so everyone was dancing, including Harry and Cressida. Cressida looked amazing. She's a professional dancer and her training was very obvious. She was a natural. Harry was also getting into the swing of things, but next to Cressida some of his moves were more like amateur limbo dancing, but it was all taken in good heart," one onlooker said.
The couple were seen leaving the club separately. While Harry left the venue just after 1am with his bodyguards, Bonas was seen leaving 20 minutes later with Princess Eugenie.
This is the first time that Bonas, the daughter of 1960s model Lady Mary Gaye Curzon and Old Harrovian businessman Jeffrey Bonas, has appeared in public with Prince Harry since their Verbier trip.
At that time there was still no confirmation that they were an item. Royal sources suggest that only in the last couple of weeks has their relationship grown stronger.
'In Verbier, Harry was still trying to win over Cressida, but she was still very cautious," a royal source said.
"But Friday night was significant because it was the first time Harry and Cressida have been out formally as a couple," the source added.
© Copyright IBTimes 2023. All rights reserved.